Monuments in St Martin's Church, Ruislip, Middlesex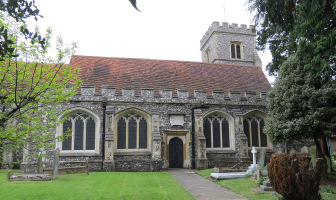 Ruislip Church, 1300s and later.
To the west of central London Ruislip Church is a good example of an early medieval Middlesex church. It is easily accessible, on the branch of the Metropolitan line past Harrow on the way to Uxbridge. The manor of Ruislip was given to Benedictine monks of the Abbey of Bec in 1087, thus the first church was Norman (and it appears in the Domesday book). It was replaced by the current church, built to a larger scale apparently, in about 1245, and while various extensions followed through medieval times, much of the interior including the nave are essentially from this 13th Century construction.
The church achieved some importance under the Abbey of Bec until 1404, and from the mid-15th Century was connected with a powerful local family, the Hawtreys of Eastcote House, which as we shall see is reflected in the monuments. Eastcote is a couple of stations along the Metropolitan tube line from Ruislip, and though the house is gone, Eastcote House Gardens survives today as a public park, including within it a charming walled garden.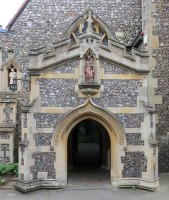 Porch with small statues.
The tower and south chapel of the church date from the 1500s, and the stone exterior was much restored in the later 19th Century, in part by the architect Ewan Christian, and in part by George Gilbert Scott in 1886.
On to our monuments. The church contains around a score of wall panels, of which the earliest and most richly carved are near the altar, in the choir. We have four from the 17th Century, the rest being mostly more modest but making a good sequence from the 18th and early 19th Centuries, the later 19th Century and into the 20th.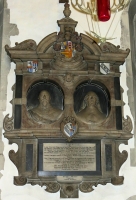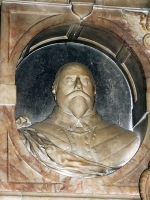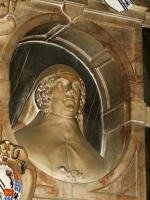 Raphe Hawtrey and Mary Hawtrey, mid 17th C, by John and Matthew Christmas.
In date order, then:
Raphe Hawtrey, d.1638, and wife Mary, d.1647. He was a Justice of the Peace and Deputy Lieutenant for the County of Middlesex; she was the sole daughter of Edward Altham of Latton, Essex. The inscription notes their children – John Hawtrey, married to Susanna James, a co-heir of her father Jacob James of London, Edward Hawtrey, married to Margaret Wright of Burnham, Buckinghamshire, Mary Hawtrey, married to Sir John Bankes of Keswick, Cumbria, a Knight and Lord Chief Justice of the Court of Common Pleas and a Privy Counsellor, and Raphe Hawtrey, married to Mary Beadle, daughter of Mathew Beadle of London. A pale rectangular panel with lettering in black and red chief capitals, with a black border, at the base of a splendid monument incorporating the forward-facing busts of the deceased, each in an oval recess. He is typical of Jacobite times, with trimmed pointed beard and moustache, and a rather round face with little hair. He wears a collar above what seems to be armour, and the edge of his cloak is across his breast. She is shown as a solid-faced woman, with ringletted curls framing her face, a headscarf, and dressed in an enveloping shroud with a ribbon at the front. The surround incorporates four coats of arms, the upper of which is in a segmented broken and open pediment with flanking scrolly acroteria, a small winged cherubic head, and a variety of other scrolls and cut-outs to give a dramatic outline to the monument as a whole. A little flaming urn ia at the top. The main part is in a brown and pale marble or alabaster, the two portrait heads are in paler marble, and the central portions of the pilasters are black. The monument is prominently signed by the sculptors below the main inscription: Johannes and Matthias Christmas Fratres fecerunt. [John and Matthew Christmas, brothers, made it]. Most definitely a monument to impress with its opulence, demonstrating success of the deceased and their children.

Monuments to Jane Clitheroe, d.1659, and Mary Bankes, d.1661.

Jane Clitherow, d.1659, daughter in law to a Lord Mayor of London, a black oval panel with capitals in red, set in an unusual, complicated, ornately carved surround of brownish stone perhaps once white marble. The whole ensemble is broadly rectangular, with the upper portion almost a swan-necked pediment, and below this three little coats of arms, painted or enamelled, set in to the stone. A knight's helm surmounts the central coat of arms, with flamboyant feathers still bearing faint red paint; this surmounted by a tower with a lion rampant, and on the very top, a small flaming pot. Under the central panel, another coat of arms, the whole resting on a black shelf. There is much by way of complex scrolling, bits of hanging drapery from some of the scrolls, and little flowers and leaves, including two corn-on-the-cob bundles of oak leaves and acorns. A worthy monument indeed, and, according to Pevsner, attributed to the eminent sculptor Joshua Marshall.
Lady Mary Bankes, d.1661, daughter of Raphe Hawtrey above, wife of the aforementioned Honourable Sir John Bankes, Knight, Late Lord Chief Justice of the Court of Common Pleas, and of the Privy Councell to King Charles I. The inscription goes on to say that she 'had the Honnor to have borne with a constancy and Courage above her sex, a Noble proporcon of the Late Calamities, and the happines to have outlived them so farr as to have seene the restitution of the Government'. She was indeed of historical significance in her own right, defending Corfe Castle against a notable attack by the Earl of Warwick. The inscription notes also that she had four sons and six daughters, of which her first, Sir Ralph Bankes, dedicated the monument. All in a pale marble, with the inscription in a slightly domed oval, with a border of leaves, in front of a rectangular frame with upper and lower shelves. To the sides narrow draperies hang down from above. Above, an entablature has her coat of arms on a cartouche, held by two nude cherubs with flying hair, seated on some sort of scrolly broken pediment. Above this a proper pediment, again broken, with a central flaming urn. At the base is a small central panel as if for the sculptor's name or a dedication, now blank, with a skull and cross bone above.

Thomas Bright, d.1673, and detail of bracket of two winged cherubic heads.

Thomas Bright, d.1673, Second son of Andrew Bright of Acton, in the County of Salop, Gentleman. Erected by his son, Jeremiah, and also noting five other offspring who died at young age. A grand wall monument: the central panel, with carved border and scallop shells at the top, is flanked by attached Corinthian pillars, and bears an ornate, heavy shelf above, with receding sides. To left and right of the pillars stand weeping cherubs, one wiping a tear from his eye, the other gesturing emotionally with his hand; not to modern taste, but well executed. Behind them are hanging, fringed drapes. They and the panel stand on an inverted pyramid of fluted, receding shelves, bearing a shield of arms surrounded by a large flourish of leaves, and the base consists of two winged cherubic heads. The whole in pale, black streaked and black marbles, with gilt highlights.

John Reading, d.1705, fine early 18th C cartouche.

John Reading, d.1705, Gentleman. A cartouche with elegant surround of scrolls and tied drapes depending from a small canopy. Two winged cherub heads peak out from top left and right. A single acanthus leaf rises from the base. Extremely accomplished work.
Joseph Musgrave, d.1757[??], rather a worn inscription noting that he was 'Son of Sir Christopher Musgrave of Eden Hall in the County of Cumberland, by his Second Wife Elizabeth, daughter of Sir John Franklyn, Knight,of Willersdon [Willesden] in the County of Middlesex.'; pale panel with spandrels covering the top , bearing leafy designs, in a setting with orangey marble Ionic side pilasters and entablature with two stylised rosettes, the spandrels and apron being on a grey brecciated marble. There are further receding pilasters in the paler marble, and at the top a broken pediment, from which a baroque vase in high relief emerges, adorned with little flowers. At the base, rather nice acanthus brackets, and on the apron, a small cartouche which once would have borne the coat of arms. A good example of one of the richer small monuments of the period.
John Lewin, d.1770, of Southcott House in the parish, and wife Sarah, d.1772. An oval with thin raised border; above, a humble pot; below, a single little bracket with a low relief flower.
Joseph Hopkins, d.1772, his wife Hannah Hopkins, d.1793, and son Francis Goodson, d.1772 by a previous husband. Pale panel with upper and lower protruding shelf, a small pot in high relief above, pale with black fluting, against a dark, perhaps serpentine, streaked marble backing, and a pale grey marble apron bearing a small cartouche for the long-gone coat of arms. The carved shape of the apron seems to have been inspired by the Musgrave monument, above. Rather late for a coloured-marble monument.
Francis Edgell, d.1819, as a child, and parents Harry Edgell, d.1863, Bencher of the Honourable Society of Gray's Inn, and mother Caroline Edgell, d.1873. A pale panel, with corners clipped, on a black backing, with upper and lower shelf; at the top is a small lantern in high relief on an eared backing; at the base, a shallow stone apron bearing coat of arms and two crossed branches, and with two small dependent brackets. More on white-on-black panel monuments on this page.
Martha Lewis, d.1819, and husband Revd Daniel Carter Lewis, vicar, d.1834. Pale panel with shelf and feet on black backing. And a second panel, plain white on black, directly beneath to their daughters Mary Ann Pitt, d.1852, and Julia (d.1865).
Mrs Jane Deane, d.1822, and Mrs Philadelphia Deane, d.1823, a simple white panel with a ledge at the top, curved at the base, surrounded by a shaped black backing.

Juliana Wood, d.1839, minor work by Hinchliffe of Hampstead.

Juliana Wood, d.1839, and husband William Wood, d.1837, as a casket end, eared and with some small attempt at decoration in the acanthus leaves on the brackets, on a rectangular black backing. Signed Hinchliff Sculpr., 5 Hampstead Rd London. Hinchliffe of Hampstead was a long lived sculptor who specialised in monuments for most of his career.
Ellen Packe, d.1841, brother Christopher, d.1851, sister Mary, d.1870, and brother Herbert, d.1871, all children of Christopher Packe, Vicar. As a casket end with bulky pediment, on a black shaped backing. By M.W. Johnson of Euston Road, London.

Mid-19th Century: Revd. James Harris, d.1846.

Revd. James Harris, d.1846, Curate, son of James Harris of the Honourable East India Company, and formerly Governor of Dacca [Dhaka, later Capital of Bangladesh]. Panel with shelves and flat pediment on a dark shaped backing. In front of the deep base is a high relief of a Bible, chalice, and crucifix, the latter lying diagonally across the rear of the composition and slightly sticking out on each side. An example of a particular type of composition of the mid-19th Century. The sculptor-mason signs the work 'RW'.
Edward Pritchard, d.1876, and wife Mary, d.1870, plain pale marble.
Fanny Rosina Thompson, d.1900, rectangular brass panel in the style with black inscribed letters with the principal capitals in red, and an incised border line, all on a black backing. The inscription notes that her husband Cornelius Thompson, who gave a window to the church, was of the Admiralty, and that her father, George Grey Sullivan RN, was Consul to Ningpo and Amoy in China.
John Alfred Arnott Fountain, d.1916, Second Lieutenant, 'killed very gallantly leading his men in the Battle of the Somme'. Rectangular panel with narrow border of four lines of Venetian mosaic, and red and white marble frame. A characteristic art nouveau monument of the period.
Frederick Small, d.1917, killed in action in France, plain white panel with black backing.
Rev. William A. G. Gray, d.1932, Vicar of Ruislip, in a stone panel with arched top on a shaped backing of pale grey streaked marble. Typical of the more modest panels of the inter-war period.
This website does not normally address floor monuments, but we note the rather excellent collection here, to John Hawtrey of Ruislip and his daughters and Mrs Mary Rogers, d.1705; Barbara Hawtrey, d.1680, daughter of Ralph Hawtrey of Ruislip, Robert Hawtrey, d.1681, son of Ralph Hawtrey, Edward Hawtrey, d.1689, son of John Hawtrey also of Ruislip; Richard Hawtrey, son of John Hawtrey, d.1691; Ralph Hawtrey, d.1703, son of Charles Hawtrey; Elizabeth Hawtrey, d.1709, daughter to Charles Hawtrey; also Elizabeth Rogers, d.1689 and others of that name. These have carved roundels showing the coats of arms; other floor panels include some of earlier date to the Hawtreys and others.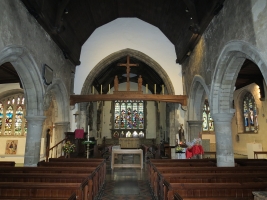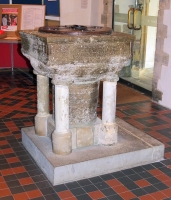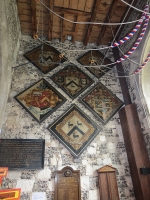 Ruislip Church interior, 13th C and later; Norman font predating Church; funeral hatchments in early 16th C tower.
Also in the church:
A brass showing two standing figures, man and wife, shown in courtly garb and praying, and each with a brood of small standing figures behind them; there are six of each, male and female, and traditionally these would be the offspring of the deceased couple. They are John Hawtrey, d.1574, and his wife. A small panel below notes that the brass was in the South Aisle in 1806, removed and sold by auction to a dealer from whom it was recovered by Miss Eleanor Warrender who restored it to the Church in 1913. There is also a replica of this brass installed in memory of Elsie Max-Wilson, d.1973.
Another brass to a second John Hawtrey, d.1593, D.1595, with a pair of kneeling figures, male and female, he in robes and wide ruff, she in an open cloak with a long dress underneath, both shown praying and on cushions. Four little shields of arms at the corners of the stone slab into which the brasses are set, and upper centre, a larger coat of arms.
Another brass, with inscription to Mary ???, d.1696?, set in a black stone with presumably the remains of a different brass showing a figure of a man, robed and ruffed and standing on a cushion, and on a smaller separate panel, four small indistinct female mourners or daughters, much worn.
A Norman font, splendidly solid and archetypical. The circular basin is in a square frame of granite, supported on a massive central column with four surrounding detached more slender columns of a paler granite, all on a quatrefoil single stone base. It dates from the previous church on the site.

Ceramic tile of medieval chest in Ruislip Church.

Among some wooden furniture are two wooden chests bound in iron, one of which is prodigiously long, both dating from the 16th Century apparently, and a bread shelf dated 1697, with nice symmetrical carving at base and top.

Record of a bequest on the exterior of the church.

In the tower, and on one wall, a number of brightly painted funeral hatchments, and a note that Mrs Henrietta Maria Charlotte Howard, of York Place, Portman Square, gave funds to purchase on every Christmas eve, 2lb of beef and 1 quarter loaf to each of 25 poor families of Eastcote, and six pairs of blankets for six poor families of Eastcote every New Year's Day, this being done in the time when Christopher Packe was vicar (we noted Ellen Packe's monument above).
On the walls, medieval paintings, much beaten up, showing figures in green, brown and red. One appears to be a descent into Hell.
A few panels of good stained glass, 19th Century.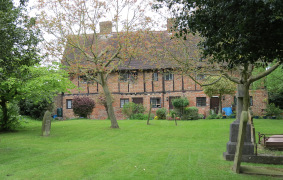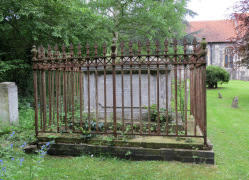 16th Century range of buildings, and chest tomb in the churchyard.
Finally, we note that the church stands in a charming old churchyard alongside the high street, flanked on two sides by 16th century ranges of timber-and-brick buildings.
15th Century tower.
With many thanks to the Church authorities for permission to show pictures of the monuments inside; their website is http://www.stmartins-ruislip.org/.
Hillingdon Church nearby // Pinner Church also nearby // West Drayton Church, also in Hillingdon // Harrow Church // Sculpture on the Uxbridge Line
Monuments in some London Churches // Churches in the City of London // Introduction to church monuments
Angel statues // Cherub sculpture
Visits to this page from 13 Mar 2014: 9,318