Greenford Church (Holy Cross Greenford) - Monuments
At Greenford, West London, is the charming small church of Holy Cross, with a timber framed bell turrent; inside are two later kneeler monuments, two large wall panels, and a few smaller pieces; adjacent is the larger modern church.
Greenford Holy Cross presents itself to us as a small, low medieval building, with its short nave and diminutive chancel and little wooden bell turret; there are a few such churches among those in the now-abolished county of Middlesex. It seems to have been built or rebuilt in the 15th or early 16th Century, and both the main structure of the nave and the curious wooden extension under the bell turret date form that time: the turret itself is a modern rebuild from 1913, though one of the three bells predates the whole church. The chancel is of the 17th Century. Inside, the deep windows emphasise the thick walls and give a good claustrophobic feel to the little building; the chancel arch is a legacy of a gentle Victorian makeover.
Two exterior views of Holy Cross Church, Greenford.
Monuments
Michael Gardiner, d.1630, [referred to as Michael Gardner today], the rector at the time, and his wife Margaret [Browne], d.1623/4. Kneeler monument with the couple facing each other in conventional fashion across their prayer desk or faldstool. They wear head coverings, and thick shapeless robes, black painted, and in the usual manner, are kneeling on tasselled cushions. Each has a large ruff. More often than not the couple would have their hands raised together in prayer, but here their hands seem to rest on their prayer books. A relief-carved pilaster behind them divides the space into two portions; there are squared attached pillars to the sides, and above, a pediment bearing a cartouche of arms, painted. Below, a rectangular frame for the inscription, with curly supports to the pillars at each side. All in colourful alabaster, bar the black pillars and inscribed panel, and the paint. [For more on Kneeler monuments, see this page).

Rector Michael Gardiner, d.1630, and wife Margaret.

Bridget Coston, d.1637, the most important monument in the Church. Kneelers again, with the deceased facing left, holding a baby to her chest, and her five other offspring, all girls, lined up behind her, which is conventional, praying. We see the tasselled cushions, here green painted, and the faldstool on the edge to the left. Less usual is that the husband is seen behind, looking in through a window, leaning his head on one hand, the other holding some handkerchief. Mother, father and offspring have wide, plump faces, most unflattering, and we see the daughters become progressively uglier from the youngest, Philadelphia, through to the flat-faced Frances, the eldest, who also has something of a stoop. Behind to left and right are the family arms, painted, the black pillars to the sides and shelf on top making a broad niche as with the Gardiner monument, but here with a fringed upper cloth, and curtains to the sides pulled up by a pair of relining girls on the upper shelf. She to the right holds an upturned anchor. Centrally on top is the full sized shield of arms, in a cartouche with a complex frame including hanging drapes, a winged cherubic head, flaming balls, and a small standing figure of Motherhood. Below, the inscribed panel has a frame with curly decoration and under the pillar bases are supports carved as winged cherub heads: one bears the sculptor's name, Hum[phry] Moyer. He was an assistant to the eminent Nicholas Stone, and another work ascribed to him is the tablet to Bartholomew Ellnor, d.1636, in St Katharine Cree.

Kneeler monument to Bridget Coston, d.1637, by Humphry Moyer.

Thomas White family, to 1638. The inscription is unusual, with five touching circles, the central one being Thomas White, and noting in the others his mother Honoria Cason, d.1638, brother Nathaniel White, d.1638, sister Hannah White, d.1632, and a niece, Honoria White, d.1638 – the perishing of so many of the family in the one year presumably prompted the odd arrangement. The panel, with Latin text, is on white marble, with receding side pilasters, and black marble above and below. Above, a gilt winged cherub head under a curved open pediment, disproportionately high, and below, a short, shaped apron with central boss, now blank.

Thomas Symons, d.1521, Rector. Brass with standing, praying figure, mounted on a nice piece of marble in the 18th Century, with little panel below to Edward Betham, d.1783, Rector at the time, who caused this to be done.

John Castell, d.1686.

John Castell, d.1686/7, Rector, and his wife Christiana Castell, d.1695. Bulky panel with oversized upper portion with a roundel portrait of John Castell, held by two cherubs with drapery falling over their heads from behind, gathered at the top under a flaming pot. A winged cherub head (a specialty of these pages - see this page) is directly above the inscription. At the base, a shelf under which is a short apron bearing a shield of arms, more winged cherubs head to the sides, and a terminus in the form of a winged skull or deaths head (lots more of these on this page).

Upper portions of Castell and Browne monuments.

Rupert Browne, d.1711, and his wife Sibyll [Wyrley], d.1710, the inscription carved on a hanging drape with tassels and fringe, hanging in drop folds on either side and caught in knots at the upper corners, then rising to either side of a painted cartouche of arms with ferny leaves behind. On the top, an short shelf and gadrooned pot. At the base a much weightier shelf, also gadrooned (corrugated), under which is a broad, low panel bearing leafy decoration with a central grotesque face.

Arthur Marlam and his family, no date but presumably towards the end of the 18th Century. Classical panel with side pilasters in black and white marble, pediment above, shelf supported on brackets below, and blank apron with lower curve, in dark marble.

Emily [Graham] Ravenor, d.1834, Elizabeth Ravenor, d.1834, their respective husbands George Ravenor, d.1847 and Nathaniel Ravenor, d.1835, who accidently shot himself, and Emily's father, William Graham, d.1837. A Gothic panel - such things came back from just before the Victorian period - on pale stone, as a double-headed window, representing the two linked families, with a shelf with mouldings above. Below, an extra section added to include later members of the Graham and Ravenor families through to 1939, and at the base, another shelf and two supports.

Charles Bentley Bingley, d.1887, and his wife Elizabeth Bentley, d.1882. White-on-black panel carved as an unrolling scroll, curled up at the bottom right corner, a widespread if never usual alternative to the plainer white-on-black designs of the 1800s onwards – this one is rather late.

Sarah Ann Lovelock, and husband James Lovelock, d.1952, wooden panel also recording their gifts to the Church.
Also in the Church: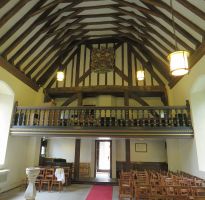 Simon Hert, after 1418 and perhaps 1452. A half figure brass in its original matrix, with long sleeves and hands raised in prayer; the Thomas Symons brass has been noted above, and I think I missed the brass of a lady in butterfly headdress.

Edward Betham, as well as mounting the Symons brass, also put together the bits of older stained glass.

Two Charity Boards, to Edward Betham, 1780, again, and to Captain and Mrs Mary Bennett, dated 1856. On stone rather than wood.

William Henry Ogle-Skan, d.1915, modern brass in mediaeval style.

A modern brass to William Henry Ogle-Skan, d.1915, Rector and wife Isabel, d.1928. Made in traditional style, thus cut with a kneeling figure of the deceased, praying, on a chequerboard floor, with the inscription underneath. His round face, high forehead and trimmed beard are wholly appropriate to the mediaeval treatment, but the glasses give away the modern date.

The font dates from 1638, given by a member of the Coston family (Frances Coston), and has been ascribed, like the monument, to Humphry Moyer, on the basis of the similar lettering. Round bowl on a curvy four-sided base.

Floor panels, including to Edward Bennet, d.1657 (picture at top of page), and William Millet, d.1663, with shields of arms.

Virgin and child wooden statue in a Gothic shrinelike structure, painted, gilt and rather Catholic (picture at top of page).

Many flags and a chest and a wooden panel of the Virgin and two attendants, as a war memorial (picture below).
The modern church close by was bult by A.E. Richardson 1939, in Scandinavian style. Inside, all fantastic wooden beams and roof, and apparently intended to look, as it does, like the upturned hull of a ship, shown below.
Outside in the Churchyard, note should be made of several 18th Century headstones with skull and crossbones (example at top of page). Also one to William King, d.1863, 'upwards of 60 years a gardener' with a slight carving of a beehive, also commemorating his wife, Alice King, d.1864.
The Greenford Magna Church website is at https://https://greenfordmagna.info/.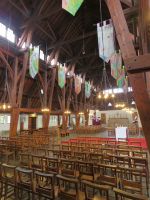 A.E. Richardson's 1939 church - interior view showing height.
Go North to Harrow on the Hill Church // South East to Ealing St Mary // West to Hayes Church and Hillingdon Church // or North West to Ickenham Church or Ruislip Church