Monuments in St Margaret's Church, Uxbridge, West London
Uxbridge Parish Church, St Margaret's, is nicely situated on a little road called Windsor Street, off the High Street close to the station, preserved as the local conservation area. Built in flint with stone-edged windows and dressings on the buttresses, it consists of a large blocky nave with a tall pitched roof, with the main entrance on a sort of aisle on one side and the tower, not very elevated at all, on the other side of that, thus entirely detached from the nave (see picture below). It is somewhat of a mix of styles, with Gothic and low-arched windows, reflecting the various dates of its erection. The tower dates from late in the 14th Century, with some rebuilding in about 1820; the rest is from the 15th and 16th Centuries, with restorations in Victorian times.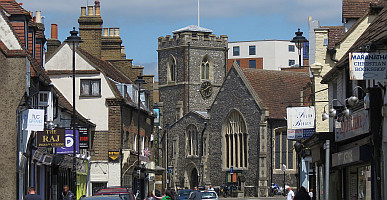 Uxbridge Parish Church of St Margaret.
It was previously a chapel of Hillingdon Church, and became a Parish Church in its own right as late as 1842. The consequence of this is that most of the grander folk of the area were buried and had their monuments at Hillingdon rather than in Uxbridge, and also that the two local firms of monumental masons, Burgiss of Uxbridge and Tomlinson of Uxbridge, primarily served Hillingdon and other local churches than Uxbridge – Tomlinson has just one monument here, and Burgiss signs none.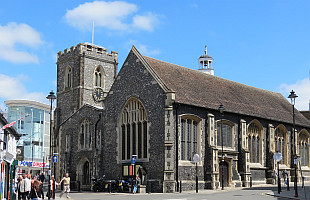 The nave separate from the tower.
Inside, the nave shows a fine interior to the roof, and is rather more open than expected due to the size of the exterior windows and the high arches between the pillars separating nave from aisle; the overall shape is of a broad rectangle, almost square.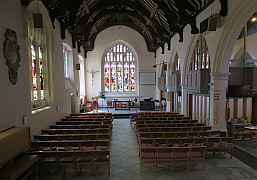 Dame Leonora Bennet Monument
The monuments, for the reason noted above, are not numerous, but include one extremely impressive one, that of Dame Leonora Bennet, d.1638, 'daughter of Adriean Vierendeeils, Cittezen and Collonell of Antwerpe.' Continuing, the inscription notes that '…comming into England after the death of her father, was married first to Abraham Trion Gentleman, sonne and heire of Peter Trion of London, Marchant, who dying she was afterwards married to Gregory Downhail Esquare, one of the Masters of the high court of Chandery, who likewise dying shee was last of all married to sir John Bennet Knight, Judge of the prerogative court of Canterbury and Chancelor to the late Queene Anne of happy memory, whom shee likewise survived…'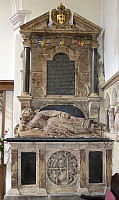 Monument to Dame Leonora Bennet, d.1638.
The grand monument shows a statue the grand dame reclining on her side, resting head on arm, in full elegant dress, tight at the waist, flaring below, thick sleeves, wearing some double necklace or rim to her costume across the breast. Her elbow rests on a large cushion. Her face is middle aged and the sculptor made no attempt at flattery. She rests on a heavy chest tomb, with the front divided into three compartments by pilasters, the central area of which is carved as a mass of jumbled skulls and bones behind a grill, thus a view into a charnel house, grim indeed. One skeletal hand rather macabrely grasps at a bar. Behind and above the figure, the inscription is within a broad surround with swirly designs, two unattached pillars of composite Ionic form, supporting a heavy pediment, broken at the top, and enclosing a shield within a protectively winged cartouche. Below are three smaller coats of arms, reflecting the deceased's three marriages. The whole thing is in brown and pink coloured marbles, with inscription, pillars and panels in black marble. Most grand. This monument is by two eminent 17th Century sculptors, the brothers John and Matthias Christmas.
Other Monuments in Uxbridge Church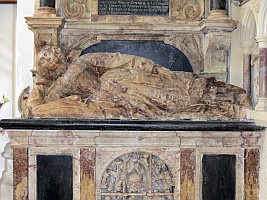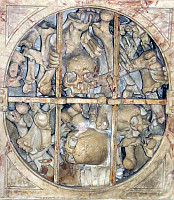 The alabaster effigy, and the grill to the charnel house.
As noted above, other monuments in the Church are not numerous, but include several of the main types of wall monument - Classical panel, cartouche, obelisk, black-and-white panel and Gothic. Roughly in date order, they include:
Mariana Thorold, d.1713, and husband William Thorold, d.1729, a medical doctor. A fine cartouche, with slightly domed panel with inscription surrounded by thick border of small leaves and berries fashioned into a wreath tied at the base with a ribbon, and to the sides containing two cherubic heads. At the top, a blank shield within a mini-cartouche, at one time the shield of arms no doubt, with the usual knight's helm above, and sprigs of palm leaf. Below, scrolls and a very realistically carved skull and uplifted wings (see picture at top of page; as usual, click to enlarge). As is usual, the skull has no lower jaw. Another fine work, in honey-coloured marble that was presumably once white.

Fine cartouche monument to Mariana Thorold, d.1713.

Elizabeth Greenhow, d.1714, Mary Greenhow, d.1727, and their husband, William Greenhow, d.1729, and his surviving wife Mary , who died in 1742. A plain monument, with narrow inscribed border, semicircular top, apron at the base - see picture at top of page.
Eliza Goldar, d.1717, wife of Jabez Goldar; a brass. They had six sons and three daughters. An added inscription notes the death of the husband, Jabez Goldar, d.1749. At the top of the small panel are neatly inscribed scrolly Acanthus leaves and a device with a flower.

Nathaniel Cowdery, d.1748, carved as a hanging cloth.

Nathaniel Cowdery, d.1748, first Clerk of His Majesty's Receipt of Exchequer, and wife Jane, d.1716, and his parents. A white marble panel in the style of a hanging cloth, with many small folds to sides and knotted at the top sides. Centre top is a shield at arms, now blank; at the base, a cherubic head, winged, and the hanging folds at side and top are encrusted with small flowers. This style of monument is found not infrequently, but this is a particularly carefully-carved example of the type.
Mrs Gerrard Cowdery, d. 1754, and husband Gerrard, d. 1763, and James Cowdery, d.1782, on a plain streaky marble panel with shaped top, narrow border, and apron.
William Cole, 'of this town' and no other inscription or date, but perhaps of similar date to the Mrs Gerrard Cowdery monument above. Plain panel truncated at the top, perhaps a remnant of something more ornate.
Owen Jones, d.1772, and William Jones, d.1796, brothers. Plain rectangle of marble with a thin inscribed line around the border; the letters at least are nicely cut.

Ann Fellowes, d.1776, example of a coloured obelisk monument.

Ann Fellowes, d.1776, husband Thomas Fellowes, d.1799, William Harris, d.1817, wife Elizabeth, d.1827, and others of the Harris family through to 1841. A crowded panel with pilasters at the side, protruding shelf above bearing a blocky obelisk, and below, a shaped apron bearing the name of one more of the Harris family. White marble streaked with black, and an interesting pinky brecciated marble. May once have had little pots at the side of the shelf above the pilasters.
Jabez Goldar, d.1780, the second of this name with a monument in the Church, who was a local magistrate's clerk. Panel with black and white marble backing, with at the top, the marble cut to pediment shape with two acroteria, and the central space carved with a scrolly leafy design with a central feathery shape. At the base, the apron is filled with a small but nice composition of two classical girls, standing arm in arm, surrounded by two branches; the effect is most pastoral. Charming.
Edward James, d.1833, and son Edward, d.1845. He was a surgeon in Ruislip; the son was assistant surgeon in the Madras Army. A white tablet as a coffer-tomb end with shelf, cover, and little legs, on a shaped black backing, typical of many monuments of the period.

Daniel Macnamara, d.1851, Victorian Gothic monument by Tomlinson of Uxbridge.

Daniel Macnamara, Surgeon of the town, d.1851. Styled as a late Gothic window, with rectangular outer border bearing a tall entablature, in pale stone, with the inscription in Gothic black lettering, the main capitals picked out in red. At the base in front, a shield at arms surrounded by drapery and with above the knight's head, a little mermaid, who alas, has lost her arms. She is of the twin-tailed variety; see this page for a general discussion of mermaid sculpture. Signed by the sculptor, Ino [John] Tomlinson of Uxbridge, and by Charles I Shepper, designer.
QMS Brian Heaton, d.1915, of the Middlesex Hussars, and Lance Corporal Geoffrey Woodthorpe Heaton, of the London Scottish, who both fell in WW1. White shaped panel with a leafy design above, on a polished black backing.
Also in the Church
We may also note the following:
Font, octagonal, stone with polished black marble streaked with white in panels around the supporting shaft, and also the font cover. Deeply carved quatrefoils are on the outside of the basin, all the way round, with and within them are roses and animal's heads. with minor decoration below. Apparently it dates from the late 15th Century, thus the time of the building of the North Tower - the font cover and the black marble panels are modern additions.
A few late 19th C or early 20th C stained glass windows, one example of which is at the top of this page.
A chest, 17th Century, rather uncommon in Middlesex churches.
Various floor-slabs, generally not noted on this website, including some from the early 18th Century, and one or two even earlier.
View of Windsor Street and Church nave, 19th Century.
The Churchyard and War Memorial
The Church is not within a churchyard: that is to be found at the bottom of the street, and across a busy road, where the burial ground has a stone gate with pediment, and underneath this two panels noting that 'Henry, Earl of Darby, Lord of Stanly and Strange Lord of Man and the Isles, Knight of the most noble Order of the Garter, Gave the Ground here Inclosed for the Burial of the dead in 1576', and that 'Margery Legie, Widow, Daughter of Thomas Saunders late of this Town Gent: at her own Cost and Charge Inclosed this Ground in September 1576', and that the entrance was repaired in 1777.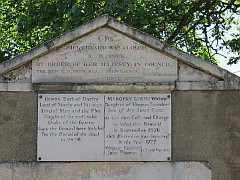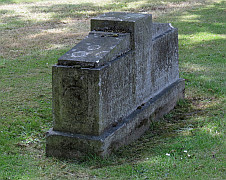 Sign at churchyard entrance, and curious tomb chest.
The ground has been mostly cleared and planted, with a couple of massive chest tombs left in situ, and some headstones against the walls, a few with lightly carved tops. In the early 19th Century, the oldest tomb was noted as being that of the family of Edmund Baker, with a date of 1637, and another chest tomb of 1725 to Jacobus Waters.
There is also a satisfyingly solid granite water fountain there.
But the sculptural interest of this spot is the War Memorial, a granite obelisk bearing a noble Angel of Peace. She is shown as alighting on a mound with military accoutrements, including a helmet, her wings still raised and partly spread, one hand raised and holding a wreath, the other lowered and holding a small branch. She is finely draped in Classical style, with a particularly harmonious view of the drapes from to the left of the statue as we look at her; her face and hair, though, are Edwardian. The sculptor was Adrian Jones, mostly known for his various horse subjects, and above all the Quadriga atop Constitution Arch at Hyde Park Corner. This Angel is in fact a slight variation on the Angel in the Quadriga, albeit on a reduced scale, and an excellent sculptural ornament to the town of Uxbridge.
With many thanks to the Church authorities for permission to show pictures of the monuments inside; their website is at http://www.stmargaretsuxbridge.org/. Note that they also have a pleasant tea shop for when visitors have finished examining the Church interior and monuments.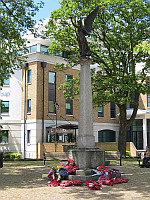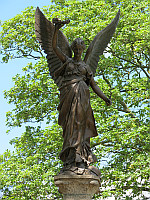 Uxbridge War Memorial, by Adrian Jones.
Hillingdon Church // Ruislip Church, also in Hillingdon // Denham Church, close by in Buckinghamshire // Sculpture on the Uxbridge Line
Burgiss of Uxbridge, stonemasons // Other sculptors
Monuments in some London Churches // Churches in the City of London // Introduction to church monuments
Angel statues // Cherub sculpture
Visits to this page from 15 July 2014: 10,619