Hayes Parish Church Monuments, Middlesex
The monuments in the medieval church of St Mary the Virgin, Hayes, Middlesex include two altar tombs, the grand early 17th Century monument of Sir Edward Fenner of Hayes with a reclining figure, and a fair selection of early and later panels, about two dozen in all. First a word on the Church itself:
Church building:
St Mary' Church in Hayes, of ancient date, is a broad, low building of flint and Reigate stone with a lofty tower. The fabric is of the 13th, 15th and 16th Centuries, with the usual 19th Century restoration, in this case in 1873, by the important Victorian architect George Gilbert Scott (coincidentally his son Oldrid Scott restored the eponymous Hayes Church in Kent at a similar time). The most prominent feature is the 15th Century tower, with the base being older apparently – the battlements at the top are likely from Gilbert Scott's time. For the rest, we can walk around the exterior to see the narrow, buttressed chancel, broader nave, and porch.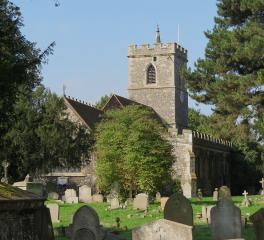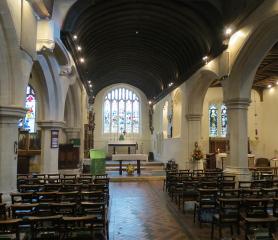 Hayes Parish Church of St Mary the Virgin, Middlesex.
Inside, the impression is of greater breadth than appears from outside. The Chancel is the main part of the oldest work, being of Early English style and dating from the 13th Century, and with some Norman stones within it. The nave is 15th Century, and its barrel-shaped roof, panelled and somewhat coloured, may be of that date. All the roofing is of wood and most atmospheric.
The monuments are mostly panels along the walls of the nave; we look at them in date order.
Monuments
Sir Walter Grene, d.1456, a grand tomb-chest or altar tomb. On the front and ends are panels with quatrefoils and central painted shields of arms. The top is a single massive panel of darker stone, in which is inset a brass of the deceased, showing him in full plate armour, hands in prayer, head resting on his saddle, his pointed shoes on a spirited representation of a griffin, sword and dagger by his sides. Well over half a millennium later, it remains in an excellent state of preservation. The inscription is typically wrapped round the edges of the upper panel, in Latin and in a chiselled hand difficult to read.
Thomas and Elizabeth Higate, 1576. Another altar tomb, but only the upper panel is preserved, and the chest beneath is reconstructed of brickwork. On the panel are set the inscription, and the worn brasses of husband and wife, with their heraldic arms above them. He is shown larger than her, and both wear long robes, and have their hands in the usual attitude of prayer. They face a little towards each other, both in face and figure. Below, much smaller, rank their children: five male and four female; one of the latter has lost her head, but the others with their bonneted faces and lace-trimmed garments are of much appeal.

Sir Edward Fenner of Hayes, d.1611/12, monument and details.

Sir Edward Fenner of Hayes in Ye County of Middlesex, Knight, Judge of the King's Bench, d.1611/12. This grand monument features a full sized figure of Sir Edward lying on one side, resting his head on one elbow. He wears a judge's robes, with fur at collar and cuffs. His face, which looks to be a portrait rather than the generic face of so many kneeler monuments, is old, rather sad-looking and lined, his hands sensitive. The effigy is painted in white, red, and black, with darkened flesh tones. He lies on a flat bed on a heavy altar tomb, in coloured marbles. To each side are free-standing pillars in brown-and-white marble, and above, entablature and a single spanning arch with panels and pendants. Alongside the inscribed panels behind the figure on the wall are relief carvings, with ribbons, scrolls, strapwork, a small skull and little heads. Above the arch, a painted and carved shield of arms with knight's helm and mantling, within a strapwork circle, and to the sides are a pair of small, free-standing statues of allegorical girls. What a splendid composition altogether.
Edward Fenner, d.1615 (ascribed). A different type of 17th Century monument, with a half-figure in alabaster facing forward towards the viewer. He wears decorated plate armour, a wide ruff at the neck, and stares forward proudly. The face looks to be another portrait, showing a highly modelled face, receding hair, wavy at the sides, and with a short beard and moustaches. If the attribution suggested by the Royal Commission on Historic Monuments is correct, then he was a son of Sir Edward Fenner whose monument we noted above.
Richard Brigginshaw, d.1661, 'of Heese [Hayes] in ye county of midd: Gent', and his wife Anne Brigginshaw, d.1672, with the demise of several of their 11 offspring recorded. Rather a splendid cartouche, with a carapace or heart shaped black central panel bearing the inscription, gently domed and polished. Around this is the broad border, with scrolling and drapery, tied at the top corners, and hanging down to the sides and base in fringed elegance, and a cartouche at top and bottom; that at the top is painted and gilt with heraldic arms, and beneath this is a plump winged cherub head (see this page for more such things). Confident, assured work by a serious sculptor.

Robert Taylor's obelisk monument to John Fisher, c.1730.

John Fisher, d.1679, wife Mary (Child) Fisher, d.1698, and an infant. The inscribed panel, in a pale beige marble, is difficult to read. It forms the base of a tall obelisk monument, separated by a pediment enclosing a shield of arms, held up by two curly side-pieces, a less usual arrangement for obelisk monuments. Above, the blotched marble obelisk itself has upon it a small half-round pot or funereal urn with S-shaped handles. The generous height of this obelisk would allow for a second coat of arms above, but if ever there was one, no trace remains. At the base, in the same white marble as the pediment, is a winged cherub head. The 1690s would be very early for an obelisk monument, a style which appeared in numbers a generation later in the 1730s. The sculptor was Robert Taylor, a significant monument maker, and according to Gunnis, the sculptural historian, the monument was put up in c.1730 – which would fit with the comment above.

John Jenyns and Dorothy Jenyns, early 17th Century Classical and Baroque.

John Jenyns MP, d.1716, Lord of the Manor, and his wife, who erected the monument, was Jane (Clitherow), d.1727. We may note that an earlier Jane Clitheroe (sic) has a nice monument in Ruislip Church also in Middlesex; a couple of other Clitherow monuments are in St Andrew Undershaft in the City. This later one had 8 sons and 7 daughters, to ensure a future supply bearing the family name. A grand Classical panel, with a streaky black and white marble border, side pilasters, upper entablature and shelf, on which rests a good-sized and nicely carved cartouche of arms. Better still is the base, with lower gadrooned (corrugated) shelf, supports with mouldings, well proportioned apron, and a carved, leafy terminus at the very bottom. To the sides of the cartouche on top are little bases, perhaps of funereal urns, now missing. A most satisfying example of this noble type of panel.
Dorothy (Bromley) Jenyns, d.1720, '2nd Daughter of William Bromley of Hoet castle in the County of Worcester Esqr. And relict of Cloberry Bromley, Eldest Son of the Right Hon. William Bromley of Bagington in the County of Warwick Esqr. Secretary of State to her late Majesty Queen Ann.' The panel has a semicircular top, and filling the spaces to the sides, strange squashed cartouches with scrolly edges. Balanced on top is a symmetrical cartouche: once, all three would have had painted coats of arms within them. At the base is an apron (carved stone at the base of a monumental panel, usually, though not here, between the brackets or supports for the piece), with more scrolly carving and a central seashell - see picture above right; you will need to click to enlarge to see properly. Elegant and restrained.
William Perris, d.1720, and wife Maria Perris, d.1724, panel with a lengthy Latin inscription, with upper and lower shelves. Above, a small pot, and below the lower, gadrooned (wavy) shelf, two curly brackets and a central apron with cartouche and crossed frondy branches, with the dim remains of a heraldic coat of arms. The little pot on top is so lonely that we can surmise that once there was more on top, perhaps a pediment or at least a base and backing, and the proportions suggest that there were side pieces to the monument to make something of a frame.
Thomas Blencowe, d.1765, and others through to Martha Blencowe, d.1780, with a Latin inscription. The panel has curly side-pieces, supported on a lower shelf somewhat broader than the panel itself, and under which is a curved apron with a shield of arms, and a bell-shaped supporting terminus at the base. At the top is a broken pediment, which once would have contained something, likely another shield of arms, but is now empty. The piece is signed on the base on the right hand side by North, and has a faint name, William Cox I think, on the left.
Revd. Anthony Hinton, d.1792, Vicar of the Parish, and his wife Hannah Hinton, d.1805. Plain white panel with base cut to a wavy shape.
Revd. Charles Manning, d.1799, Vicar of the Parish from 1738-1756, his wife Elizabeth (Baker) Manning, d.1796, and their daughter, who died young, also Elizabeth; further members of the family, and the Greated family, through to 1898 are noted on a separate panel added to the base of the monument. The main panel, with fluted side pilasters, and a wavy base bearing a relief carving of a shield with a cross fleury (see the Cross Monuments page on this site) and a crown and phoenix on top, has as its main feature a fine bust of the Revd. Manning on top. This shows him in late middle age, with neatly parted hair, tightly curled, likely a short wig, and a purposeful gaze. His face is rather fleshy, but given character by bushy eyebrows and strongly delineated nose, above a tight-lipped half smile. His neck is bound with a cravat, and as expected for this date, he wears a Classical robe below, perhaps his doctoral garb. The Classical base rests on a bible, and behind is a single olive branch, for peace, with a small snake coiled upon it, representing wisdom (see the page on snake sculpture). A most fine piece of portrait sculpture.
Thomas Bishop, d.1800, with a short eulogy. White marble, plain, cut with a curved base.
Dr. Robert Freeman, d.1807, and his wife Maria Freeman, d.1815. White marble panel with a Latin inscription, thin upper shelf, and on a black shaped backing. This is supported on two moulded brackets, and the bell-shaped apron between these contains the later inscription to his wife. See picture below left.
Children of Thomas and Martha Blencowe, and others of the family, through to 1811, with Latin inscription. Two parallel panels, shaped as headstones, a low plinth with small steps below, and above each, a swan-necked pediment with flowers carved in relief. On a shared, single black backing, a wide arch as if Tudor. Signed by Henry Westmacott of London (see this page).
Susannah Elliot, d.1811, and eldest son, Josiah Thomas Elliot, d.1812, an infant. Plain white marble panel with wavy base, loosely based on the panel to Revd. Hinton noted above, but exaggeratedly low in the centre.
Mary (Shackle) Medley, d.1816, with a long poetic eulogy. Panel with pointed top, cut with small feet below, and a narrow black fossiliferous marble backing cut to shape. There is a small central embellishment or support at the base carved with a flower. Signed by the masons Burgiss of Uxbridge. The first of a pair of panels to this family by this firm of masons; the date suggests John Burgiss, and there were two of these, father and son (see this page). Their rather simple but generally well-cut and proportioned monuments are to be found in a variety of Middlesex churches and a bit beyond.
William Devon, d.1819, and wife Mary (Heath), d.1811. A white on black panel, but a little more ornate than the usual. It is in the form of a tomb chest end, thus with little feet below (with buttons), and at the top, a lid or pediment with acroteria and rather elegant repeating patterns across it, scrolling to quatrefoil flowers in the centre. On top of this a heraldic lion rampant.
Henrietta Farrar, d.1822, and her son Septimus, also d.1822. Plain white panel cut with pediment above, and resting on small blocks.
John Baptist Shackle, d.1824, wife Elizabeth Shackle, d.1824, and grand-daughter Selina Shackle, d.1821. White panel with upper shelf and cut above this to form a pediment shape, with base and acroteria, the latter in white and black - see picture above right. At the base, little feet with ball-ornaments underneath, and the whole is on a black backing, supported on two small curved brackets. We met Mary (Shackle) Medley above, and this panel is again by the stonemasons Burgiss of Uxbridge. A neat little monument.

Henrietta Meredith, d.1825, with low relief carving.

Henrietta Arabella Meredith, d.1825, daughter of the Revd. Theophilus Meredth of Ross, with a grim eulogy. Marble tablet with a small shield containing a rampant lion in low relief, surrounded by generous leafy branches carved in somewhat higher relief - see picture above.
Charles Harvey Freeman, d.1827, 'who died on board the Hon[oura]ble E[ast] I[ndia] Company's ship Waterloo, in his passage to Madras as a cadet', and C. A. Arrhenius, d.1834. White on black monument, the panel having an upper shelf and lower, curvy base with a ball under it. Above is a high relief sculpture of a pot or funeral urn, rather broad, and draped asymmetrically. Behind, a black backing cut to polygonal shape and with something of a rim. There seems to be worn initials as some sort of signature, but I could only make out the letter L.
The Hon. Juliana Curzon, d.1835, daughter of Nathaniel Baron Sarsdale of Kedleston, noting her charitable bequest to the Church to support the poor of the Parish. Plain panel with a small lozenge of arms, and block supports below.
George Thompson, d.1838, and wife Ann Thompson, d.1850. As a chunky tomb chest end, with block feet, upper shelf or lip and a lid cut to pediment shape, on a black backing, also with block feet.

John Tomlinson of Uxbridge: simple panel to Daniel Wilshin.

Daniel Wilshin, d.1864, a tomb chest end, with spare upper and lower shelf, block feet, and lid cut to shallow pediment shape, on a shaped black backing. The work of the local sculptor, John Tomlinson of Uxbridge.
William Randall, d.1901, Rector of Hayes, and his wife Louisa (Langley) Randall, d.1901. No sculpture, but an excellent example of the revival of coloured marbles around the end of the 19th Century. The inscription is on a pale marble, with two frames of pinky-brown and white marble separated by a Serpentinite green border. A corner of the inscribed panel is filled with a shield of arms on a red backing. All very Arts and Crafts in the choice of colours, and typical of the period.
James Gale, d.1883, and wife Emily Elizabeth Gale, d.1928, emplaced by their daughter Mabel Gale, d.1931. A plain panel of delicately streaked grey marble, devoid of ornament as is sadly characteristic of later 20th Century panels. Above it is a narrow panel to Celia Elizabeth Roberts, d.1955, who restored the stonework of the window above. Plain reddish stone with a thin border.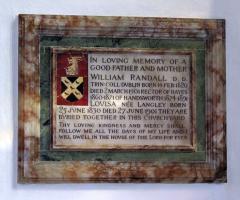 Arts and Crafts panel to William Randall, d.1901.
Brasses
The ancient brasses of Sir Walter Grene and Thomas and Elizabeth Higate, set on altar tombs, have been noted at the top of this page. Also notable are:
Ancient half-figure of Robert Levee, c.1370, set in the floor. He was a rector of the Church, and is shown stern and grim, hands in prayer, and with high collar and a baggy garment, thus the vestments for mass. According to information in the Church, this is the oldest brass in Middlesex.

Levee brass, c.1370.

Henry Clerke, d.1609, Clerke of the Peace of Middlesex for 35 years with an inscription referring to his wife Katharine and his charitable activities, but of the standing figure above we have only the matrix (outline where the brass once was). On a black panel in the floor.
Harriet Mason, d.1885, a long, low brass in capital letters, black with the principal letters and numerals picked out in red, a red line border, and small leaf designs also inscribed in red. Typical of late 19th Century revival brasses.
Also in the Church
The Norman font, an excellent one, being a squat round bowl supported on a massive central shaft with eight brownish pillars around it, and a solid base. The side of the bowl has low relief vines or leafy plants upon them. Late 12th or early 13th Century, which suggests it is likely older than the oldest surviving portions of the Church.
St Christopher Mural. It was during Gilbert Scott's restoration that the mural of St Christopher was discovered. The mural, part coloured, shows the saint, very large and partly coloured, with a vaguely seen landscape between greenish boulders – it takes a little time to make out the different components. There is a snake coiled about the base of St Christopher's staff, and what appear to be fishes or small beasts at his feet, and also present is an infant Christ and a small hermit. 15th Century apparently, dated by the wall on which it is painted.
Ledger stones or floor slabs, including 17th and 18th Century examples with heraldic arms alongside the brasses already noted.
A panel noting the Amalgamated Charities of Hayes connected with the Church.
List of rectors, ambitiously going back to 1259.
The wooden panelled pulpit, on a stone base, presumably from Gilbert Scott's restoration.
Wooden Tryptich as a reredos, painted with Biblical scenes: the Annunciation, Adoration of the Shepherds in the middle, and Saint Elizabeth and the Virgin (Blessed art thou among women). Again, these would be from Gilbert Scott's restoration, and are most Pre-Raphaelite in a second-generation Burne Jones style. Really excellent work, technically, including especially the girlish faces, the male hands, the glint of the pot and the white lilies, but rather sweet for modern taste. See pictures below, and one at the top of the page. The artist was Edward A. Fellowes-Prynne (1854-1921), who was buried in the graveyard of St Mary. The carving was by George Fellowes-Prynne, a notable architect, and designer of church furniture.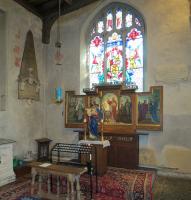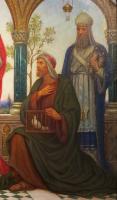 Reredos tryptich, with one of the Fellowes-Prynne paintings.
Hayes Churchyard
The Church sits within its large graveyard, with many trees, and some decent monuments of the usual outdoor types, with a scattering of urns, crosses, wooden weatherboards, and the odd carving, for example withered branches, flowers, ledger stones and tomb chests. A feature is the lych gate, with a fine roof.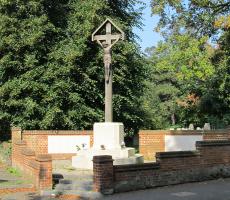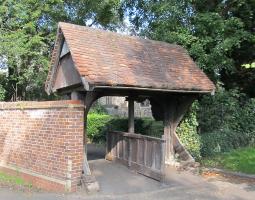 Hayes War Memorial crucifix, and lych gate.
With many thanks to Fr Nicholas Wheeler for permission to show pictures of the monuments inside the Church; the website is https://www.achurchnearyou.com/st-mary-hayes-middlesex/.
Nearby in Middlesex: Harmondsworth Church // Harlington Church //Uxbridge Church // Hillingdon Church // Perivale Church // Greenford Church
Burgiss of Uxbridge, stonemasons // Monuments in some London Churches // Churches in the City of London // Introduction to church monuments
Angel statues // Cherub sculpture
Visits to this page from 21 Jan 2017: 4,681