Tomlinson of Uxbridge, stone masons (firm active 1806-1870)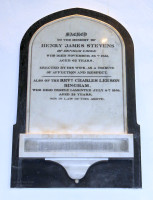 A panel by John Tomlinson of Uxbridge.
Modest church monuments signed by Tomlinson of Uxbridge may be seen in several churches in Middlesex, invariably of the white-panel-on-black variety, with a range of minor sculptural motifs, and in a few cases, a less usual shape than the standard 'tomb chest end' with the panel looking like the end of a tomb chest, thus with lid or pediment above a thin shelf above the inscription, and little feet below. There were two Tomlinsons of Uxbridge, presumably father and son. The elder, John Tomlinson, Stone Mason of Uxbridge, was active from 1806, and died in 1832. The second, William Early Tomlinson, Stone Mason of Uxbridge, went bankrupt in 1870.
Monuments by Tomlinson of Uxbridge noted on these pages include Daniel Macnamara, d.1851 in Uxbridge Church itself, John Maud, d.1820, in Hillingdon Church (the parent church of Uxbridge), Henry James Stevens, d.1855, in Denham Church (close to Uxbridge, just outside Middlesex), and Daniel Wilshin, d.1864, in Hayes Church. Others of their work may be seen in East Bedfond Church (two early panels), Cowley Church, Pinner Church, and again a little outside Middlesex, in Burnham Church, Bucks.
Another stonemason called Tomlinson, James Tomlinson of Haslingden, Lancashire, b.1839, was a successful man, employing 30 people at his peak in the 1870s. Several of his sons were also stone masons through at least to the 1890s. But I have not made any link with the Uxbridge Tomlinsons.
There was one other family of stonemasons in the Uxbridge area, Burgiss of Uxbridge, see this page.
Introduction to church monuments // Sculpture pages // Sculpture on the Uxbridge Tube Line
Visits to this page since 23 Jan 2017: 2,124