Monuments in Ealing Parish Church, St Mary
The Parish Church of St Mary Ealing is not in the centre of modern Ealing – the tall church there is Christ the Saviour – but on the road leading from there to South Ealing. Thus Ealing High Street goes past Walpole Park, with Rothschild's one-time residence Pittshanger Manor, becomes Ealing Green, and then South Ealing Road; a wiggle in the otherwise due south course of the road is where St Mary stands. The view walking towards it is impressive, for the massive square tower with a four-sided roof, and one pinnacle; closer up, we see the relatively low body of the Church, all brick and Romanesque arches. From the point of view of the monument-hunter, it does not look too promising, as it is clearly Victorian – 1865-73 is the date – but happily a host of monuments from the church it replaced were kept, and replaced within this remodelled building.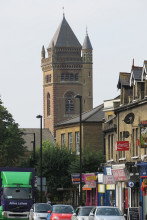 The assured style of the Church, exterior and interior – described by Archbishop Tait as a 'Constantinopolitan Basilica' – are all the work of S. S. Teulon, a forceful Victorian architect, and what he did is described as a 'remodelling' of the previous church, dating from 1740, itself a replacement of a structure which had collapsed several years before which dated from mediaeval times. A particularly nice touch is the cast ironwork pillars inside, increasing the feel of lightness and space. Three cheers to the Church authorities for the sensitive restoration and colouring.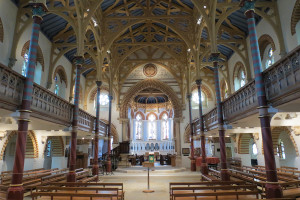 Interior of St Mary, Ealing, work of S. S. Teulon.
We have, then, a combination of a Victorian church, polychromatic and rather bright inside, with a collection of almost 60 wall-monuments (mural monuments). This collection includes one excellent brass, and a series of mostly fairly modest tablets, but with three dating from the 17th Century, 10 or 11 from the 18th Century, and most of the rest still from the old church, with about 15 being installed since then, including a little batch from the interesting period around 1900. Though modest, the series includes plain panels, various Classical tablets with pediments, pilasters and so on, a cartouche, two obelisks, and modern brasses, thus a fair selection of the more familiar types of small monument. The sculptural adornment is minor, yet we have several pots, foliage carved in relief, hanging draperies, carved coats of arms, the odd winged cherubic head, two small relief figures of girls, and two low relief portraits – a good crop overall. Several of the works are signed, including a couple of big names, and several minor monumental masons. We start on the ground floor, and have a separate list for the gallery – for the ancient brass, see bottom of page:
Ground floor Monuments: up to 1800:
John Bowman, d.1629, 'Batchelor of Divinity, Chancelor of ye Cathedrail Church of St Pawle, and Parson of this Parish', who was also 'a sincere and paynfull preacher of God's word and a bowntifull & charitable reliever of ye poore'. An alabaster panel with deeply cut text, in a dark marble frame. It seems likely that the panel has been reset in this frame from some larger monument no longer extant.

Monument to Richard Taverner, d.1638.

Richard Taverner, d.1638, Vicar, erected by his wife. Alabaster panel with carved strapwork border bearing low relief scrolls and cabochons, and the centre occupied by a skull and crossbones atop an hourglass, with ribbon and motto below, all nicely and spiritedly carved. There seems to have been something detached from the bottom centre, and a base on top for some vanished object, perhaps an oversized coat of arms. In very light relief under this base is a winged cherubic head. This could have been the totality of the monument, or it could have been part of some much larger edifice.
Edward Vaughan, d.1612, the panel being put up in 1740 to commemorate him and his bequest to the Poor and the Church. Worn panel with frame of same coloured stone, but which looks more modern.
A white panel, with a curved top, which I could not read the name, but which bears the date 1752, which is likely when the commemorated person died.
Dame Jane Rawlinson, d.1712, with a long inscription. Pale panel with side pilasters, fluted, in grey and white marble, supporting an entablature and heavy upper shelf in three parts. Shell-like corrugations at the base, and beneath that, two large brackets, a bit of carved drapery in two symmetrical folds, and a central shield of arms, now blank.
Rebecca Ward, d.1768, with a long eulogy by her husband, William Ward of Gibraltar, inscription added at the bottom to her daughter, Elizabeth Ward, d.1832. Plain white panel with curvy top and inscribed outline to indicate a narrow frame.
George Oldmixon of Oldmixon, d.1779, and wife Jane, d.1781, and their son George, d.1771. An unusual panel, being a horizontally elongated oval, on a rectangular backing, nipped at the corners, of black and white fossiliferous stone, with above, a substantial shelf.

Oldmixon and Crofts monuments: late 18th Century Classical tablets.

John Crofts, d.1793, erected by his children. A fine Classical piece, the inscription on a broad oval panel, on a rectangular dark backing panel, with festoons, delicately cut with repeating leaves and bunches of berries or olives, affixed at the centre and corners and falling to the sides. Above, a pediment encloses a small fluted pot. Elegant.
Marian Mackenzie, d.1799, and Jessie Fraser, her sister, d.1800, and children. Above the main tablet is a narrow fluted panel bearing a carved flower, between two narrow shelves. The backing panel, in a light and dark grey marble, is cut to form a curly pediment above, enclosing an oval with the remains of a painted coat of arms. At the base, a fluted shelf, and two brackets.
19th Century Monuments from the Old Church
Robert Orme, d.1801, roundish oval of pale stone with a frame consisting of a carved snake swallowing its tail, in Nordic art fashion. A small painted shield of arms is on the panel. The faint text describes him as 'the elegant Historian of the Military Transactions of the BRITISH NATION in INDIA.'
Ann Goodenough, d.1806, white marble tablet, borderless, with upper shelf and pediment bearing a stylised shell design in low relief.
Oliver de Lancey Stapleton, d.1810 (it looks almost like 1811), a youth, his mother being Katharine, daughter and co-heiress of John Beale of Charleston, South Carolina. An oval, almost a circle, of white marble with a large winged cherubic head above it, on a rectangular base, signed by Marshall. The firm of T. and G. Marshall of Deptford, worked as stonemasons from the late 18th Century through to the 1830s, and sign a number of memorials in London and the South East.

Stapleton monument, by T.& G. Marshall, and Barre Roberts monument, with relief portrait of a girl (click to enlarge).

Barre Carolus Roberts, d.1810, with long Latin inscription in Roman capitals. The white panel is surrounded to the sides and base with a black backing, curved at the bottom to allow for a small coat of arms, and at the top, a white backing is cut in the shape of a pediment and acroteria ('ears'). On this is a relief carving of a girl, seated on the floor with legs stretched out, on the thigh of one of which rests a heavy book which she is about to open. She is somewhat full of figure, wearing enveloping drapes and a hood or veil. Quite nicely carved, though the forehead is somewhat short and the nose a bit too Roman.
Elizabeth Garrett, d.1818. A white panel without border, and protruding borderless pediment above with acroteria carved with anemone patterns; the main space is occupied by a stylisesd shell or palm leaf and two scrolls in low relief.
Sir Jonathan Miles, Knight, d.1821, panel with upper and lower shelf. At the top is a relief carving of a draped pot, adorned with a wreath of flowers; the drapery has almost taut edges so that it splays out to form a truncated triangular shape, an uncomfortable move towards an odd-shaped pediment which lacks conviction in design terms, though it matches in weight the truncated apron, which bears a low relief coat of arms. All on a black backing, and signed by a prominent sculptor and stonemason, Charles Regnart, who produced numerous monuments, from the 1790s onwards.

Sir Jonathan Miles, d.1821, by Charles Regnart, and low relief arms.

Peter Thorn, d.1821?, and children to 1817 – the text is faded and the panel was hanging too obliquely behind a pillar to see properly. Above, a shelf bearing a low relief pot, asymmetrically draped.
Revd. Thomas Warry, d.1823, Curate of the Church and previously Vicar of Glassbury, panel with wavy top and ears, incorporating a coat of arms with a slight carving of some beast on top.

Mid 1820s tomb-chest ends: Richard and Jane Gray, and Thomas and Sarah Caldwall.

Richard Gray, d.1825, and wife Jane Gray, d.1826. The inscription is on a white panel styled as a tomb chest end, with little feet bearing low relief flowers, a shelf, and a top bearing a carved coat of arms. On top is seated a casket tomb with lion feet, and everything is on the usual shaped black backing. The monument is a minor work by William Pistell of New Road, London, a monumental mason whose tablets, occasionally with figure sculpture, are found in London and the surrounding counties, as well as a few works further afield.
Thomas Caldwall, d.1825, and wife Sarah Caldwall, d.1834. Same design as the Elizabeth Garrett monument.
Joseph Fletcher, d.1833, panel with upper and lower shelves, a sort of pediment above bearing a low relief of an arm holding an arrow, very slight, and a jelly-mould shaped apron below, on a black shaped backing.
Alexander Copland, d.1834, and wife d.1849, with long texts in small capitals. The panel is surrounded with curly side pieces, more brackets than pillars, supporting a Classical pediment incorporating a carved shield at arms. Strongly cut acanthus leaves on the sides. A lower shelf, corrugated, is supported on two small brackts with anemone patterns, and there is the usual black backing. The monument is signed by the Patent Works, Westminster, a shorthand for the 'Patent Marble Works', a fairly prolific company whose work is of mixed quality; this one is a good example of carving.
Thomas Aston, d.1836, with upper shelf with lightly carved repeating pattern below it, on a black backing.
Mary Wood, d.1836, and husband George Wood, d.1864, and six unnamed children. Plain white panel.
Ann Wood, d.1837, slightly unusual, with the central panel having a pointed base, and upper shelf, between plain white pilasters, separate from the panel, to show the dark backing. Above, in black and white marble, is a blank pediment, with more backing all the way round. The only carving is the anemone pattern on the two corbels or brackets under the pilasters, though the pediment might have once born some central device.
John Winter, d.1843, wife , d.1813, and two of their children. As a tomb-chest end, with upper shelf, pediment bearing a coat of arms and a ribbon, and large 'ears' or acroteria bearing carved, low relief anemone patterns, all on a black shaped backing. The mason was R. Brown of 58 Great Russell Street, a minor statuary who made a number of monuments in London and elsewhere - see this page.
Elizabeth Bonella, d.1843, wife of Revd. Henry Simpson, Vicar of Bexhill. Plain brass panel.
Barnaby Blake, 1844, wife Sarah, d.1882(?), daughter, also Sarah, d.1857, and sister of the mother, Ann Mason, d.1855 one of the monuments in the narrow aisle, high and difficult to see from any angle. White marble panel with upper shlf on which rests a draped pot carved in relief, and a heavier base resting on two brackets, all on a black shaped backing. Signed by the Westminster Marble Company, who manage to mis-spell their own title ['MABLE'], not a good sign.
Elizabeth James, d.1847, and daughter Emily, d.1851. Panel with upper shelf and a lid above that, on a shaped black background. Signed by T. Dorey, of Strand on the Green. The shelf and lid are made of individual sections, a mistaken choice which gives the impression that the mason used marble offcuts.

Earlier Victorian panels: Winter monument by R. Brown, Great Russell Street, and Platt monument.

Miss Elizabeth Platt, d.1847, and Miss Sarah Scatchard, d.1851. Blocky little casket-end, with shelves above and below, and lid with acroteria, no carving at all, on a shaped black backing.
Dora Paulina McMahon, d.1852, white panel on a backing of grey marble. The panel includes a fine relief carving of a cut flower lying on the ground, and a new plant growing up one side, freely impinging on the text area, thus symbols of life cut short, and the rebirth of the soul to eternal life. J. Edwards of London was the sculptor.
Evan Hamilton Baillie, d.1857, with lower shelf, a small coat of arms and motto carved in low relief, all on a rectangular backing of grey-veined white marble. The monument is another one by J. Edwards of London.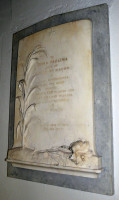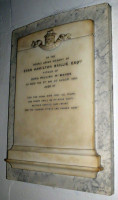 Monuments by Joseph Edwards, sculptor: Dora McMahon, and Evan Baillie.
Monuments from the New Church: 1880s onwards:
Elizabeth Senior, d.1882, and grand-daughter Mary Louisa, an infant. White panel with rounded pediment above containing a sunburst in relief, with rounded acroteria or ears, the whole resting on a thick base – hardly an entablature – of insets of different coloured marbles rather like a fence. At the base, two brackets and an apron with low relief acanthus leaves and flowers.
Spencer Horatio Walpole, d.1898, and wife Isabella, d.1835. He was three times Home Secretary, and she was the daughter of the Rt Hon Spencer Perceval. Rectangular plaque on a slatey backing, shaped so as to allow for an inset coat of arms above. Signed by the prolific monumental masons Gaffin of Regent Street.

Arts and Crafts monuments: Henry Atlee, d.1899, and Revd. William de Burgh, d.1902.

Henry Niess Atlee, d.1899, last of a 250-year dynasty of Parish Clerks to the Church, and sister Elizabeth Atlee, d.1900. A brownish panel carved with a frame, and inset with a narrow band of turquoise and light blue glass mosaic, a not uncommon minor use of mosaic.
Revd. William Edward de Burgh, d.1902, Curate of the Parish who served as Chaplain to the Forces in the Boer War and died at Capetown. One of those beautifully coloured monuments of the Arts and Crafts period, being pale pink marble panel with green mosaic border surrounded by a frame of red-brown alabaster, itself within an outer frame of streaky green. Effective.
Richard Sedgwick, Churchwarden to 1903, dark little panel with blackened border within a broader pale frame.
William Elliott Oliver, Vicar 1886-1915. Plaque of marble with colourful red-brown marble or alabaster frame, characteristic of many monuments of this period or a little earlier. With a low relief portrait roundel of the deceased, showing a bearded man with high, domed forehead and a determined air.
Lieut. Richard William Haybittle, d.1918, serving in France and Mesopotamia and dying at Amara. Plain stone plaque with some low relief regimental emblem with crown on a cross and two crossed machineguns.
John Horne Tooke, d.1812, erected 1919 by the New England Society of Brooklyn, New York, 'as a recognition of his actions in raising a fund for widows & orphans of American soldiers killed on April 19th 1775 at Lexington and Concord Massachusetts at the outbreak of the Struggle for American Independence and further commemorate the Alliance of 1917 of American & British Arms in a War for Freedom and the Right of All Nations to Self Government'. Bronze panel with roundel at the top enclosing a portrait, on a shaped marble backing. The stern faced portrait is the work of the sculptor L. F. Roslyn, a prominent artist of the early 20the Century, and is dated 1918.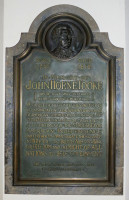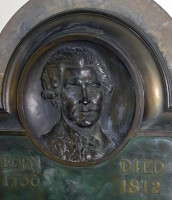 Memorial to John Horne Tooke, d.1812, by the sculptor L. F. Roslyn (erected 1919).
Modern brass tablets:
James Slark, d.1892, and wife Anne, d.1884, black text with red capitals, and inscribed border with a cusped Gothic arch, very broad, with the spandrels filled with stylised leaves, and a repeating vine pattern at the base. Above, an almost semicircle, slightly Gothic, enclosing repeating ornament and the IHS monogram.
William Walrond Jackson, d.1895. He was Bishop of Antigua from 1860 until his death; the monument was put up the following year. With an inscribed portrait figure of the deceased, standing facing forwards, wearing clerical garb with heavy sleeves, and within a trefoil arch with coats of arms at the spandrels and much repeating decorative ornament. By Jones and Willis(?)
Robert John Dennys Moseley, d.1897. He was with the 15th Sikhs and died at Rangoon, Burma. Typical brass of the period, with black text, initial capitals in red, and border of repeating decorative ornament, with stress at the corners.
Frederica Elizabeth Perceval, d.1900, last surviving child of the Rt Hon Spencer Perceval. The usual black letter text with red capitals, the broad border with an unusually ornate repeating pattern of thistles, and with a trefoil at the top with a motto.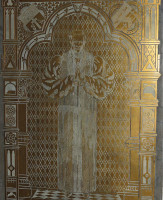 Ornate modern brass to William Jackson, Bishop of Antigua, d.1896.
Monuments in the Gallery
Up in the gallery are several more monuments, tending to be somewhat more ornate than those downstairs.

Gallery Monuments up to 1800:

John Loving, d.1693, Chancellor of the Exchequer. The panel has a baroque surround, with cherubic heads looking outwards from the curved sides, and at the top a pot with S-shaped handles, and by them, curvy flowers, almost art nouveau, and scrolly designs, beautifully carved, sinuous things. Under the lower shelf, another curve brings us to a jelly-mould terminus, with above it, a low relief cartouche, small but exquisite. The monument has a remarkable shaped background, in red and green and yellow white brecciated marble, most flamboyant.
Joseph Gulston, d.1757, a second Joseph Gulston, d.1766, who was MP for Poole, Dorset, in five successive Parliaments, and a director of the South Sea Company, the latter's wife, Maria de Silva of Portugal, d.1799, and family. The monument takes the form of an obelisk monument, with a coat of arms painted at the top, and the inscriptions all the way down from the top, including on the base section below a shelf about four fifths down the monument. At the base, there are two small feet.
Martha Smyth, d.1769, husband James Smyth, d.1780, and various descendents to 1835, in small capital letters, on a black panel with a plain stone border, more a record of the family than a monument to them.

Obelisk monument to Dame Ann Edwards, d.1785.

Dame Ann Edwards, d.1785, and added later, Sir Thomas Edward, Baronet, d.1790, and daughter, Ellen Hester Mary Hope, d.1837. A splendid alabaster monument, with a shelf above the panel, curled brackets with dangling flowers to the sides, and above, a flaming Greek pot on a plinth with the quote 'Mors Janua Vitae', thus 'Death is the gate to [Eternal] Life'. At the base, a painted shield of arms, with carved repeating flowers in festoons to either side; similar festoons hang from the pot. But the best bit of the monument is the colourful red and white brecciated alabaster backing, which rises to a short obelisk behind the pot.
Henry Beaufoy, d.1795, 'Late of Castle Hill in this Parish, but descended from an ancient Family of Warwickshire. His Integrity was unblemished, His Talents of the Highest Class, And he dedicated them in three successive Parliaments to the Service of his Country.' An expensive piece, designed as a casket tomb end, with fluted sides, a curved top with a low relief pot upon it with festoons, anemone-carved acroteria, and lion's feet with more festoons at the base, along with a small coat of arms, painted. The whole rests on two chunky bases of marble. The monument is by Richard Westmacott the Elder, a prominent sculptor and statuary, and father of the celebrated Sir Richard Westmacott RA. Compare the picture below with that of Dame Ann Edwards above - what a contrast between the florid earlier monument, and the cooler Classical, most restrained, of just a decade later.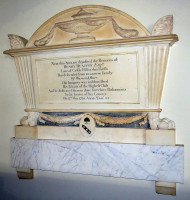 Westmacott the Elder's monument to Henry Beaufoy, d.1795.
Gallery Monuments after 1800:
Sibella Davison, d.1807, 'Inheriting an ample fortune, her liberality was universally extensive. The sufferings of humanity never pleaded before her in vain.' As a casket-tomb end, with the sides carved with scrolls and foliage, an upper fluted shelf, and on that, a rounded pediment and acroteria, carved with anemone. Within the pediment, which is almost borderless, is a small carving of a standing woman, rather dumpy, leaning on a pot on a pedestal, a minimal and minimum sized version of the common theme. Behind her, from side to side is a twisted and knotted drape. Between the casket feet, the apron is a section of a circle so that upper pediment and lower apron form top and bottom of one great circle behind the casket. There is a grey shaped backing. Altogether very elegant and extremely well composed.
John Morgan, d.1808, and Mary Morgan, d.1800, his first wife. With a narrow inset border of grey marble, upper shelf, and on top of that a wide pot or lamp, nicely carved in relief. Underneath, two brackets carved with stylised flowers, and the whole is on a grey and white marble backing. The carver was John Soward, who worked from Tottenham Court Road, and has several monuments in various churches - see this page.

Thomas Smith, d.1823, by the mason Sarah Holmes.

Thomas Smith, d.1823, and wife Susannah, d.1840, white panel with chunky upper shelf on which rests a bell-shaped pot in relief, decorated with a circlet of flowers, delicately carved, and a large asymmetric piece of drapery pulled slightly taut to make a rough pediment shape, not hugely successful as a design. At the base, a truncated shape echoing the top of the monument, bearing a relief coat of arms with a border. All on a black backing. The work of Sarah Holmes of Brentford, a rare female monumental mason, whose work, apparently, is found in several places across Middlesex.
Major Alexander Morison, d.1827, of the Bengal Military Service, with a eulogy. Panel with upper and lower shelf, beneath which is an inscription to his wife Jane Morison, d.1863, after a second marriage, to Robert Alexander, seventh Earl of Carnwath. At the top, a half-round pediment between acroteria decorated with carved anemone patterns and acanthus; the centre has a wreath and a missing central portion, likely a coat of arms, and a ribbon with motto survives underneath – 'Praetio prudentia praestat', which is the motto of the Scottish Morison clan and means 'prudence is better than profit'. Resting on the lower shelf is a relief carving of drapery, knights helm, and long sword.
Isabella Mary Pakenham, d.1827, Capt Edward Wetherall, d.1814 who fell in battle at the storming of Berrgen op Zoom, and General Sir Frederick Wetherall, d.1842, and his wife Elizabeth Ann, d.1846. With upper and lower shelf, and above, a neat Classical pot with a small drape and palm leaves at the base, on a shaped black backing. By E. Gaffin, of the firm we shall meet again below.
Charles Hutchinson, d.1828, and with added inscription to Lieut. Benjamin Martin Hutchinson, d.1849, his second son, who lost his life at Camp Goojerat on the Chenab, following a battle. As a simple tomb chest end, with on the lid, a carving of a stick with a snake wound around it, which is the staff of Aesculapius, indicating that Hutchinson senior was a medical man (see the page on Snakes). All his on a streaky dark marble backing. The tablet is signed by Richard Westmacott Junior, which the eminent historian of sculpture, Gunnis, gives to Sir Richard Westmacott RA rather (thus junior to his father, who made the Beaufoy monument noted above, rather than the third of the dynasty; the date could have been either); both were prominent makers of monuments.

Alexander Love Gordon, d.1828, crisply carved Classical.

Alexander Love Gordon RN, d.1828, with fluted side pilasters, upper shelf bearing a pediment with anemone acroteria, and a carving of a rearing stag. At the base, two brackets bearing stylised flowers (there are more at the corners of the inscribed panel), and a shallow apron. The whole in a creamy coloured marble, and well proportioned.
Eliza Gulston Stepney, and I could not read the date, a plain plaque with a small device at the top, p resumably once painted, on a rectangular backing, by the prolific monumental masons Gaffin of Regent Street.
John Palmer Winter, d.1838, and daughter Mary, d.1843, and wife, also Mary, d.1863. Panel with slim upper shelf, then a blank entablature, if so we can call it, with the central portion forward, and on top of it a paitned coat of arms with carved scrolling. At the base, a scrolly relief carving with a central flower. All on a black backing. By R. Brown of 58 Great Russell Street, whom we met in the monument to John Winter noted above.
Joseph Gulston, d.1841. With curly brackets to the sides, and a shelf above, on which rests a painted shield of arms, with carved curly scrolls around it. On a black shaped backing. Another work by R Brown, of 58 Great Russell Street.
A plain grey panel, truncated, being a backing panel only, bearing a carved knight's helm and shoulder piece, the remnant of some vanished memorial.

Henry Pegg, d.1901.

Henry Edward Pegg, d.1901, and his wife Alice Pegg, d.1903, two matching tablets in red-brown alabaster, which was revived in the 1890s and 1900s, on a black background, with heavy shelves above and below.
Also in the Church:
Brass to Richard and Kateryn Amondesham, c.1490.

A rather excellent ancient brass to Richard Amondesham, and his wife Kateryn, dated at around 1490 by the Royal Commission on Historic Monuments. Very hard to read, but with a charming couple of kneelers, both facing to the right, and each with a flock of very small children kneeling behind them. He is in civilian clothes, with shoulder length hair, a long robe, and some ornamental chain of circlets at his waist. She is also robed, but in a way to show her slender waist, and with fur at the outer collar and, I think, the turned over sleeves. and wears a head covering. Both have their hands as if in prayer, but close together without touching. There are three sons, and six daughters. Between the couple is a coat of arms. The design and rendering is extremely spirited, and the characters look interesting and aesthetic.
In the side-chapel, a separate altarpiece, with great blocks of furniture, minor mosaic and two panels with painted angels and an opus sectile backround, colourful and Arts and Craftsy.
b>1914-18 Memorial to those of the Parish who died in the Great War. A gateway in the aisle with two panels with the names, bordered by pink and buff alabaster, carved into Acanthus at the top and enclosing a crucifix, and with a green Serpentine base. Above this is the arch of the gate in wrought iron, with a central crucifix and wreath of olives leaves.
A 1987 plaque to Thomas Bradwardine, Vicar of the parish, and later Archbishop of Canterbury for a week before dying of the Black Death in 1349. Wooden panel with a painted insignia.
With many thanks to the Church authorities for permission to show pictures of the monuments inside; their website is http://stmarysealing.org.uk/.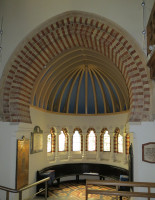 Nearby Acton Parish Church (St Mary) and Hammersmith Parish Church (St Paul) // or north to Perivale Church // or North West to Greenford Church (Holy Cross)
Monuments in some London Churches // Churches in the City of London // Introduction to church monuments
Angel statues // Cherub sculpture
Visits to this page from 12 Aug 2014: 11,087