William Pistell of New Road (active 1814-44, maybe d.1845)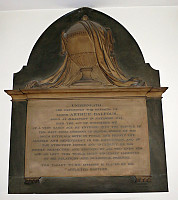 Typical monument by William Pistell.
The stonemason and sculptor William Pistell was one of the New Road stonemasons, which is to say he was one of the number of stonemasons with premises along what later became Euston Road and Marylebone Road, working in the latter 18th Century (the road opened in the 1750s) through to the early 19th Century. These stonemasons supplied typically rather plain black-and-white monuments to churches across London and elsewhere. However, a few rose above the general standard, and William Pistell was one of these.
There is little biographical information available on him, at least little I have seen. Gunnis, the sculptural historian, lists something over a dozen monuments by him between 1814-44, and that he was employed as a decorative carver in 1814-17 by the Duke of Bridgewater, and also made some chimney pieces. Apparently he was involved with Flaxman and Sir Richard Westmacott RA in the transportation and exhibition of the Elgin Marbles when they came to England in 1816, and from this seems to arise the various references to his 'association' with those two eminent sculptors. Genealogical sources suggest he had two brothers, and that the family as a whole was in the statuary trade, but on what evidence I do not know. Slightly in support of this, it may be that he was the son or relative of a Winchester carver, also called William Pistell, active in the 1790s. He wrote a will in 1845, and may have died in that year, because no works of his have emerged for people who died after 1844, and he is certainly absent by the census of 1851.
Happily, a variety of William Pistell's monuments survive – the list has grown to around 20 – including as far afield as South Africa, but mainly around London and the South-East with a few in the North of England. The monument to Joseph Priestley, d.1813, in Bradford Cathedral, has a rather nice low relief carving of tiny little workmen building the Leeds to Liverpool canal, and a set of cartographer's tools, also in relief. Others, such as his panel to William Lee, d.1814 in Alton, Hampshire, show minor but well cut decorative elements – crossed branches in that case, and the odd draped pot in high relief, as in a work of his in Marylebone Parish Church (see picture above), or even relief figural sculpture, as in his kneeling classical girl, for the George Nassau memorial (d.1823) in Easton Church, Suffolk. His most elaborate monument, which I have seen only in reproduction, is in St John's Church in Calcutta, India, to Lieut. Col. John Ludlow, with a standing figure of a soldier, and a mourning seated Classical girl.
Sculpture pages // Introduction to church monuments
Visitors to this page since 14 Aug 2014: 3,038