Monuments in Acton Parish Church, St Mary
According to a 1908 brass panel in the Church, Acton had a church on the site from at least 1220, a new church was erected in 1550, and it was partly rebuilt and enlarged in 1837 under the Rector William Antrobus, whose monument and bust we shall meet below. The nave and chancel was replaced in 1865, under the Rector Edward Parry, who also has a memorial (along with one to his brother); in 1877, the tower, which I think was the last remnant of the 1550s building, was replaced, under Charles Musgrave Harvey, who has a modern brass in the Church, and in 1906 a new vestry and south door added, under the Rector George Spencer De Sausmarez, who again has a brass. The exterior of the Church is thus plainly 19th Century, in red brick with white dressings, the main feature being the tall tower, battlemented at the top. H. Francis was the architect.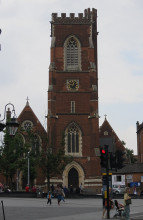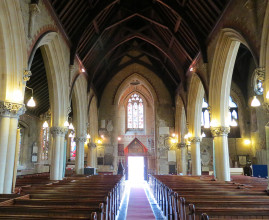 Acton Parish Church of St Mary
Inside, the Church is fully pewed, with clustered pillars rising to tall Gothic arches along the sides of the Nave, rather tall, rather dark, atmospheric, and packed with small monuments, the interest of these pages. I saw nearly 60, not counting another 10 or 11 modern brasses, some of great age, preserved from the 1550s church. They are mostly simple plaques with little or no sculptural decoration, but include an excellent ancient brass, two good cartouche monuments, a portrait bust from the late 18th Century, and several with minor sculptural decoration: relief pots and foliage and the like. (There is a lobby I was unable to see with further monuments from the end of the 17th and early 18th Century) The large number gives a sense of the changing styles of simpler monuments over a long period, and there are numerous early 19th Century black and white panels, showing several of the more usual designs, and a very nice sequence of seven memorials in the style of Gothic windows, ranging from 1859 to as late as 1914. Alas, many of them are in a poor state of preservation and need cleaning and some protection from the effects of damp.
We consider them in date order, turning afterwards to the modern brasses and, briefly, other features of interest in the Cburch.
16th and 17th Century Monuments:
Humfrry Cavill, d.1558, brass.

Brass to Humfrry Cavill [Humphrey Cavell], d.1558. With a finely delineated figure of a kneeling man, praying at a small prayer desk with a very small book upon it. He is bearded and has short straight hair, as if a monk, though there is no shaven pate, and he wears rich robes with fur trimmings and ornament on the sleeves and hem. A crudely scratched shield of arms is set above the figure, which is set in a stone at the base of which is a note that it was restored b Dr N. Rogers, 1864.
John Byrde, Rector 1489 – 1542, Marble panel with note of a brass 'long Disappeared', which had an inscription starting 'Consider what I am, and who I was; // Byrde I was first, John by Name, // Here in Acton preste, and person (parson) of the same // Fyfty yere and thre govern dyd I here. // And finiyshed my lyfe yn the two and forty yere...' In flowing script right up to the edge of the slab. There is an upper shelf, and no ornament, or date when the panel was made.
Lady Anne Southwell, d.1636, eldest daughter of Sir Thomas Harris 'of Corneworthie in the Countie of Devon', and wife of first Sir Thomas Southwell of Spixworth, Norfolk, and afterwards Henrie Sibthorp, 'Seargeant Major and Privie Counsellour of the Province of Muster in Ireland.' with a lengthy description of her virtues. On panels of wood apparently, and with the text tightly set as usual for the period – it is not unlikely that this, and the Skippon and Peryn panels noted below, would have had borders and other decoration of lesser or greater elaboration; the surviving inscription is similar to that of Lady Conway below, where most of the surround survives.

Lady Catherine, Viscountess Conway, d.1637/9, with figure sculpture.

Lady Catherine, Viscountess Conway, d.1637 or 9, a great stone to this 'religious ladie', with closely inscribed text right up to the border, rather battered and difficult to read, in a splendid surround. Her husband, Edward, Viscount Conway, was Secretary of State to Charles I. To left and right are thick pilasters, with niches in front occupied by standing female figures in long drapes. The one to the left carries a book, still painted red, the one to the right wears an off-the shoulder drape leaving one arm bare. Above each is a winged cherub head. At the top, small shields and a shelf, which once no doubt would have borne some pediment or structure above with a large coat of arms. Under the lower shelf, two winged cherub heads to the sides, and a central bat-winged skull, much damaged. Still a grand monument, and deserving of restoration.
Barbara Pigot, d.1649, with a Latin inscription, on an undecorated black slate.
Mary Skippon, d.1655, wife of Philip Skippon, with a long eulogy, on a black panel in the usual tight script.
John Peryn, d.1656, who inhabited East Acton and left all his lands in the parish for charitable purposes, with a lengthy list of his various bequests, gilt text, close set and right up to the border of a large rectangular panel of dark stone. No border survives.
Philippa Rous, d.1657, with a long poem, commencing 'She is not here; the body which shee wore// Of borrowed earth to earth shee did restore...'. She was married to The Rt Hon. Francis Rous, created a Privy Councillor by Cromwell, who died just a year later. Small domed panel above a larger panel, filled with close-set text in the fashion of the times – what did the rest of this monument look like, I wonder?
Elizabeth Searles, d.1674, daughter and heir of Robert Searles of London with a eulogy. A large cartouche, which is to say a slightly domed ovalish panel, surrounded by carved drapery, knotted at the top sides and hanging down as a border, some scrolling, and two long frondy branches, effectively composed. At the top, a painted lozenge with a cross.

Later 17th Century memorials based on the oval: Elizabeth Searles and Jonathan Rogers.

Catherine Henslow, d.1680 – I was not able to see this monument, hidden in a lobby, but a picture of it shows it to be a beautiful cartouche, with scrolling and feathery foliage, knotted drapes, with a winged cherub head at the base, and lozenge of arms at the top.
Jonathan Rogers, d.1694, a mottled marble oval with minor carving of scrolling at the sides and base, and at the top, a carved lamp in the shape of a sea shell or horn with painted shield below.
Frances Trotman, d.1698 – again, I was not able to see it, but a picture shows an extremely elaborate cartouche, with swathes of scrolling and drapery, flying cherubs at the sides, and various winged cherub heads incorporated in the design.
18th Century Monuments:
Francis Stratford, d.1704, monument and one of the death's heads.

Francis Stratford, d.1704, (it looks like 1704) with a long but difficult to read inscription, which may also commemorate Grace, his wife. An excellent cartouche, here with the inscribed panel somewhat like a turtle's carapace, surrounded with flamboyantly carved scrolls, with drapes, and incorporating two bat winged death's heads on the sides (one shown above); at the base is another death's head (see picture at top of page), all of the skulls lacking their lower jaws, which is more usually the case than otherwise on such monuments. At the top of the cartouche is a mini-cartouche incorporating a painted coat of arms, and with drapery surround, knotted at top and sides, and rather less convincing than the deeply undercut scrollwork below.
Daniel Wait, d.1677, and wife Anne, d.1707, who had subsequently married Baronet Sir John Cortyon – another monument recorded as being in the church but which I was not able to see; a cartouche with coiled scrolls and a pair of winged cherub heads peeking out from under the drapes.
Elizabeth Barry, d.1713, plain panel with narrow frame and single support below – she was an actress of fame in her time.
Ricardi Dervell [Richard Dewell?], d.1717, with a short inscription in Latin, an oval plaque with double border with some slight scrolling and Acanthus leaves at the side, a painted coat of arms at the top, and a winged cherub head at the base, likely to have once had some outer frame and perhaps more decoration.

Early 18th Century monuments based on the oval: Richard Dervell and Crayle Crayle.

Edward Smyth, d.1724, and wife Elizabeth, d.1724, and sister Mrs Mary Smyth, d.1734. Stone panel with curved upper edge, above which is a curved frame top and heavy keystone; the sides are shaped, and at the base is a moulded shelf, wider than the panel – it suggests there were once side-pieces, but perhaps there never were.
John Crayle, d.1728, wife Sarah, d.1732, and daughter Mary Bellamy, d.1729, and the latter's infant daughter Sarah. Large panel with Ionic side pillars, attached, upper and lower shelf, and fluted carved brackets below. Between these is an apron, excellently carved with festoons of several flowers, three dimensional and most naturalistic, with closed and open flowers, corn, and in the background, bunches of leaves in very low relief. There may have been some further element at the top, now lost.
Elizabeth Jessop, widow of the Revd. Thomas Jessop, Rector of Wells in Norfolk, mother of Mrs Cobden, Mrs Anne Kay, widow of Revd. J.N. Kay, Curate of Acton, and Elizabeth Cobden, d.1762, and her husband Revd. Dr Edward Cobden, d.1764, Rector of Acton and of St Augustin and St Faith in London and Chaplain in Ordinary to King George II. Panel with upper pediment and lower shelf and two moulded brackets.
Mrs Cobbden, d.1762, a separately set eulogy on a panel entitled 'An Epitaph on Mrs Cobden', entirely about her sweet personality with no hint as to her activities in life.
Crayle Crayle, d.1780, an oval with coat of arms in a smaller oval below, and above, a delicate thin-stemmed pot carved in relief, with a festoon of flowers across the front, looped through the handles and hanging down.

Compositions on the oval and the egg shaped: Wegg and Dickinson monuments (late 18th C).

Elizabeth Dickinson, d.1762, and husband Edward Dickinson, d.1782, the tablet being a copy of the original which fell was destroyed, given by Nathaniel Rogers in 1870 (the Dr N. Rogers who seems to have restored several of the monuments). It is egg-shaped and bevelled on the edge, with no other border or sculptural adornment, and is signed by the Acton mason H. Mitchell.
The Rt Hon Lady Carolina Adair, d.1769, put up by her husband Robert Adair, d.1790. A rather grand wall monument, as a casket projecting from the wall, with the inscription on the long side. The brackets supporting this are fluted, and rather high to be feet. Between them hangs carved drapery, caught up at the centre in a ring and hanging downward. The flat top of the casket is also fluted, and has two crossed twigs tied together at the front. On top is a roundel with a relief portrait of the deceased, in profile. She has a long, columnar neck, a smooth face, almost Roman nose but a plumpness to cheek and lip and chin which could never be Roman. We see about her shoulders enough drapery to aid the Classical effect. But the main feature of this portrait is the beautifully carved hair, in two thick double plaits looping round and up to be tied at the back. Around the circular plaque are two branches of feathery leaves, and a small complete wreath is at the top, most delicate. The whole is on a dark background panel, made in several parts.
Martha Cocks, d.1790, daughter of Admiral Watson, and two infant children by her husband James Cocks. In an oval on a rectangular slab of black veined white marble, with a fluted entablature and shelf above, on which rests a relief Grecian pot with stopper, most elegant; beneath is an apron bearing coat of arms with crossed stems of corn between two small brackets.
Sarah Buck, d.1795, in an inscribed oval on a plain slab.
Elizabeth Wegg, d.1799, her husband Samuel Wegg, d.1802, Sarah Leheup, d.1799, sister of Elizabeth, and added later, George Samuel Wegg, d.1817, and Elizabeth Wegg, d.1842, last surviving member of the family, and Miss Anne Hales, d.1842. An oval panel on a dark backing, more or less rectangular but pointed at the top and truncated at the bottom. On top of the panel is a small pot in low relief with decoration at base and side; and the remains of a chain of carved bluebells or similar flowers hanging from each side, over two circlets, and hanging down on the sides; most of the top section has been lost. At the base were two crossed palm leaves, of which part of one remains.
19th Century Monuments:
William Aldridge, d.1698, apparently 115 years old, John Aldridge, d.1778, Thomas Aldridge, d.1890, grandson of William and Vestry Clerk for the Parish, at which time we can guess the panel was put up, not inside the Church but outside in the Church-Yard. He reached a mere 92 years old, and his wife Elizabeth, d.1798, a plain plaque, with a note at the bottom that it was restored by Dr N. Rogers, 1866.
Bright Hemming, d.1800, and in text added later, his wife Ann Hemming, d.1821. Panel with very thin upper and lower shelf, on a coloured marble backing – really very late for such coloured marble to be used – and two small supports.
Margaretta Maria Wintle, d.1801, wife of Revd. Robert Wintle, and two infant children, panel with upper part carved as a curved pediment and two ears from a single piece; two small supports below. A separate panel to the two of them, rather more ornate, is noted below, and would have been put up when he died.

Casket end designs, early 19th Century: Margaretta Wintle and William Thomson monuments.

Robert and Margaretta Maria Wintle, undated but in the black and white style of the 1800s-1830s. The short inscription says that '...Their bodies have returned to the earth; their spirits to him who gave them. Are you ready?' As a casket end, with slanted sides, upper shelf and eared lid, standing on short feet on a blocky lower slab with curly apron below, bearing slight carving of flowers, very stylised, the whole being on a black backing.
William Thomson, d.1803, of Fairlawn House, and sister Miss Eliza Thomson, d.1804, with several lines of poetry of which the first, touching verse reads 'Farewell, Dear Youth, short was on earth thy stay; // in early life, a ling[e]ring death thy doom; // thy cough was fainful, and thy frame's decay // scarce left a substance for the silent tomb.' The panel, outward slanting as if a casket end, has a narrow border with finely carved wispy branches with delicate leaves at sides and top, tied together with a ribbon. Above, a curved lid with acroteria carved in anemone patterns at the sides, and the whole supported on two small blocks as feet.
James Cocks, d.1804, rectangular panel with narrow border. Above the short inscription is a low relief carving of two crossed torches, both downturned, thus towards the extinguishment of life, with ribbons. Underneath is a small brass coat of arms.
Harriet Graham, d.1806, a child, and parents Thomas Graham, d.1813, and Elizabeth Susanna Graham, d.1844. A plain panel.
Thomas Bramly, d.1807, a slightly unusual panel, which is styled in casket shape, with the body of the casket, with its receding sides, upper shelf, and curvaceous lid bearing a painted shield. But the casket body is in low relief on a rectangular plaque, with the upper shelf forming one of the four sides of the frame. Below, moulded brackets, and on the lower corners, lightly carved leaves.

Thomas Bramly and John North monuments, latter by John Bacon Jr

.

Major James Lovell, d.1809, of the 21st Regiment of Foot , and added later, his young nephew James Lovell, d.1811, and wife Hester Lovell, with a date I could not read. Almost square panel with the inscription in an inscribed oval; perhaps brought in from outside the Church as it is in poor repair.
John North, d.1818, as a tomb chest end with upper and lower shelf, small feet, and on top, relief of a lantern, rather exotic in outline, with upturned sides and a conical top. All on a shaped black backing. Signed by Bacon, London. John Bacon Junior was a most prolific monument maker and sculptor, and his widely spread works vary from modest panels such as this through to free-standing full sized statues. We shall meet his work again in the Churchyard.
Elizabeth Toosey, d.1826, and daughter Elizabeth Sarah, d.1826, just 15 days after her mother. Plain white plaque on a dark backing with two small brackets. This humble monument is signed by the mason, E. Gaffin of Regent Street: the Gaffins were perhaps the most prolific monumental masons of their time - see this page.
Colonel Stephen Peacocke, d.1830, who fought under Wellington. With an upper curvy pediment with low relief carving, and two supporting brackets at the base.
Peter Aime Ouvry, d.1830, and wife Sarah Amelia, d.1857, as a casket end with upper shelf, lid, acroteria, and small feet, on a shaped black backing with two moulded brackets.
James Buller, d.1830, Clerk to the Privy Council, and four of his children. Panel with upper shelf and low relief fluted pot, on shaped black backing with two small brackets. By the mason Williamson of Acton.

Acton stonemasons: Buller monument by Williamson of Acton, and Sir Richard Birnie, by H. Mitchell.

Atlee Family of Fordhook, undated, erected by descendants in America. Panel with bevelled edges, excepting the corners, and a relief coat of arms, though it consists only of a rampant lion and much frilly Acanthus leaves and reeds, with a knight's helm on top and a now blank cartouche underneath.
Sir Richard Birnie, Knight, d.1832, of Broomcroft in Acton, wife Dame Louisa Birnie, three infant children, and descendents to 1870. Shield shaped monument with broad black backing, and a coat of arms at the top carved in low relief, with the motto 'Sapere aude incipe', or 'Dare to know/be wise', from Horace's Epistles. Signed by the mason H. Mitchell of Acton.
Hannah Elizabeth Antrobus, d.1836, and husband, the Revd. William Antrobus, d.1853, Rector of St Mary Church, and of St Andrew Undershaft (the monuments of which are described on this page), and offspring William Thomas Antrobus, d.1877, Revd. John Antrobus, d.1878, and Charlotte Hannah Antrobus, d.1883. Panel with receding sides, a shelf above, and on that, a large relief carving of a Greek pot with drapery disposed asymmetrically over the top and sides. Crisply carved. We meet the bust of William Antrobus later down this page.

Gill family monument, by T. Bedford of 256 Oxford Street.

Anne Gill, d.1838, Jane Mercy Strachan, d.1837, husband of Anne, John Gill, d.1845, and his second wife Elizabeth, d.1847. As a tomb chest end, with upper shelf on which is a lid bearing an oval-bodied pot decorated with repeating geometric and leafy designs in low relief, and covered with a heavy drapery piled up on the sides. At the base, two lion's feet rest on a lower shelf, and the whole is on a shaped black backing. Signed by T. Bedford of 256 Oxford Street, London, a firm of masons spanning the entire 19th Century.
Jane Ayerst Davis, d.1840, and added later, two children who died in 1842. In an oval on a rectangular panel with two projections on the sides, and attached to a rectangular black backing with mental circlets.
John Houseman, d.1837, and wife Susannah, d.1842, panel with projecting rimless pediment above, balanced by a blocky shelf below, with a black shaped backing.

1840s white-on-black marble monuments: to Houseman, Peill, Curtis and Rickards.

Anne Peill, d.1844, her mother Sarah Peill, d.1857, her sister Sarah, d.1884, who was neice of Revd. William Antrobus, the Rector whose monument we have seen. With heavy pediment, under which is a repeating ornament in low relief, and lower shelf with two moulded legs, on a shaped black backing. Signed, but I could not make out the name.
Frank John Curtis, d.1853, Lieutenant of the 16th Regiment, 'who fell struck by a cannon ball while on duty in the trenches before Sebastopol in the Crimea'. White marble panel with black surround, cut in a shield shape. Above the inscription is a high relief carving of a crossed torch (downward pointing) and the remains of a sabre, and tied with ribbons, with tassels. At the bottom of the inscription is a low relief rendering of his medal and ribbon.
Elizabeth Rickards, d.1856, and husband Samuel Rickards, d.1863, as a tomb chest end, with upper lid, lower base, on a projecting shelf, with two brackets forming the feet, on a shaped black backing. There is a repeating decorative pattern on the moulding underneath the lid, another above the base, and the brackets are carved with rather excellent Acanthus like leaves. It is signed indistinctly by the mason, but I could not read it.
Revd. John Smith, Vicar, d.1859, and wife Frances Mary, d. 1867, in the form of a blind Gothic window, with red marble shafts to the side columns, which are attached, and which have flowers and leaves carved on the capitals, and on the outer frame. The interior is trefoil, and the inscription has the main initial letters coloured red, as was the fashion for brasses of the time, but rather worn.
Commander Charles Parry, Royal Navy, d.1868 on board HMS Arethusa, another blind Gothic window, with the inscription around an inset crucifix in red and white marble. To the sides are pillars with carved capitals and black and white granite shafts, and on the base, or sill, are decorative carvings of oak leaves in low relief.

19th Century Gothic panels: Revd. John Smith, Commander Charles Parry, Major Henry Turner.

Revd. Edward Parry, d.1869, Rector of the Church, Archdeacon and Canon of Canterbury, and Fourth Bishop Suffragan of Dover – the brother of the above. A shallow Tudor Gothic window design, with black shafted pillars to the sides with carved foliage above and below, an inlaid crucifix as for his brother, and in the spandrels, fine carving of foliage of an oak tree, including acorns. Crocketing at the top. Characteristic of the period.
Sophia Laurie, d.1870, son Arthur Malcolm Laurie, d.1872, and husband Robert Laurie, d.1882. White panel as a blank Tudor Gothic window in a rectangular frame, with upper and lower shelf and a dark backing.
Major Henry Scott Turner, d.1871, erected by the 69th Regiment, of whom he was a member. A more ornate Gothic window monument, trefoil, with attached side columns with shap granite shafts, and as well as the usual flowery capitals, further decorative carving around the top and upper sides, forming a sort of crocketing of various leaves, including rose, oak, chestnut and others, quite naturalistic.
20th Century Monuments:
Modern brasses
Also in the Church:
A bust of the Revd. William Antrobus, Rector of the Church, 1797-1853, whose monument is noted above. The white marble head and shoulders bust, made while he was alive, in 1844, is by Patric Park, a notable sculptor. It shows the Reverend wearing a heavy, solid drapery wrapped around him, without any modern shirt or indication of his clerical calling underneath. He has just a little hair to the back of his head, and sideburns, so that the emphasis is on the large, rounded forehead and the direct gaze, suggestive of a cerebral man. From the side we see his hooked nose, again perhaps suggestive of purposeful tenacity. The bust stands together with a collection of Church memorabilia, including ironwork of which the old weather vane of the Church is the principal piece, texts, and a model of the Church.
The capital of each pillar along the nave is carved with flowers and foliage, really excellent Victorian carving. On some of them, there are birds among the foliage. I particularly liked the oak, holly, vines with clustered grapes (and see the capital with female heads among vines), maize (sweetcorn) and bulrushes. Further vegetative carving is at the corbels at the bases of where the arches spring from. The carver, according to Pevsner, is E.G. Anstey.
The pulpit and lectern are likewise Victorian – the Eagle Lectern is a rather ornate example of the type, with supporting lions at the base.
There is a goodly quantity of Victorian stained glass, some rather naïve, some of high quality draughtsmanship and with glowing colours, and prettily observed details (see pictures below). Clayton and Bell produced much of this.
Wooden board listing donors from 1799 to 1885. As well as various amounts toward the poor, the labouring poor, either without saying the use or indicating coals, blankets, great coats, education, bread and wine for the Sacrament, or whatever, there are several amounts towards repairing family tombs.
Board listing donors to the Almshouses and Almshouses endowment fund, 1793-1893; they include a Frederick Ouvry who gave £200 Great Western Railway stock who was presumably a descendent of the Peter Aime Ouvry whose monument we saw above.
Small panel 'placed to the alms houses endowment fund AD 1900' noting a bread shelf for distribution to the sick and poor according to the will of Viscountess Conway, 1637, whose monument we have seen, and Sarah Crayle, 1730.
1908 brass panel listing dates in the history of the Church and the rectors at the time, rather useful. With border of repeating stylised leaves, red crucifixes at the corners, and on a black backing.
Panel to those who fell in the Great War, stone and unornamented, except an inscribed quatrefoil or cross at the top.
The Churchyard:
Outside the Church, a small portion of the churchyard survives behind railings, and a wander reveals several chest tombs, which as typical of the breed are of architectural rather than sculptural significance, some headstones of which a few have minor sculptural decoration at the top – lamps, decaying winged cherub heads, crossed branches. In the most obscure corner, under a tree, is something more interesting: a tall obelisk monument in pale stone, the obelisk (Egyptian symbol of death and resurrection) resting on a plinth hollowed out to form a circular arch under which rests an elegant pot. There is low relief decorative carving on the arch spandrels, and a little way up the obelisk is a coat of arms. The monument commemorates members of the Way family: John Way, d.1804, Anne Way, d.1777, and Mary Way, d.1818, the latter added to the already-existing monument. According to Gunnis, the sculptural historian, this monument is the work of John Bacon Junior, who we met in the slight monument to John North, noted above.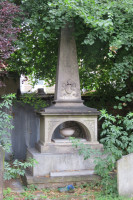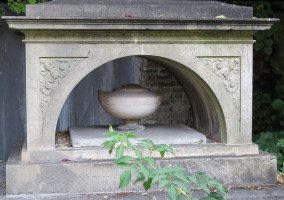 John Way monument, by John Bacon Jr.
With many thanks to the Church authorities for permission to show pictures of the monuments inside; their website is http://www.stmaryacton.org.uk/welcome/.
Nearby Ealing Parish Church (St Mary) and Hammersmith Parish Church (St Paul)
Monuments in some London Churches // Churches in the City of London // Introduction to church monuments
Angel statues // Cherub sculpture
Visits to this page from 27 Feb 2015: 7,052