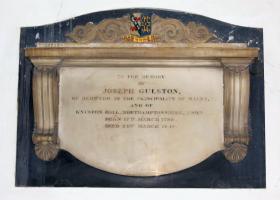 R. Brown of 58 Great Russell Street, typical monument.
A fair number of black and white church monuments of the first half of the 19th Century are signed by the stonemason 'R. Brown, 58 Great Russell Street'.
The monumental mason Robert Brown, of 58 Great Russell Street, Bloomsbury, London, made some large number of white-on-black panels of the type favoured in the early 19th Century. His simple monuments are found in several London churches, including above all St George Bloomsbury, where there are about 10, St Giles in the Fields, and St Pancras, and some outer London churches such as Ealing Parish Church (St Mary) and Mitcham Church (St Peter & St Paul). Further afield, his best work, which I have not seen, is supposed to be a female figure at Chipstead, Surrey (Archibald Little, d.1844), and there are other lesser pieces by him in Buckinghamshire, Essex and Northamptonshire, and elsewhere. Apparently Brown also made a number of Gothic memorial panels, but the only one I have seen a picture of is in Sunderland Minster, which is styled as a blind Gothic window which much minor repeating carving (Pemberton family). As there was a stonemason R Brown working in Durham, I am not sure that this attribution is to our man from Bloomsbury.
Robert Brown has one work commemorating an individual who died in 1823, but his main output was in the 1830s through till the early 1850s (he had a work at the Great Exhibition of 1851, 'Sepulchral monument of the decorative period, in Caen stone'), and Gunnis notes his last work as dating from 1857. Most of his work that I have seen consists of simple Classical panels, in the common shapes of a tomb chest end with a lid, a legless version of the same with a pediment, and a tall panel with pediment and blocky shelf at the base. Brown's work often has some minor ornament - a bit of scrolling, flowers, a pot carved in relief or similar. There is also the odd figural piece, but I have only seen photos of these, and he also apparently made portrait busts.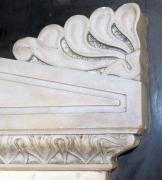 Minor carved decoration by Brown of 58 Great Russell Street.