John Soward Sr and Jr (fl 1802-1851)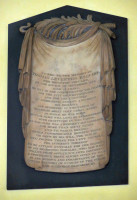 Monument by John Soward, St Giles in the Fields.
The stone mason and statuary John Soward had his business at 241 Tottenham Court Road in London in the early 19th Century, and his son, also called John, worked with him. Tablets signed by John Soward or John Soward and Son are found in London and the Home Counties. According to Gunnis, the sculptural historian, Soward also made hatchments and worked as a heraldic painter.
There are several works by Soward in London, including in St Giles in the Fields, St James Garlickhythe, St George Bloomsbury, and further out from the centre, in St Mary Ealing. His works that I have seen are fairly standard Classical plaques in white marble on a black or grey background, with minor carving such as decorations to a pediment, small pots in relief etc, though apparently a work in St Mary Norton in Kent has a relief with two angels. In St Giles in the Fields in the gallery is the monument to Thomas Leverton, d.1824, where the plaque is carved as a hanging drape, with ferny branches at the top.
The earliest works of the firm are from the early 1800s, and the last I am aware of dates from 1845, with the majority being 1820s to early 1830s; however the business was still listed in the Post Office directory for 1851.
Other sculptors and masons // Introduction to Church Monuments
Visits to this page from 19 Aug 2014: 3,126