Peel Monument in Manchester, by William Calder Marshall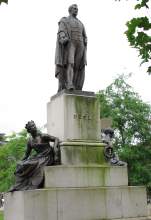 .
The Peel Monument in Piccadilly Gardens, Manchester, is one of the larger monuments in the city, consisting of a bronze statue of Peel, atop a plinth on a series of steps, with two subsidiary allegorical female figures. The sculptor, William Calder Marshall, was certainly an archetypical Victorian sculptor. The Peel monument dates from the 1850s, thus when the artist was aged about 40 and at the height of his powers.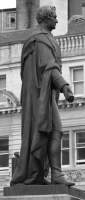 Profile view of the figure of Peel.
Peel is depicted with a face noble and Byronic, his pose confident, oratorical, almost jaunty. He wears over his waistcoat a heavy cloak wrapped around him, over one arm and gathered up by his other hand at the waist. This allows an almost Roman Senatorial aspect to the figure from side and rear - the view above from the left is particularly harmonious in the fall of the drapery.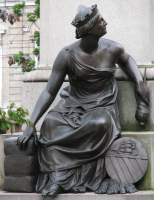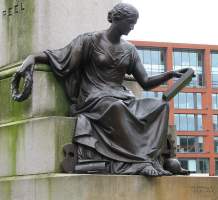 Classical allegorical figures to left and right of Peel.
The two subsidiary figures are beautiful examples of Victorian classical art. That on the right as we look at the ensemble holds a Victory wreath, a tablet, and accoutrements of industry and the arts; the other figure holds emblems of the cotton trade, and is crowned. But putting aside these various objects, we concentrate on the figures themselves, with their cylindrical columnar necks, muscularity to the arms and superb stylised figures, giving them a monumentality far beyond their size.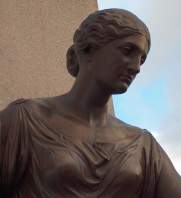 Calder Marshall's Victorian classicism.
The Peel monument, I think, holds up well in companionship with the two other large sculptural groups in Piccadilly Gardens: Onslow Ford's Queen Victoria (shown below) and Matthew Noble's Wellington monument. Together, these three make an important grouping of major sculpture in Manchester (there is a separate page on Piccadilly Gardens here). Peel was of course a major ally of Wellington, serving under him as Home Secretary before he himself later became Prime Minister, serving his second term under Queen Victoria. These pages do not do history, but I rather like the name Sir Robert Peel, and we may recall Peel's huge importance in setting up the modern Police forces, and in repealing the Corn Laws, a huge step forward for free trade, and putting him in the same camp as the Economist newspaper.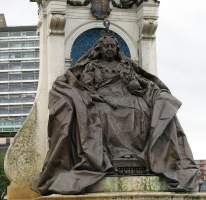 Onslow Ford's Queen Victoria, Piccadilly Gardens.
There are several Peel monuments across the country, and this one, with its two subsidiary figures, is the most important of them in what we might term a 'hierarchy of statues'. The others include three we must mention by Matthew Noble, in Liverpool's St George's Hall, in Peel Park, Salford, and in Parliament Square (shown below, and more pictures on this page). William Behnes made rather a good one for Leeds, a little out of the centre on Woodhouse Moor, John Gibson made a very classical one for Westminster Abbey, and there are others in Tamworth (Peel's constituency), Bury, Glasgow, in two Police training centres, in Preston (see this page), and elsewhere.
[This page was originally part of a 'sculpture of the month' series, for January 2012. Although the older pages in that series have been absorbed within the site, if you would wish to follow the original monthly series, then jump to the next month (February 2012) or the previous month (December 2011). To continue, go to the bottom of each page where a paragraph like this one allows you to continue to follow the monthly links.]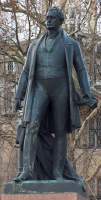 Noble's version of Peel for Parliament Square.
Albert Square // Sculpture in other cities and towns
Visits to this page from 2 Jan 2012: 6,826