Matthew Noble (1818-1876)
Matthew Noble was a Victorian sculptor, notable for the Manchester Wellington statue and other public works in Manchester and elsewhere.
The portrait sculptor Matthew Noble was born in Harness, near Scarborough, but went as a young man to London, where he studied under John Francis, (the father of Mary Thornycroft, the sculptress). He exhibited regularly at the Royal Academy from 1845 until his death, one of his first busts being that of the Bishop of York. He became recognised after winning the competition to build the Wellington Monument in Manchester, in 1856. Some of his works were copied in miniature by Copeland's, for production in Parian ware. Never in robustly good health, he died rather young, aged 56, and his unfinished works were completed by his assistant, J. Edwards.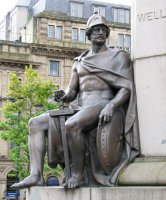 Figure from the Wellington Monument, Manchester.
Noble's works in London include Franklin in Waterloo Place, Peel and Derby in Parliament Square, the statue of James McGrigor formerly in the small garden to the Royal Army Medical College which was next to Tate Britain, three of the statues at the back of the Royal Academy (former Museum of Mankind - see the page on Burlington House), James Outram on the Embankment, and bits of monuments in St Paul's and Westminster Abbey.
In his home town of Hackess in St Peter's Church is Noble's monument to the mother of John Johnstone, his first benefactor, and he produced many other church monuments, for example in York Minster (see picture below). We may also mention various Queen Victoria and Albert statues, in Salford and Leeds as well as the Albert in Manchester (see this page), and several Robert Peels, in Salford, Liverpool and Tamworth. Also Cromwell and Wellington for Manchester (see this page for the latter), and Cobden and Brotherton in Salford. In a rather different vein are his series of panels for the Newcastle Science and Engineering museum.
In his figure sculpture, Noble worked in an unfussy, simplified classical style, somewhat akin to the drawings of Flaxman. His portrait sculpture was always good, with a dignity and solidity given to his subjects.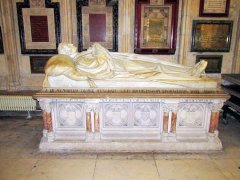 Noble's effigy of Archbishop Musgrave in York.