Edward Onslow Ford (1852-1901)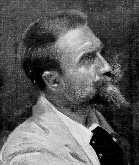 The sculptor Edward Onslow Ford was born in Islington, North London, and initially studied painting on the Continent, where he worked under Buffeau in Antwerp, and under Wagmuller (who was also the teacher of E. R. Mullins) in Munich. On his return to London in 1874, he decided to become a portrait sculptor. He received several commissions for public statues - Rowland Hill by the Royal Exchange, Henry Irving as Hamlet for the Guildhall, Gladstone for the Liberal Club, General Gordon on a camel, Lord Strathnairn for Knightsbridge, Huxley, Dr Dale and The Duke of Norfolk for Sheffield, and Queen Victoria for Manchester (see this page). We must also mention the monument to the Maharajah of Mysore. Also memorial sculpture - the Shelley Memorial for University College Oxford, the Jowett Memorial for Balliol College Oxford, the Marlowe Memorial in Canterbury, and a plaque to Ruskin in Westminster Abbey.
Among his portrait busts are Queen Victoria, Balfour, and a range of fellow artists - Alma Tadema, Millais, Herkomer, W. Q. Orchardson, Arthur Hacker, Ridley Corbet, Briton Riviere, and the French artist Dagnan-Bouveret. Busts of Millais and the actor Henry Irving are at the National Portrait Gallery, and busts of General Gordon (1892), and Ruskin of 1900, are in Westminster Abbey. Also in London, Onslow Ford made the the busts for the facade of the Royal Society of Painters in Watercolours building in Piccadilly (1881/2).
Allegorical nudes by Onslow Ford.
Onslow Ford fell under the influence of Alfred Gilbert, and became one of the central figures of the New Sculpture Movement. His work, then, includes as well as the portraits, a variety of ideal works including many allegorical nudes.
These very different strands in Onslow Ford's work almost seem by separate hands. His portrait sculpture - a prodigious number of portrait busts in marble and bronze, and a few full statues - tends to the highly finished, and he shows a liking for complex folded or enveloping drapery, in a way that looks as if the sitter 'just happened to sit like that'. This rather realist work is in contrast to the studied softness and ideal unblemished youthfulness of his allegorical nudes, especially those in marble. These latter works have the inspiration of Gilbert written all over them, and put Ford squarely in the symbolist camp. Like Gilbert, in his Symbolist pieces, Ford was not averse to the use of different coloured metals and jewels to give an exotic polychromatic effect.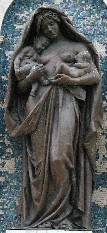 Maternity from the Queen Victoria Memorial, Manchester.
Onslow Ford's The Singer (1889) was one of only two sculptural works among Henry Tate's original gift to the nation. Also in the Tate Gallery is Folly (1886), which was bought through the Chantrey Bequest and also exists in versions in the Ashmolean Museum and at Port Sunlight. Other work at Port Sunlight includes the marble Snowdrift. Peace is (1887) in the Walker Art Gallery in Liverpool (small copies elsewhere, e.g. Leicester, and Fate (1902, completed posthumously by his son) exists in versions at the V and A and Port Sunlight. His excellent statue of Motherhood is part of the Queen Victoria Memorial in Manchester, described on this page.
As one of the leading men of the New sculpture movement, Onslow Ford had considerable influence on other sculptors, and among his assistants and those who studied in his studio were Andrea Lucchesi and Frank Bowcher, the medallist.
Monument to Onslow Ford, St John's Wood.