Thomas Duckett of Preston (1804-1878)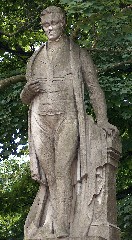 Peel, by Duckett.
The sculptor Thomas Duckett is rather obscure, but has a notable collection of works in his home town. He was born in Preston, and worked first for a plasterer and then for a furniture maker as a wood-carver, before going to Liverpool to work for the firm of Franceys, a local statuary. Later he moved to Kendall, working for the architectural firm of Websters there, and then back to Preston, where he remained. His work includes a variety of busts and statues of the great and good, funerary pieces for churches, and the occasional heroic group.
I have only seen work by Duckett in Preston, where the Harris Museum and Art Gallery contains several of his busts, including one rescued from the Town Hall, which burnt down some years ago. These include among others the father of the founder of the Gallery, Revd. Robert Harris, and donors to the gallery, and are lively and characterful efforts in white marble. Less good is his statue of Sir Robert Peel which stands in Winckley Square. Peel looks rather wooden, and is dressed in trousers that manage to look both tight and slightly baggy at the top, and a cloak rather poorly draped around him and on his supporting pillar. Charitably, and on the basis of the superior busts, we can presume the thing looked better 150-odd years ago.
Other works by Duckett, which I have not seen, include in Preston monuments in St George and St John and in the same town a marble altar for St Augustine's which I think must have been removed, as the church is now converted to a secular building. In Kendall is a pedimental St George for the RC Church, New Road, a medievalised composition, and in the interior, seemingly plaster statues, heavily painted, of St George and Ecco Homo (Christ), these both showing chests and arms, in a stylised, simplified anatomical form. Like many less successful sculptors, Duckett struggled to gain enough interest in his plaster works to reproduce them in bronze.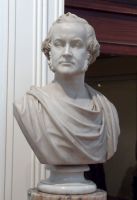 Bust by Duckett in Harris Museum, Preston.
Visitors to this page since 22 Nov 2011: 4,947