John Gibson (1790-1866)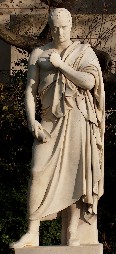 William Huskisson, by John Gibson..
John Gibson was one of the most celebrated Victorian sculptors. He aroused much comment and interest when he announced that he intended to revive the idea that statues should be coloured, as had been the case in ancient Greece. Alma Tadema showed how this might have looked in his picture of Phidias and the Parthenon Frieze, where the frieze is painted). Gibson's Tinted Venus became instantly famous (at the time, some said notorious) when he departed from the convention of white uncoloured statue and produced this coloured nude statue in 1854. The statue was exhibited at the International Exhibition of 1862, and is now in the collection of the Walker Art Gallery in Liverpool. As described by a contemporary critic:
The colouring is the merest suggestion of delicate tinting; the flesh has the faintest blush of warmth, lending an air of feminine softness to the figure. The eyes have the lightest touch of blue. The hair, plaited and arranged in the graceful and becoming classic fashion, is touched with a pale auburn tinge... the armlet and the apple held in the left hand are gilt, and the earrings are of gold.
The Cornhill Magazine was more fulsome:
First of all, the statue is a marvel of perfection in form. There is no female statue, either of woman or goddess, that is equal to it... Apart from all tinting, we never saw marble imitate so nearly the plump softness of flesh.

... Gibson's tinting is more suggestive of life than the plain marble; indeed it is eminently suggestive... [But] if by the tinting he has enhanced the beauty and expression of his statue, that settles the matter; it must be a success.
Gibson was born near Conwy, Wales, and in 1817 travelled to Rome, where he studied under Canova and Thorvaldsen, and took up permanent residence. Apart from the Tinted Venus, others of his best-known works are a Hylas and Psyche borne off by Zephyrs. He became a Royal Academician of great repute and wealth, and on his death left the Royal Academy a large bequest which allowed the building of the Diploma Gallery in Burlington House. He also left a lot of sculptures, for which the Gibson Gallery was provided - now at the top of the Sackler Gallery extension can be seen plaster versions of Narcissus, Venus, Cupid Pursuing Psyche, and best, Nymph untying Sandal and Sleeping Shepherd Boy. A statue of William Huskisson can be seen in Pimlico Gardens, a short walk from Vauxhall Bridge. His monument to Huskisson's wife is in Chichester Cathedral. In the Castle Museum, Norwich is a life-sized Meleager (The Hunter).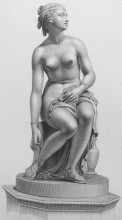 A typical nude by John Gibson: Preparing for the Bath.
Visitors to this page since 22 Nov 2011: 6,299