St Paul in the Square, Birmingham, monuments
The monuments in St Paul in the Square, Birmingham, our preoccupation here, are interesting for several reasons. Most importantly, we have the memorial to William Hollins, architect and sculptor of Birmingham, by his sculptor son Peter Hollins. The rest of the monuments, almost 40 of them, are wall panels or mural monuments, tending to the plain, with little ornament or significant sculpture. They are nevertheless interesting in several ways. Firstly, after the earliest memorial from 1788, we have a representation of each decade from the 1800s to the 1900s, bar the 1890s, so we can see a gradually changing picture of taste in memorial design. Secondly, a little over half the monuments have visible signatures, which is a high proportion. As well as seven more by Hollins (Peter and perhaps William), there is a representative collection of elegant tablets by several of the main monumental masons of Birmingham at that time: five tablets by M. Allen of St Paul's, two by Matthew Seaborne of Bradford Street, two by Richard Badham Jr, two by W. Lodge, and one by John Richardson.
Before looking at the monuments, a brief note on the Church itself. It was built as a chapel of ease to the medieval St Martin's Church in the centre of Birmingham, between 1776 and 1779, the architect being a Wolverhampton man, Roger Eykyn. The spire intended by Eykyn was not built, and only added in the 1820s to the design of the architect Frances Goodwin. Most of the furnishings are late 18th Century.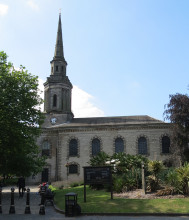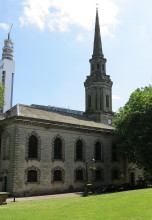 Aspects of St Paul in the Square, Birmingham.
Outside, the Church's site in the centre of the Square allow it to be seen to advantage, and the 1820s spire can be seen from some distance, the best view being from along the road leading south east to the centre of Birmingham, which is Ludgate Hill. That spire is, in my opionion, the best external feature, with a t all octagonal base with Ionic pillars at the corners, a balustrade and then a smaller octagon above, and then a tall, sharp spire rising to a weathervane in the form of a cockerell. For the rest, the Church is a rectangular block of two storeys, in stone, with rustication round the windows and at the corners; a slate roof can be seen by the viewer standing at a little distance.
Inside the Church is tall, with square pillars rising to support the galleries, and then thinner pillars with Ionic capitals to the arches at the ceiling. The Church is fully pewed, and although the dark wood makes the interior less bright than it would otherwise be, the effect of pews and galleries is to give the Church a definite ambience it would otherwise lack.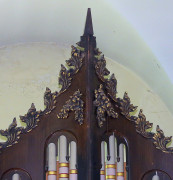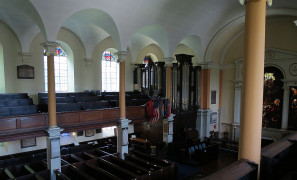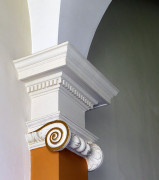 St Paul in the Square interior, and details.
Monuments
We start with the memorial to the architect-sculptor William Hollins, d.1843, and wife Catherine, d.1831, the most important one in the Church, particularly from the point of view of these pages. The memorial consists of a portrait bust, inscription, window, carved panel to the side of the window not occupied by the bust, and a separate tablet. All the sculptural work is by William Hollins' sculptor son, Peter Hollins. The bust of William Hollins is of interest both as a portrait of this architect and sculptor, the first significant home-grown sculptor of Birmingham, and as a demonstration of the skill of Peter Hollins in portraiture. We see a craggy-faced man in later middle age, with short cut wavy hair above and around a high forehead and strongly delineated brow. He wears Classical drapes, and this, together with the short hair and thick, powerful neck, the sternness about the mouth and the direct gaze, depict him as if a noble Roman patrician. The bust stands in front of one side of the window, and the corbel beneath – which bears a shield – is decorated with Acanthus leaves. Behind him, up the wall next to the window, are the finely carved branches of an olive tree – we shall see why in a moment.
William Hollins bust, window, and part of vine carving by Peter Hollins.
The other side of the window incorporates a panel in memory of the children of William and Catherine Hollins, is carved with a beautiful climbing vine winding its way from side to side, forming a thick surround to the areas of text, and hung with thickly clustered grapes. At the bottom is the Biblical explanation of the vine and olive tree: 'Thy wife shall be as a fruitful vine by the sides of thine house: thy children like olive plants round about thy table', from one of the Psalms. Regardless of of the allegory, all this carving shows Peter Hollins to be of considerable talent, more than he usually gets the chance to express in his memorial panels. More on him on this page.
The other reference to Catherine Hollins is the window, showing her as a young woman reclining as if in her bed being carried towards heaven by four flying angels. Perfectly decent Victorian glass, but not exceptional, though we see the soles of one angel's feet, which are rather nicely drawn.
The separate Hollins tablet, cut to a pediment shape above and with a blocky shelf below, lists 9 more of the family through to 1879, including a Thomas Hollins, d.1821, who was a portrait painter, and John Hollins, d.1855, Associate of the Royal Academy, who was a history painter of some considerable output. There is an external memorial to the whole Hollins family, see bottom of this page.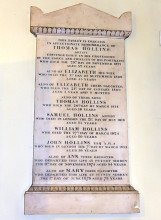 tablet to the Hollins family.
Rest of the monuments
We note the other monuments in date order:
Susannah Baldwin, d.1788, husband William Baldwin, d.1807, and many others through to the 1850s. Whie panel with upper and lower shelf, these being extended over the black border to the sides, which also frames the bottom of the panel. At the top, the backing is carved with a Baroque outline, and encloses a low relief pot with S-shaped handles, decorated overlapping leaves, and a flame from the mouth.
Ann Hughes, d.1805. The inscribed panel tapers at the bottom to form a rather squared off shield. Above is a shelf supporting a flaming urn carved in high relief on a black backing cut in the shape of a short obelisk. At the base, another panel, with below it an apron, bearing carved crossed branches and two flowers. A little oval underneath is signed by the masons, Ricketts and Davis. William Ricketts was a New Street mason, Davis is not familiar to me. Obelisk monuments were common in the later 18th and beginning of the 19th Centuries, with their connotations of Egypt and thus death and resurrection. This one has the obelisk taking up well under half of the full monument height, which is unusual.
Sarah Legg, d.1805, and added later, parents Eleanor Legge, d.1807 and John Legge, d.1824. The inscription is on an oval panel with carved roses on top, tied together with ribbons. This sits on a rectangular panel, with repeating maze pattern at the base, and below this an inscription on the apron to Elizabeth, wife of John Legge Junior, d.1833, finished with a single corbel carved in the shape of a bluebell-like flower at the bottom. Above the upper shelf is a obelisk, and upon this are a flaming lamp, the disembodied head of an angel with crossed wings, and a sunburst through a crown. The angel is rather nicely carved, with elegant wave to her hair falling across one wing. Signed by Hollins, which in this case must be William Hollins.
Thomas Dowler, d.1805, wife Mary Dowler, d.1825, and four offspring, the last deceased in 1858, with space beneath which was never filled. A tall panel, with repeating Roman design at the top (s-shapes or two strand guilloche), as an entablature, above which is a block cut in the shape of a pediment bearing a wreath and above it, a finial with anemone patterns and scrolls to the sides (see picture below, 2nd from left); there might once have been acroteria on the corners. The thick base has two bosses as round, stylised leaves, and beneath them, two small supports with moulding. There is a thin black surround. Signed by Allen. This is one of five monuments signed either 'Allen' or 'M Allen' of St Paul's, all rather similar in that they are Classical white slabs, four of them rather tall, one squat, with eared pediments, and minor sculptural decoration. They span almost 50 years assuming this one was put up shortly after Thomas Dowler's death, and this may represent one individual working over a long period, or a family firm of masons in the locality. William Allen is known to have been a stonemason in Bath Street in the late 1810s.

M. Allen, stone-mason of Birmingham: sample panel and some carved details.

Joseph Taylor, d.1809, wife Mary, d.1821, their daughter Eleanor, d.1868, her husband James Renwick Hudswell, d.1856, and their daughter, Sarah, d.1871. White marble panel nipped at the corners, within a larger dark marble panel, with surround of streaky beigey marble including upper and lower shelves. At the top, the dark marble is cut into wavy pediment shape, and bears a winged cherub head. There is an apron at the base, with leafy carvings at the bottom, and two supports to the sides carved with flowers and leaves. Quite an interesting thing overall, and made by John Richardson of Birmingham, whose premises were in Great Charles Street.

Richards monument, by William Lodge of Birmingham.

Charles Richards, d.1806, wife Elizabeth, d.1816, daughter Amelia, and later relatives through to 1848. Austere panel, with thin fluted border to sides and top, an upper shelf, also rather thin, supporting a Greek narrow-stemmed pot with overlapping leaf decoration, and a flame from the top. A blank apron at the bottom. By the mason William Lodge. He was a marble mason and builder, firstly in Liverpool, where he became bankrupt in 1806, seemingly emerging from bankruptcy three years later, and settling in Birmingham some time after 1814. There, he set up his marble and stone mason's business 'The Islington Marble Works', located on Broad Street/Islington, near to the canal so he could transport stone. When he died in 1824, his second wife Ann Lodge took over the works, and ran it through until the mid-1840s, when she passed it to William Lodge Junior, a son by the elder William's first marriage. But it did not thrive under his management, and went bust in 1848. There were others in the family who were stone masons: a John Lodge, brother of William, who went to New Zealand, and remaining in Liverpool, a George Lodge.
Revd. William Toy Young, d.1817, who in 1779 was appointed first Curate of St Paul's. As a fine casket in relief (below left), resting upon nicely carved lion feet, hairy and clawed, which stand upon a separate shelf. All on a dark shaped backing.
William Whitmore, d.1819, and daughters Ann Isabella, d.1812, and Lucy, d.1820, and son, William, d.1822, and added later, William Sr's wife Elizabeth, d.1824. As a casket end (above), with sloped sides, heavy upper rim, lower shelf and two segmented legs, with the black backing cut into several pieces, and following the contour of the casket, an unusual and not particularly successful treatment.
Thomas Campbell, d.1819, and daughter Sarah Elizabeth, d.1830. Tall monument with room for several more epitaphs. Above the panel is a shelf, its curved moulding carved with repeating stylised leaf designs; above is a small rimless pediment flanked by two large acroteria with the conventional anemone pattern. Not quite sure what happened at the bottom, but there appears to be a section missing, with two remaining cabuchons at the sides; below the last bit of marble is cut to give two small legs. A thin greyish backing surrounds the monument. Signed by M. Allen, St Paul, whom we met above in the Dowler monument.
William Redfern, d.1820, merchant of Birmingham, wife Ann, d.1864, and sons William Redfern, d.1872, a barrister of Gray's Inn, and Thomas Redfern, d.1885. Styled as a tall plinth, with the inscription on the front, and on top, steps leading to a carving of a weeping willow tree growing out of a pot (picture below left), which is decorated with little leaflets and repeating Roman-style twisting strands, which can be viewed as S-shaped ornaments (called the 'two strand guilloche' in Roman mosaic). Naturalistic carving to the tree, which is commendably droopy, and the sculptor was Peter Hollins.

Dying trees as emblems of death: Redfern, Parkes and Hill monuments.

Mary Forrest, d.1804, and various others of the family through to 1823, then added later, Edward Forrest, d.1841, and Thomas Forrest, d.1855, buried in Warstone Lane cemetery. Broad oval panel on black rectangular panel, with thin upper shelf, with above, a low relief pot with the usual leafy ornamentation and flames from the top, this being on a black triangular backing, which had it been of different size, proportions, and with a border, could have been a pediment. At the base, small supports.
Martha Parkes, d.1825, husband John Parkes, d.1844, and son John Parkes, d.1879. A broad panel with rudimentary sunbursts inscribed at the upper corners, signifying rebirth, and on top, crossed branches with wilting leaves carved in low relief (above, centre).
John Stephens Cope, d.1825, Harriett Cope, d.1828, and their father Charles Cope, d.1830, and in later text, Harriett Cope, their mother, d.1838. Tablet with on top of it a rather strange but successful construction (see picture at top of page). In place of the normal eared pediment above a carved entablature, there are oversized acroteria (ears) at the corners, with anemone patterns, a line of five ornamental flowers in between, on on top, a blank panel flanked by two scrolls with flowers carved in the centres. Perhaps there was once some attached ornament on the blank part and above it. The piece is signed by T. Marsh of New Road, London. There were a large number of monument makers based in New Road (now Marylebone Road and Euston Road) in the early 19th Century and their work is widespread across the country.

Matthew Seaborne of Birmingham: R.M. Wise monument.

Richard Mico Wise, 1826, eminent merchant of Birmingham. As a casket, with slanted sides, and because the inscribed panel is rectangular, the side parts are like pilasters expanding towards the top. They are fluted, and at the top where the capital of a pillar would be, the increasingly familiar Roman guilloche or S-shape design, with little flowers carved in the gaps. Above the upper shelf, a small hole in the grey back panel marks where some appendage would have been. The casket is supported on carved lion's feet, and rest on a shelf beneath which is a curved apron bearing a finely carved, if ugly, winged cherub head (if you like such things, see this page), and at the sides, jelly-mould supports. Matthew Seaborne was the mason – he is significant to the Church, for it was he who in 1822 gathered the principal subscribers for the new steeple to the Church put up in 1822-3, as set out in a document preserved in the Church. His premises were in Bradford Street, Birmingham, where he was resident at least from 1818-30.
Stephen Hill, d.1828, wife Ann Maria Hill, d.1868, three young children of theirs, and those that survived through to 1902. White panel with frame, upper and lower shelves, and on top, a carving in low relief of a dying tree or branch over a funereal urn. Such withered foliage is not uncommon as a symbol of death in early 19th Century monuments (see picture above, right). Below the lower shelf are two brackets, with carved leaves, and the whole is on a black backing.
Jonathan Deely Mann, d.1829, father Joseph Mann, d.1847 and mother Elizabeth, d.1863, Thomas Kell, d.1856, and Rosalinda Kell, an infant, d.1837, with an addition at the base to Sarah Frost Kell, wife of Thomas Kell and daughter of Joseph and Elizabeth Mann, d.1878. In the style of a casket tomb end, thus with outward-slanted sides, an inscribed border round the text, a shelf above and then a lid, and at the base, in place of feet, pairs of spheres like little cannon balls. These rest on a separate shelf, itself with two supports, one of which is signed by the mason, Richard Badham Junior, who worked from Union Street, his father, Richard Badham Senior, also being a stone mason. The whole on a shaped black backing.

Richard Badham Junior of Birmingham: J.D. Mann and Mary Ann Richards monuments.

Mary Ann Richards, d.1830, and John Underwood, d.1831, and added later, his wife Marianne, d.1838, with a mistake in the spelling of the brief inscription. A double panel, with Richards and Underwood on separate sides separated with a vertical black bar, and overall styled as a tomb chest end, thus with little moulded feet and upper shelf and flat lid, on a black backing carved with a pediment shaped top. The mason is again R. Badham Junior.
Richard Ford Whitmore, d.1830, wife Elizabeth Whitmore, d.1833, and infant son Thomas, d.1811. Panel with upper entablature bearing repeating maze lines, carved acroteria (ears) at the sides with anemone decoration, and above centre, a withered branch of some berry bush, likely hawthorne, convincingly carved. On a shaped black backing and signed by Hollins.
Edward Hobson, d.1830, merchant of Liverpool, wife Hannah, d.1832, and relatives, making the link to the Mann and Bagnall families, to 1892. With upper shelf carved with Egyptian repeating pattern above the five simplified flowers found on several of the monuments, and a thick base with a border but no other decoration. There are two small supports, and a thin black surround; it seems there was some roof shaped top, and likely acroteria, at the top which have been lost. By Seaborne, who made the Wise monument above.
William Allin, d.1831, and son John Allin, d.1856. Panel cut with small legs, an upper shelf, and blank pediment or lid, on a shaped black backing, cut somewhat unusually. It is by William Lodge the Younger, of the firm in Broad Street, which we noted earlier.
Thomas John Morris, d.1835, with a quotation from a Psalm, and noting that he lived in Colmore Row. With an upper shelf, with carved moulding, supporting a plinth with an open book bearing a short religious exhortation (see M Allen pictures above). The panel stands on moulded feet upon a thin lower shelf, itself borne on a short panel cut with feet and angled lower edge. Signed by M. Allen, St Paul's.
John Underhill, d.183[8?], merchant of Birmingham, wife Charlotte, d.1851, and young daughter Mary Ann, d.1806. Panel with upper shelf or rim with a repeating pattern above which is a low rimless pediment with small acroteria with anemone carving (one is lost), and a central wreath of leaves. There are no side borders, but where their bases would be, are carved downward pointing flowers. On a black backing.
John Wise, d.1840, and wife Mary Wise, d.1852, and son Thomas, d.1869. White panel with upper entablature, with separate blocks on the sides of it and above, two rounded elements with carved flowers upon them, and in between, a meagre, clipped pediment with a summit finial of scrolls. Signed by Allen.
John Linwood, d.1840, wife Susannah, d.1851, and three daughters to 1862. Panel with solid cut block at the top in place of a pediment, and thicker block below for a shelf; both have grooving on the inner side towards the inscribed panel. On top of the pediment, if so we can call it, are a central fineal with a ribbon, and corner acroteria, all carved in anemone pattern. There is a thin black surround at top and bottom, the latter of which is signed by Hollins.
George Calley Lingham, d.1841, and his wife Jane, d.1791, and below, their son George Calley, d.1865. The upper shelf has beneath it a sort of entablature of repeating S-shapes (the Roman two strand guilloche we saw before) with diagonal crosses in the gaps. Above, a rimless curved pediment shape with acroteria, and two stylised flowers at the lowest portions. Under the lower shelf, a lower portion with the George Calley inscription and two little feet. All on a black rectangular backing. Signed by Peter Hollins.
Mary Ledsam, d.1844, wife of the Revd. Daniel Ledsam, with quotations, on a plain rectangular panel.
Rann Kennedy, d.1851, and wife Julia, d.1856, with Latin letter-spaced inscription. As a plain tomb chest end, with little cut feet and a thick pediment, and no ornament at all, on a black backing. By Peter Hollins.
Mary Jackson, d.1853, husband Edward Bache Jackson, d.1876, Sarah Jackson, d.1825, and her husband Edward Jackson, d.1831. A bit more ornate, this one. At the top, the familiar Roman guilloche pattern and repeating pattern to the moulding, and upper block cut to pediment shape. Sitting on top of this rather than to the sides of it are two acroteria with anemone patterns, and in the centre is the larger fineal we saw on the Linwood memorial above. In addition, the pediment bears a small carved wreath of crossed stems, with two flowers, tulips perhaps. The base has further repeating patterns, and on the thick lower shelf, or block, two relief carvings of flowers as bosses, with a blank central panel. Two moulded feet below, and the whole on a black rectangular backing. By M. Allen of St Paul's, and the last in the Church signed by him - see picture of M Allen work above, left.
Bernard Heaton Harris, d.1858, wife Rebecca, d.1857, and daughters Frances Eliazabeth,d.1856, and Julia Maria, d.1835. Rather similar to the Linwood monument in its solidity, without the ornament on top: only the slight carving at the top and bottom of the central panel pass for ornament. Signed by Peter Hollins.
Albert William Birch, d.1866, panel with domed centre and no border. The inscription is in a fine, exaggerated capital font, with the letter A looking as if it had T cross on top each time.
Rebecca Anstey, d.1873, and John Anstey, d.1879, a small square panel without border or ornament.
Elizabeth Udell, d.1874, noting her parentage, and added later, John Osborne, d.1800, godfather of the deceased's mother, and the comment to the reader of the inscription, 'Be ye also ready'. Yet another panel with chunky lower shelf and upper piece with slightly slanting sides in place of a pediment, and squared off supports. Such solid lumps of marble, entirely undecorated, seem to have gone something of a small renaissance from the 1860s.
Edward Collier, d.1884, with sentimental quotations, and wife Mary, d.1895. Although without decoration, the monument is of interest as being carved as an unrolling scroll, an example of a type found occasionally, and generally of a little earlier date than this (see the Introduction to Church Monuments page).
William Ketch, d.1906, Beadle of the Church for 50 years, a panel with upper and lower shelf and brackets with mouldings, all very chunky.
William Sapcote, d.1907, who was connected with the Church throughout his life. A chunky monument with side pilasters, upper and lower shelf with mouldings, and above, a shield with arms, being three bungalows carved in high relief.
Revd. Canon Ralph Samuel Osborn Stevens, Vicar to 1983, and Chaplain to the Queen. Broad oval of speckly stone with inscribed line border within a black rectangular panel, and incorporating a small ERII symbol with crown and wreath, gilded. We may regret that while high quality materials and elegance have made a return after the austere plainness of typical post-WWII panels, there is still a shying-away from decorative ornament.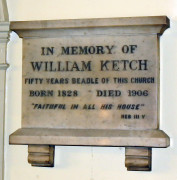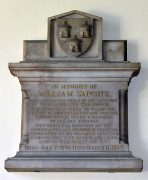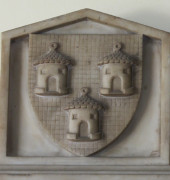 Ketch and Sapcote monuments, and carved detail of latter.
Modern Brasses
James Elkington, d.1843, wife Lydia Elkington, d.1830, and son James Alexander Elkington,d.1821. Text with Blackletter text, principal capitals enlarged, decoratively Arts and Crafts, and in red, the first initial being four columns height and with stylised leafy decoration, and the tow subsequent paragraphs with similarly enlarged initial. A the top is a crucifix with embellishment and foliage, and at the base a little appendage. All on a black backing.
George Elkington, d.1850, also Mary Auster Elkington, d.1858, and her husband George Richards Elkington, d.1865. As for the James Elkington panel, but being more full of text, there is only one giant initial, and in addition small scrolly leaflets fill the shorter text lines (see picture at top of page).
Also in the Church
A Royal coat of arms, rather over-enthusiastically painted, and needing 50 years or so of wax candle burning beneath, and removal of excess paint around the eyes, to give it a better aspect.
A brass eagle lectern, beak upturned.
The East Window, stained glass representation of the painting The Conversion of St Paul by Benjamin West, made in Birmingham by Francis Eginton, and installed in 1791. A note in the Church describes the unusual method used to make the glass, using powdered metal oxides fired in a kiln, as for enamel, but on (high firing) glass rather than metal. The surround was made by Samuel Wyatt, of that very talented and very large family of architects and artists, of whom Matthew Cotes Wyatt was the most notable sculptor, with various public statues in London, Liverpool and elsewhere. There is some good modern glass too.
A modern tablet erected by Polish Lutherans worshipping in the Church to commemorate the 1000th anniversary of Christianity in Poland, in 1966. Plain with gilt lettering (see picture top of page, 2nd right).
Churchyard (St Paul's Square)
Outside, several monuments are scattered around the grassy square that gives the Church its familiar name, and is itself named after the Church. The most interesting to us, of course, just outside the Church and only yards from the William Hollins window and memorial inside, is the obelisk to him and his wife Catherine. It is plain Aberdeen granite, without ornament, and lists various of the family on the rear side, including his sculptor son Peter Hollins.
There are a few other architectural monuments scattered around, including another fine obelisk enclosed by a railing, and a notable casket tomb, with corners of Acanthus leaves and a pot on top.
With many thanks to the authorities at St Paul's in the Square for kind permission to use pictures from inside the Church; see their website at http://www.saintpaulbrum.org/history.php.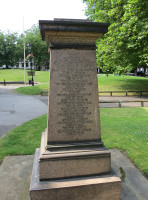 Hollins Monument outside St Paul's in the Square.
North-West to the Jewellery Quarter // South to Corporation and Victoria Square // or Colmore Row // East to St Chad's Cathedral // Birmingham pages
Introduction to church monuments // William Hollins // Peter Hollins
Sculpture in some towns in England
Visits to this page from 9 Nov 2014: 7,293