William Hollins (1763–1843) of Birmingham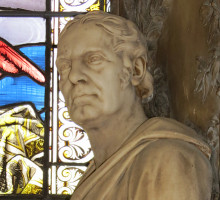 William Hollins, sculptor and architect of Birmingham.
William Hollins (1763–1843) was a significant Birmingham sculptor, and an architect. He was born in Shropshire, grew up in Birmingham, and initially worked as a stonemason. He then became an architectural apprentice for a period in London and set up as an architect himself in Birmingham in the 1890s. His architectural works have mostly disappeared, though he may have been responsible for the Birmingham Proof House in Banbury Street – he certainly sculpted the trophies above the main entrance of that building. He also carried out some restoration work, including on the Birmingham churches of St Paul's and Handsworth Parish Church, and some lesser improvements at Alton Towers, for the Earl of Shrewsbury, in addition designing some of the gardens there.
As a sculptor, William Hollins exhibited at the Royal Academy between 1821 and 1825, seven works in all, mostly portrait busts, but most of his work consists of church monuments, mostly confined to the area around Birmingham itself. Some memorial plaques are simply signed 'Hollins', and monuments before about 1820 are not really plausible for Peter Hollins, his son, as he was born in 1800, Biographers have generally given those signed 'Hollins' from after about 1820 to Peter Hollins, perhaps on the basis that he was more skilled and in demand as a sculptor than his father, and also that William Hollins practiced as an architect, so would have devoted most of his time to that art. As noted though, William Hollins was exhibiting as a sculptor until 1820 at the RA, and at the Birmingham Society of Artists somewhat later, so he still was active as a sculptor. His obituary also stated that 'the latter years of his life were devoted to introducing a more correct taste into mural monuments', strongly indicating that some later monuments are also by him. And it is clear that he collaborated with his son on at least some works.
An example of William Hollins's work noted on these pages is the monument to William Holden, who died in 1806, in Wednesbury Parish Church. It is rather modest, but with a finely cut wilted, leafy branch on the top, and fine Classical proportions, and seems to be not atypical of his monumental work so far as I have seen it in Birmingham Cathedral and elsewhere. As indicated, most of his work is local to Birmingham, but it does extend as far as Worcester Cathedral (James Johnstone, d.1802), Chester Cathedral (William Withering, put up 1808), and Leicester (Alexander Forrester, d.1817). One interesting work to note is his Sphinx, in the Birmingham Museum and Art Gallery, strongly in the vein of earlier sphinxes, for example by Henry Cheere, very leonine in the body.
Among William Hollins's large number of children, his son Peter Hollins (1800-1886) was a sculptor of some national reputation in the early/mid 19th Century. Another relative was John Hollins ARA, the painter.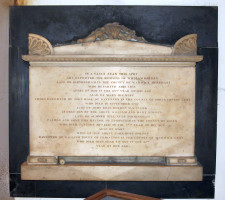 A memorial tablet by William Hollins.
William Hollins died in 1843 at the age of about 90, and his monument stands in the churchyard of St Paul in the Square Birmingham. Inside the church is a further memorial to him, which includes a bust of him by his son (see picture above). An obituary described him as 'a man of strong natural powers of mind, of uncompromising integrity, and most exemplary in all his relative and social duties. At an early period of life, when knowledge was comparatively locked up from the sons of industry... from an innate diffidence of character, encouraged no doubt by the advice of his favourite author Vitruvius, and from his having chosen a provincial rather than a metropolitan residence, his rare and varied attainments were never duly appreciated... His feeling for architecture was strongly imbued with the pure simplicity of the ancient Greeks and Romans.' Regarding his sculpture, it carried on to say 'His numerous productions... are impressed with a purity of taste and propriety of character rarely to be met with in a metropolitan studio'.
Sculpture pages // Peter Hollins
Wednesbury Parish Church // Birmingham Sculpture
Visitors to this page since 11 May 2014: 5,850