Peter Hollins (1800-1886) of Birmingham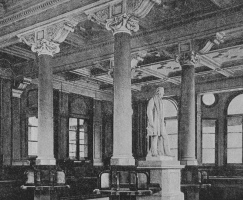 Birmingham Post Office, showing Peter Hollins' statue of Rowland Hill.
The sculptor Peter Hollins is by far the most prominent among 19th Century Birmingham sculptors, and particularly his work on church monuments can be seen in a variety of churches in the centre and outlying areas of the Birmingham conurbation.
He was born in Birmingham, the son of the sculptor and architect William Hollins, and trained under his father, then, in his early 20s, went to London to the studio of Francis Chantrey, one of the most gifted sculptors of the period, who had an enormous practice. Though he based himself in London, and had his own independent studio in London by the beginning of the 1830s, after sharing for a period with a painter, Hollins retained links with Birmingham, exhibiting with the Birmingham Society of Artists and assisting his father on various projects, most particularly at Alton Abbey. In 1835-36 he spent some time in Italy before returning to London. However, when his father died in 1843, Peter Hollins went back to Birmingham, and took over his studio at 17 Great Hampton Street, where he lived for the rest of his life, retiring in some considerable prosperity from making sculpture several years before his death, due to rheumatism.
Despite the high quality of his work (the sculpture historian Gunnis felt his best work was on a par with Chantrey's), approving reviews early in his career, and exhibiting at the Royal Academy from 1822 up to 1871, Hollins never really made a big splash in London. Back in Birmingham, Hollins was one of the more prominent figures of the artistic community, but did not dominate the sculptural output of the city, and did not win many of the prestigious public commissions for statues. As a result, his surviving works consist of a handful of public statues in several cities, and a lot of memorials in churches up and down the country, with the majority in and around Birmingham itself, or at least in the Midlands.
Hollins' statues include Rowland Hill for the Birmingham Post Office, which has disappeared (see the picture above), a rather nice Girl in a Straw Hat in the Museum in Reading, and Dr henry Jephson for Jephson Gardens, Leamington, and Thomas Attwood and Robert Peel for Calthorpe Park, back in Birmingham. A few other statues by Hollins are not so public, as in the Robert Peel in Edgbaston at a Police site which I have not seen, and he is recorded as having made several other portrait statues whose whereabouts are not known. His more numerous busts include one to his father, William Hollins, in St Paul in the Square Birmingham, and several in the Museum and Art Gallery. As noted above, the majority of his work was the funerary monuments, and happily these can still be found in many of the Birmingham churches, including Revd. George Breay and Edward Wilkes in Birmingham Cathedral. Those in St Bartholomew's in Wednesbury are noted on this page. Because of his collaboration with his father, and that so many memorial tablets are simply signed 'Hollins', it is not clear whether these are the work of the father or the son between about 1820 (when Peter Hollins was old enough to be plausible as the originator of such works) and 1843 (when William Hollins died). As for other work, Peter Hollins is recorded as making only a few allegorical works (though according to an obituary it was such groups that first drew him to public attention in London), and there are examples of his work of this type at Aston Hall, Birmingham; and he has a small surviving output of architectural sculpture, notably the façade sculpture for Birmingham's Bluecoat School, and the window surround as part of the memorial to his father and family in St Paul's Birmingham.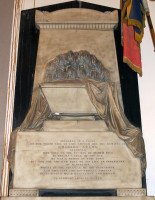 Generous drapes on the Charles Adams Monument by Peter Hollins, Wednesbury Church.
Peter Hollins's style, unsurprisingly, is rather similar to Chantrey's, and tends to the Classical. For his full statues, those I have seen, he favoured something of the dramatic pose, and his child portraits (such as Girl with the Straw Hat) tend to a certain Victorian sweetness. For his memorial work, he had a particular liking for complex, elegant drapery, and even small examples of foliage were an opportunity for detail far beyond what was required. This makes even his simpler church monuments of interest. His more sculptural works incorporate portrait sculpture and ideal female figures of great charm and elegance, keeping all the while that interest in the complicated folds and composition of the drapery.
Sculpture pages // William Hollins
Wednesbury Parish Church // Birmingham Sculpture
Visitors to this page since 13 May 2014: 5,104