Monken Hadley Church Monuments
Monken Hadley Church is packed full of monuments, mostly simple panels, but some with carving, quite a number of interest as they are signed by their makers, and two grand ones: the early 17th Century Wilbraham panel by the eminent sculptor Nicholas Stone, and the Dame Alice Stamford monument of 1626, along with a nice figure piece of 1796 by the sculptor Thomas King of Bath. There is also a good selection of brasses, a tile floor, and the Church as a whole has tremendous ambience.
The Church building
The parish church of St Mary, Monken Hadley is of ancient origin, the first church in Barnet, but today supplanted by the daughter church of High Barnet. From the outside, the view on the approach is dominated by the heavy tower, a typical 15th Century Middlesex square, battlemented thing faced in flint with a corner newel tower: it bears the date 1494, with the 4s as small, half-formed 8s; to the sides of these are a quatrefoil and a bird's wing, the latter symbol of Sir Thomas Lovell, also found on Enfield Church – he was Treasurer to Henry VII and lived at Elsynge Hall in Enfield. Note upon it the iron beacon or pitchpot, also called a 'cresset', used to light an alarm of approaching enemies, though not recently. It may be original, or a replacement from when blown down in 1779. The rest of the building is cruciform, with high pitched roofs of terra cotta tile, and the walls of flint with pale stone dressings, and nice buttresses. It had a thorough restoration in the mid-19th Century by the famous Victorian Gothic architect George Edmund Street, so in the words of one guidebook, 'you may walk all round the exterior without noting any old stone work except in parts of the east window of the south'. Inside, there is much 15th Century work, the Church as a whole being, according to older accounts, built to the memory of those who fell in the Battle of Barnet in 1471.
Monken Hadley Church.
Inside, the impression is of breadth, and a satisfying ambience of warm, brown pews, floor and roof. The panel monuments cluster along the walls, rising upwards to three or four layers in the chancel and the corners. Brasses and matrixes of brasses remain mostly on the floor, which has much fine 19th Century tilework.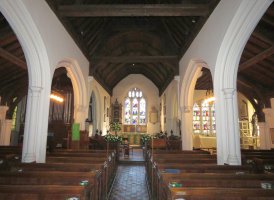 Interior view along nave, showing broad aisles.
Monuments
We take the monuments roughly in date order, diverting to cover a few families represented by several panels, and start with the oldest and grandest pieces. many of the later panels are of the prolific white-on-black genre; if you are interested in these, there is a lengthy page about such things here.
17th Century monuments
Nicholas Stone's monument to Sir Roger Wilbraham and wife.

Sir Roger Wilbraham, d.1616, and Lady Marye Wilbraham, who erected the monument. He was Solicitor-General for Ireland in the time of Queen Elizabeth, along with other positions, and founded almshouses in Monken Hadley. The monument centres on the half-figures of the couple, in linked oval niches. Noble, prideful portraits indeed, their faces highly modelled, a little gaunt, ascetic, wearing ruffs, with bulky shoulders and fine clothes. Sir Roger has a short beard and moustache, and stares straight forward; his arms are in front of him, one hand holding a skull, indicative that he is deceased, while Lady Marye has the word 'vivit' [alive] on the border. She has curled hair, and a wide brimmed hat; her hands are clasped together, and she looks a little, just a little, towards her husband. Beneath stand miniature figures of their three daughters: Marye, Elizabeth, and Katherine. The rest is typical of the period: pillars to the side, broken, above which are carved skulls; curved pediment between those, with a big coat of arms in the centre, painted. At the base, a backward-curving shelf on which is an extra inscription. All in striking red and white marble or alabaster, excepting at the very bottom where a small winged skull and minor strapwork is in white marble. Splendid period piece by the important sculptor Nicholas Stone the Elder – his notebook records he charged £80 for the work. Wilbraham built the almshouses still existing in the villlage.

Dame Alice Stamford, d.1573, and son Henry Carew, d.1626.

Dame Alice [Palmer] Stamford, d.1573, and her son, Henry Carew, d.1626, by her second husband Roger Carew MP - her first husband, William Stamford [also written Stanford and Staunford], also an MP, and a notable judge, was buried at Monken Hadley but no monument remains. This is a fairly unusual monument, as most of the decoration is painted, perhaps because Henry only left £5 for the monument. We have three panels, the central one being a painted portrait of Henry Carew, with beard, ruff and armour, and the upper and lower panels with inscriptions. To left and right are gilt painted figures emblematic of mortality – we see at the top a winged figure with an hourglass (time running out), another with perhaps a spade (grave digger), and by the lower panel a figure blowing bubbles (shortness of life) and a skeleton. The central panel has coats of arms with small skulls and crossbones and grave-diggers tools sketched in. To complete the cheery ensemble, the painted arms at the top has another hourglass on top and is flanked with a fine pair of carved skulls. Super.

William Stanton's monument to Elizabeth Davies, d.1678.

Elizabeth Davies, d.1678 - she was the daughter of Elizabeth Wilbraham noted above, and her husband was related to the Pennants noted below. Large panel with Latin inscription, with copious flowers festooned on the sides, scrolling to the lower sies and upper corners, confidently carved and with much variety in the detail, and on top, a cartouche of arms, painted; the remaining one of a pair of festoons hangs from the side of this. At the base, a thin shelf under which is a curly apron with central winged cherub's head. Signed by William Stanton (1639-1705), an important monumental sculptor whose works date from the mid-1660s through almost to when he died.
18th Century – 19th Century:
Mary Poston, d.1723, and added later, her husband Richard Poston, d.1742, white panel with arched top and a thin frame.

Anna Henrici Hitch de Leathley, [Lady Wynne], d.1727/8. Tall panel with curly side pieces bearing small acanthus leaves, a curly top with S-shaped sides, perhaps once with painted arms, and at the base, a faded cartouche of arms with crossed branches - see picture below. Unusual.
Ince Family Monuments
Piggot T. Ince. D.1765, and his wife Mary Ince, d.1768. White panel with a relief shield of arms in a recessed roundel above the inscription; there is a yellow and dark marble frame.

Barbara Ansilla Ince, d.1756, Edward Minshull Ince, d.1761, and Mary Elizabeth Ince, d.1766, offspring of Piggot and Mary Ince. In similar style, but a horizontal panel.

James Berkeley, d.1767, and his wife Mary Berkeley, d.1768. To the same design as above, but with a different shield of arms. The piece is to the same style as the early Ince monuments, and hung with them, so they are presumably related.

Lady Wynne, Ince arms with rabbit, and an Ince monument.

James Piggott Ince, d.1829, his wife Anna Maria Ince, d.1830, and a daughter, Harriett Ince, d.1809. The inscribed panel has on top of it a carved pot, well draped and of goodly size. Beneath, a low relief shield of arms, the helm having a charming little rabbit on top. On a grey, veined marble shaped backing. Signed by the sculptor T. Butler, London.

James Berkeley Ince, d.1845, and his son Captain William Ince, d.1818, who fought in the Peninsula War. Similar to the previous Ince panel, but with more detailing to the drapery. By the same sculptor, who signs more fully: T. Butler, Lower Middlesex Place, New Road.

Charles Ince, d.1850, his brother, the Revd. Edward Ince, Vicar of Wigtoft cum Quadring, Lincolnshire, and Capt. Ralph Piggott Ince, d.1871. A broad panel with receding sidepieces bearing pots carved in relief, more Greek wine-jar than funereal urn. There is a shallow 'lid' above and receding shelf below. On a grey marble backing, by T. Butler of Lower Middlesex Place again.

John Randell, d.1856, plain panel with inscribed line border on a black backing, of minor interest in being signed by a local mason, Paterson of Hadley.

Daughters of James Piggott Ince and Anna Maria Ince: India Ince, d.1863, Catherine Anne Ince, d.1866, Anna Maria Ince, d.1869, Barbara Ancilla Ince, d.1876, and Louisa Ince, d.1877. More of a High Victorian panel, thus a smooth Gothic window design with moulded edging, 'IHS' [Jesus] in a triangular light above the inscription, and on a polished black backing of similar window shape; the text is an ornamental black letter script. Signed by Jarvis & Child, 139? Long Acre.

Mary Anne Harrison Grant, d.1877, daughter of Capt. Ince. Small plain panel with nipped corners on a black backing, also with nipped corners. Signed by J. Josin, Finchley.
Back to date order now:
Sarah Pennant, d.1780. Elegant late 18th Century tablet: there is a pinky marble surround to the inscribed panel, an upper shelf with mouldings, and on top, a narrow-footed pot. The piece is supported on two composite feet, with between them a small cartouche which would once have been painted with arms. Well proportioned in all its dimensions.

Richard Westmacott Junior's panel to Catherine Pennant

Catharine Pennant, d.1797, daughter of David Pennant. A charming piece, carved as a tomb chest end covered with a drape tied at the corners and nicely hanging down: the inscription being on this drape. On top is a wide, low urn with leafy handles. On a dark, flecked oval backing panel. Signed by Richard Westmacott Junior, London, of the well-known dynasty of sculptors [note Pevsner puts it as Westmacott Senior, but it is signed clearly enough].

Richmond Moore, d.1796, son of Peter Moore, Lord of the Manor and Sarah [Webb], with a eulogy. A charming small statue of a mourning girl leaning on a monumental pillar; she leans her head on one hand, and the other holds a cut flower (symbol of the life of the son cut off in his youthful prime, aged 21); her legs are crossed, and the delineation of her limbs and Classical robes is well conceived and executed. Above, the coat of arms, all on a dark, broad obelisk (if you like obelisk monuments, see this page). There is a broad shelf, and then underneath, the inscribed panel, with shaped sides and little feet. A rare figure piece by the monumental sculptor Thomas King of Bath, and altogether a good thing.

Richmond Moore, d.1796, by Thomas King of Bath.

Mary Smith, daughter Maria Smith, and various relatives, on a tablet erected by Sir Culling Smith, Baronet, dated 1805. A tall panel, with an elegant thin-stemmed pot carved in high relif above, on a dark obelisk (see this page for lots about obelisk monuments). At the base is a curvy apron with nicely carved Acanthus leaves, and a painted shield of arms with upon it the Dove returning to the Ark in low relief, and the family motto 'Spes decus et robur', or 'Hope is honour and strength'. More late 18th Century than early 19th Century in feel, and signed by Piper and Son of London. Picture below left.

Lucy Maria Dury, d.1805, her son Thomas Dury, d.1803, and another son, Lt. Francis Dury, d.1813, from a wound 'in the night attack upon the American Camp near Burlington Heights', Canada. Later additions to the monument are Alexander Dury, d.1843 and Isabella Dury, d.1855. Tall, plain white panel cut with upper pediment and little feet.

Baronet Sir Culling Smith, d.1812, and wife Charlotte Elizabeth [Bardley], d.1826, and son Sir Culling Smith Bt, d.1829. The tablet has upon it a casket, seen side on, partially covered with a drape which hangs down on one side. At the bottom, a small shield of arms. On a black backing cut to shape. Well proportioned - see picture above centre.
Early 19th C black and white panels: Cullen Smith and Cottrell families.
Cottrell Family
John Cottrell, d.1796, son of the Revd Charles Cottrell, Rector, panel with little feet, a thin shelf above, and a modest pot.

Captain Frederick Cottrell, d.1811, son of the Revd. Charles Jeffryes Cottrell, Rector of High Barnet, who died of consumption when cruising off the Island of Barbados. White panel cut with little feet, a thin shelf above, and the black backing panel cut to form a pediment above, on which is the painted shield of arms. See picture above right.

The Revd. Clement Cottrell, d.1814, Rector not here but of North Waltham in Hampshire. Little white panel cut with curves and a now blank roundel above, on a decayed dark backing.

The Revd. Clement Cottrell, d.1814.

Anna Frederica Cottrell, d.1818, daughter of the Rector noted above. White rectangle carved with a Roman-style border, on a black backing panel and with little feet, one signed by the stonemason, J. Hill of Barnet.

Charles Cottrell, d.1829, son of the Revd. Cottrell, and later a judge and Secretary to the Governor of the Isle of Martinico [Martinique]. Panel with thin moulded shelf above, and shield of arms on top, on a shaped black backing panel.
And back to our date order:
Robert Manners, d.1810, and his wife Elizabeth Manners, d.1817, broad oval panel without border.

Amy Burrows, d.1811, with perhaps an error as it records her with the title 'Mrs' but note she died unmarried, erected by the five children of her brother, the Revd John Burrows, Rector of the parish. With upper shelf bearing a thin-stemmed flaming urn, and an apron below with wreath, on a backing panel with curved top. See picture below.

Francis Baronneau, d.1812, white oval panel with long inscription, with black backing. He left money to the poor of South Mimms in his will, with William Makepeace Thackeray as one of the executors – the Vicar noted below. There is also a plain panel to his wife, Mrs Margaret Baronneau, d.1798.
Amy Burrows, and James Quilter, 1810s panels.
Quilter family:
James Quilter, d.1818, and his wife Mary Anne Quilter, d.1818. Tall panel with upper shelf on which rests an easy-going try at a pediment: the centre too high, the acroteria ('ears') at the sides fallen over, all with low relief patterning. Below, a thick base, with a separate inscription that the monument was erected by their 10 children. There is a black backing to the upper portion, and two moulded supports, one signed by Hill of Barnet - picture above right. A more humble panel, with just a shelf with mouldings above the inscribed panel, and a black backing, is to a daughter, Sophia Quilter - also by Hill of Barnet.

Henry Sampson Quilter, d.1823, a son of James Quilter noted above, recording 'the uniform urbanity of his manners and benevolence of his disposition'. White panel with fluted semicircle above and acroteria, and a black shaped backing panel, sitting on a shelf with jelly-mould supports. Further Quilters noted below.

James Quilter, d.1864, rather similar to the Joseph Green monument noted above, signed by Ladds of Barnet.

Emma Cecilia Quilter, d.1864, and Jemima Quilter, d.1870, daughters of James Quilter noted above. Plain white tablet with moulded shelf above, on a black backing signed by Ladds of Barnet.
And back to date order:
Macartney Moore, d.1831, 'after a long illness occasioned by many years residence in India'. Rectangular panel carved with a frame, and circular ornaments at the corners; one is lost. On a grey marble backing. By the prolific monument maker, E. Gaffin of Regent Street. There is a separate similar panel to his wife, Henrietta [Halhed] Moore, d.1837. And a third panel, to Maria Sarah Moore, d.1842.

Tall panels, Classical and Gothic revival.

John Bonus Child, d.1832, and his wife Frances Child, d.1855. Tall white panel with unusual shape: arched at the bottom and the top, the latter being greater than half a circle, and enclosing a shield of arms carved in low relief - see picture above left. Acroteria to the side, and curled fronds of foliage where the entablature of a pediment would be. At the base, a shelf and two upturned-jelly mould brackets. On a shaped black backing. Unusual, with the lower part at least quite successful as a design. Signed by Hill & Son, Barnet, the mason we met in two of the Quilter monuments noted above.

Francis Rix, d.1841, Panel cut with chunky pediment shape on top, matching chunky base below with two moulded feet, on a black backing panel.

Francis Baronneau, d.1846. White panel with curly pediment on top, and a black shaped surround.

The Revd. John Richard Thackeray, d.1846, Rector, and his wife Marianne Thackeray, d.1855. Panel cut with thick pediment on a black backing panel. Signed again by Hill & Son, Barnet. See also brief note on a monument in the Churchyard below.

Thomas Windus FSA, d.1854, of Gothic Hall, Stamford Hill, with a fairly lengthy inscription. Panel carved as a tomb chest end, thus with little feet, upper shelf on which is a pediment-style lid with acroteria and a central shield of arms, on a shaped black backing panel.

R. Brown of 58 Great Russell Street, Smith monument.

Sons of William Wyke Smith and his wife Catherine: Hugh Smith, d.1854, and Francis Smith, d.1854, children who died two days apart. With a shelf and a curved top bearing a slight carving of a dove carrying a sprig of foliage, on a black backing panel. By R. Brown of 58 Great Russell Street, a fairly prolific stonemason of the time, producing mostly simple panels like this one.

Ann Harman, d.1848, her daughter, also Ann Harman, d.1861, son Lieut. George Harman, d.1826, and Lieut. St John Harman, d.1814, 'killed by lightening at Fort Richlieu in Genoa', erected by Mary Harman, youngest daughter of the first named Ann. A Tudor-Gothic style Victorian panel, thus with the inscribed panel within a blind Gothic window, wide and with angled sides, spires and crocketing on top, and highly carved pendant feet below. As is customary with the Gothic, the material of this grand frame is a yellowish sandstone rather than the white marble favoured for the Classical. See picture a little way up the page. On a black backing panel, signed by the statuaries, Edwardes Burke & Co, 17 Newman Street, Oxford Street, London. I have seen a couple of other monuments signed WH Burke & Co, and Edwardes &Co, both giving the same address, but only Classical ones.

Joseph Henry Green FRS, d.1863, President of the General Medical Council and twice President of the Royal College of Surgeons, and his wife Ann Eliza Green, d.1879. Tall panel with blocky pediment above, and base below, both joined by mouldings; the former having a small carved shield of arms. The piece rests on two feet with mouldings, and there is a shaped black marble backing with its own feet. Signed by T. Gaffin of Regent Street (we met Edward Gaffin above - see also this page).

Thomas Browning, d.1849, wife Elizabeth Browning, d.1841, and son Thomas Browning, d.1884, by whose will the tablet was erected. Neat Victorian Gothic tablet, with the inscription on a blind cusped Gothic window, with thin granite pillarst to the sides, and an outer frame of grey marble. Signed by J. Forsyth, Finchley New Road.
20th Century:
Charles Ludwig Behr, d.1909, Churchwarden. Dark coppery panel, with receding border, on a stone cut to shape.

Capt. Tempest Hicks, d.1918, by Thornycroft.

Capt. Charles Edward Henry Tempest-Hicks, d.1918, died in action at Warvillers. White panel with a fine profile portrait carved in relief of Capt. Tempest-Hicks, with short, wavy hair and crisp moustache. Above, a festoon of leaves and berries is stretched across, beneath a shelf supporting a slightly oversized semicircle, within which is carved his cavalry sword and plumed helmet. The important sculptor William Hamo Thornycroft carved this monument.
Also in the Church:
A lot of 19th Century yellow-and-red tiles on the floor, with early medieval patterning and shields, and a bit of Latin. Impressive for the scale, so the whole concept can be seen.

Brasses to William and Anna Gale.

Ancient brasses, of which we may note Anne Walkeden, d.1575, inscription with one of two shields of arms surviving, no figure – she was born into the Goodere family; and William Gale, d.1610, 'Citizen & Barber Chyrurgion of London', twice Master of that Company, noting his two wives, Elizabeth and Suzan, by the first of which he had five sons and eight daughters. Only the matrix is left of these three; but the eight daughters survive on a plate below. Another William Gale, d.1614, and his wife Anne [Bragg] Gale, survive intact with a shield of arms. The couple face slightly towards each other; he in rich robes and with a fine ruff, while she has a bigger ruff, and a decorated skirt; extremely good these two. Below, their children William, who died a child, and Nicholas. And another brass with two similar female figures, standing face on and praying, but I could not read the inscription. The oldest inscription is to Walter Grene, d.1442; we might also note Walter Tornor [Turnour] and William Tornor, the former who died in 1494, thus about when the Church was being built.

Modern Brasses, of which there are several, and we note three: Frederick Cass, d.1861, listing his honours including as Patron of the Church. The inscribed panel, in blackletter, is within a quatrefoil bearing crest and shield of arms, and much embossed decoration, and with a border of dark red and heraldic roses. All this on a square panel with inscribed border, and within the four corners, symbols of the Evangelists within quatrefoiled squares. More ornate than the usual modern brass, in keeping with the High Victorian date of the piece. Also The Revd. Frederick Charles Cass, d.1896, 30 years Rector of Monken Hadley and an avid historian of the parish, erected by the parishioners. Horizontal brass panel, the text in red, with a large, ornate cross on one side, a double black line border with minor decoration again in red and gilt, and quatrefoils at the corners bearing Tudor style flowers, again red and gilt. He wrote a book on Monken Hadley, published in 1880, with much on the descent of the various families represented in the monuments. And Edward Holman Hay, d.1891, Rector's Churchwarden, with a nicely cut edging.

An octagonal font, 15th Century, with quatrefoils around the bowl, and a tall, modern cover in Gothic style, made in 1952, a good piece. See picture at top of page.

A good range of stained glass, late Victorian and turn of the Century, by Walligton, Wailes and Wilement, also Clayton and Bell. A few bits of older glass remain, including one with a partridge holding an ear of corn in its beak, which is a pun relating to the Goodere family already noted and much associated with the Church, John Goodere, d.1503 leaving money towards the steeple. The partridge with ear of wheat is also carved on the capitals of the piers of the Chancel towards the nave.

A nice miniature model of the Church, so the scale of the different parts can be appreciated.

A wooden pulpit, with minor carvings including on the stair, in memory of Kathleen Mary Holdroyd, d.1966, given by her husband Ronald Holroyd, Kt.
Churchyard
With a very long list of monuments within the Church, only the briefest note here on the Churchyard, which is not extensive, and mainly is filled with 19th Century headstones. Among the more interesting things:
William Brudenell, d.1734, and his wife Elizabeth [Robinson] Brudenell, and nephew Thomas Robinson, d.1727, by the porch, a tomb chest with curvy lid, a nice piece of the early 18th Century.

Some flat 18th Century slabs, some being covers to family vaults – the Munro family, the Garrow family, and so forth.

Several other tomb chests of varying design, early 19th Century, one or two including with original railings.

Three wooden headboard monuments, one almost collapsed, increasingly unusual to see as they decay more rapidly than stone. One remains easily readable to the Hibbert family, 1840s-50s. Perhaps these are the same as those shown in the Victorian picture at the top of this page- you will need to click to enlarge to see them.

A tombstone to a certain William Makepeace Thackeray, d.1813, not the famous author, and his wife Amelia Thackeray, d.1810; inside the Church we saw the panel to the Revd. John Richard Thackeray. Oddly, there is a Trollope buried in the Churchyard too.

A couple of headstones with cut-outs, including a highly unusual triangle-topped one with a flower shape cut out, mid-19th Century.
Go to nearby High Barnet Church (St John) // East Barnet Church (St Mary)