East Barnet Church, St Mary the Virgin - Monuments
East Barnet Church is a 19th Century church on a Norman core, with an evocative interior, containing a small collection of wall panels, all bar one from the 19th Century, mostly white-on-black Classical pieces. The Churchyard contains tomb chests and an unusual pyramid monument.
St Mary the Virgin, East Barnet combines a nave of c.1140 with 19th Century reconstruction and expansion of the rest of the building. It was the very first church in Barnet, though long since eclipsed by the High Barnet (once called Friern Barnet) church which now presumes to call itself 'Barnet Church'. The area once part of Hertfordshire but now firmly within London, includes a third ancient church at Monken Hadley. Among the modest collection of wall panels in St Mary are two by local firms of stonemasons.
Exterior and interior views, St Mary the Virgin, East Barnet.
A brief word on the Church building: The view from the exterior is mostly 19th Century from the approach to the Church: the 1828 brick tower with its distinctive tall louvre windows, and rough-cast masonry walls. Set under the tower is the original Norman doorway with chevron patterning, moved from its original position on the north side. Round the back, that north side, we have the original surviving wall of the nave with three tiny Romanesque windows. Inside, we have an ambient interior by virtue of the broad south aisle, with arches broken through the old nave wall so the feel is of a broad space intersected with pillars, between which different views of portions of the interior are obtained. The effect is enhanced by the roof, barrel vaulted, and low and dark over that aisle, and by the hatchments and monuments distributed along the walls. On to the monuments then:
Monuments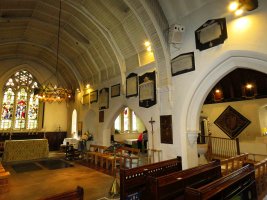 Lieut. Col. Isaac Eaton, d.1789, 'after a long period of military service in several parts of Asia'. White panel with border of brecciated orange, grey and pale marble, surmounted by a curved pediment with a low relief carving of a trophy, thus crossed weapons here including spears, guns, sabre, and cannon, wrapped in a sail and with a cuirass and cannonballs in front. At the base, a shelf and low apron bearing a shield of arms and with two small supports.

The Revd. Cecil Taylor, d.1800, Rector of Bennington and Raithby in Lincolnshire. A white panel, with upper shelf and cut with wavy pediment, and feet below.

Jacob Baker, d.1802. White panel with upper shelf with mouldings, on a black panel with wavy top, and supported on two shaped supports.

Benjamin Underwood, d.1815, by Hill of Barnet

Benjamin Underwood, d.1815, Rector of the Parish. A more ornate white and black panel. The black portion forms a narrow frame around the central inscribed panel, thus a thin shelf above and below, and the backing for two fluted pilasters of white marble to the sides. Above is an almost semicircular pediment, with a carving upon it of a casket tomb, surrounded by wavy leafy branches. There is no entablature, but to the sides are acroteria ('ears'), of the common anthemion design, but quarter-circles cut across rather strangely. Is it possible that the monument has lost a bit from its upper portion? At the base, two blocky supports cut with triangles. It is by the local statuary Hill of Barnet, whose work can also be seen in Monken Hadley Church nearby.

Oval panel to George Prevost, Bt.

Lieut. Gen. Sir George Prevost, Baronet, d.1816. He was Governor General and Commander in Chief of the British Forces in North America, thus the Governor of Canada. White horizontal oval on a similarly shaped black backing. And a similarly shaped oval to his wife, Catherine Anne Prevost, d.1821 .

More ovals: John and Alice Page.

John Page, d.1817, and his wife Alice Page, d.1822. Made as two oval panels, set side by side on joined black backing panels, the only difference being the font of the inscriptions. Such pairs of tablets are not so common, and are more often than not erected at the same time by surviving offspring rather than as here, put up at different times – another more common variation is to add a new inscription to an existing tablet, or where space does not allow, as here, to add a smaller tablet underneath. There is a much later double tablet noted below: the Elwin monument which was made as a single piece, and in that unusual case, to a single person.

Rear Admiral Henry Warre, d.1826. White panel with nipped corners, an upper shelf, a bit broken at one end, from which depends a chain of flowers at either end; on top are crossed branches, and underneath, a shield of arms carved in low relief. All on a shaped black backing panel with two small supports.

Christina Lindgren, d.1827, with urn and other carved decoration.

Christina Lindgren, d.1827, and her husband Jonas Lindgren, both of whom died in Sweden. Another white on black piece. The inscribed panel has side pilasters with carved torches, upside down to signify snuffing out of life. These support an entablature with wreaths, and a shelf with mouldings on which is a draped funereal urn, of the broad, low type. At the base, a thick shelf and two supports carved with leaves. There is a black backing panel, shaped with pediment and ears, and with a small cross on a mound underneath. Signed by T. Marsh, New Road, London, one of the many statuaries based along what would later become Euston Road.

Thomas Wyatt, d.1834, and Elizabeth Wyatt, d.1867

Thomas Wyatt, d.1834, of Willenhall House, East Barnet, and his wife Elizabeth Wyatt, d.1867. A rather grand white-on-black panel. We see an end-on view of a tomb chest, much like those in the Churchyard outside, with blocky base, angled lid with light decorative carving of scrolling, and the name 'WYATT' within a pair of crossed flowering sprigs forming a wreath. On the base is the shield of arms carved in low relief. The block is covered with a drape, slightly asymmetrical and with well cut folds. Underneath is the inscription on a plain panel with curved base, slightly protruding to the sides, and instead of the usual 'feet', two squares enclosing circles introducing into the edge of the inscribed panel - an unusual and curiously modern device. Behind the upper part is a narrow black shaped panel.

David William Garrow, d.1837, Rector of the Parish. A modest white panel with upper shelf and moulding, on a rectangular black backing panel.

Rose Byass, d.1838, to the same design as the Lindgren monument, and also signed by T. Marsh, New Road, London.

Selina Augusta Blanc, d.1839, wife of the Hon. William Blanc, Attorney General and President of the Council for the Island of Dominica, West Indies. Cut as a tomb chest end with little feet and narrow shelf, on a rectangular black backing and with two supports. By Thomas Gaffin of Regent Street, the most prolific of all white on black monument makers.

Anne Nicholl, d.1862, white on black panel in the style of half a century previous. Thus as a plain tomb chest end, cut with feet below, a thick lid on top, on a shaped black backing panel. Signed by a local firm, Ladds of Barnet.

George Harvey Elwin, d.1876, son of the Rector, with, unusually, a parallel panel erected by his friends in the London and South Western Railway Company. The monument is Victorian Gothic, thus each Gothic panel, in pale, streaked marble, is toped by a cusped Gothic hood of pale stone, carved with leafy crocketing and a bell shaped protrusion of leaves and buds at the top. The two arches join in the centre, so with the two side columns there are three in all: black shafted marble, thin as ironwork, with oversized leafy capitals and no bases. They sit on a broad shelf of red and white coloured marble, which rests on a more protruding shelf in a beige stone, supported on three carved pendant buds. A nice example of a polychromatic decorated Victorian Gothic panel.

Gothic double panel to George Elwin, d.1876
Also in the Church:
Several well-preserved 17th Century floor panels, including with inscribed arms one example in picture at top of page).

Several modern brasses, the most artistically interesting of which is to Leonora Georgiana Gillum, d.1914, with flowing text and surrounded by darkened metla designs of scrolls and leaves.

A sequence of hatchments, adding considerably to the air of antiquity of the Church (see picture below).

The font - a modern one, though Norman in inspiration - see picture at top of page.

Scratchings of a little Elizabethan man and helmets etc.

Dark wooden fittings, including the gallery, pulpit and pews.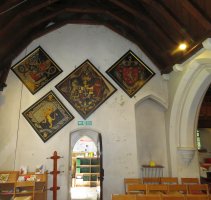 East Barnet Churchyard:
The Churchyard contains some interesting monuments, including a couple of unusual ones and a goodly number of massive chest tombs - this is a significant collection of these, dating from the 18th and 19th Centuries, and these are covered on a separate page.
St Mary the Virgin, East Barnet's website is at https://stmaryseastbarnet.org.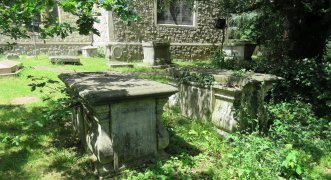 Tomb chests in the Churchyard.
Nearby: Barnet War Memorial
High Barnet Church to the West // South to La Delivrance statue // South East to Hornsey // East to Enfield Church // Hertfordshire churches // London churches