George Edmund Street (1824-1881)
Out of a good number of Victorian Gothic revival architects, George Edmund Street stands out as one of the most important, his Law Courts in the Strand, being the last of the great Victorian Gothic buildings in London. His main work though was as an architect of churches, and as a teacher, both at the Royal Academy and through his books.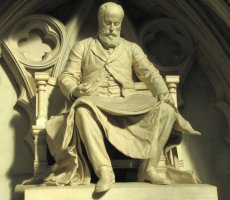 George Edward Street, architect.
George Edmund Street was born in Woodford, Essex (see this page for the Church there), went to Winchester, and then entered Gilbert Scottís studio in 1844, stayed there for five years, before setting up on his own in 1849. He went abroad to France, Germany, Italy and later Spain to see their architecture, and while his name is not so familiar now, because he mostly designed churches, his books on architecture in Italy and Spain were influential for a generation of architects in England, he was the architectural professor at the Royal Academy, and a variety of younger architects studied directly under him.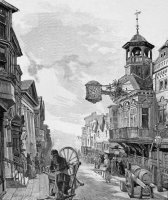 For his own designs, G.E. Street favoured the 13th Century Gothic of England and France, often featuring polychromy with differently coloured brick and highly decorated interiors, and bold, convinced roofs and towers to the exterior.
Among his many church buildings, St James the Less, Vauxhall Bridge Road is one of the most important; a later London one is St Johnís Church, Kennington, and his works are well distributed across England, with earlier works in the south west, later especially north and west of London, and in Yorkshire. The most recognisable view in Guildford is of his Town Hall in the High Street, pictured above, and he has various schools and other secular buildings, but his most familiar building is the Law Courts in the Strand, a great long building with a splendid tower to the street, and an enormous, lofty interior like a cathedral. It was only finished the year after he died, in 1882, and there in the main hall is his own monument.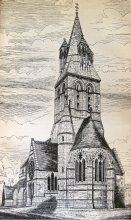 A church designed by G.E. Street.