St George the Martyr, Borough High Street, Southwark, and its Monuments
St George the Martyr occupies an island site, with traffic round three sides, but with the advantage that the wide road in front of it gives some space in front of the Church, so that we can appreciate its portico and great stone tower to the full. The portico occupies the full height of the building, two tall stories, with tall Ionic pillars to the sides, bearing a curved pediment enclosing a design of three winged cherub heads floating among clouds (if you like pediments, see this page, and for cherubs, see this page). The principal doorway is within the portico, with a lunette above within a rounded arch. To the sides are further doors, and all three entrances are reached up a short flight of steps. The tower, directly behind the portico, is square at its lower stage, then with three stages of octagonal form, the lowest with a clock upon it, and pots above the corners of the storey below, and at the very top is the stone steeple. The overall impression of that tower is of massiveness, almost too heavy for the building underneath. Because of a curve in the road, this tower can be seen along Borough High Street, and forms a convincing terminus to the view.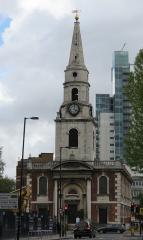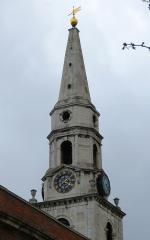 St George the Martyr, Borough High Street.
The rest of the building is a flat-roofed boxy affair, thus a basilica, of red brick with stone dressings, a balustrade at the top near the front, brick again further back, and in total six bays long, with a projecting central portion at the back, lower to the sides, and in the centre with an angled roof, the only one visible on the building, a Venetian three-light window (so with a central arched window and lower sides), and a stone ornament, consisting of a broad cartouche with festoons of carved flowers to the sides.

Cherub heads within the curved pediment.
The Church received some £6000 for rebuilding under the 50 New Churches Act, and was put up from 1734-36, to the designs of the architect John Price. Various improvements and changes have been made since, but the exterior is essentially the original Georgian one of nearly two centuries ago.
Inside, the chief feature is the grand ceiling, an oval plaster affair with low relief cherubim flying around, with gilt wings and carrying ribbons; many more winged cherub heads are scattered amongst the clouds in a regular design, most pleasing in a 1900s way, and in fact this ceiling dates from a beautification by the architect Basil Champneys in 1897. There are galleries in dark brown wood on both sides and to the entrance, with the organ above, and these together with the full set of boxed-in pews make a contrast with the white and gilt walls and ceiling. The monuments are many, and largely rather simple in design, and are along the walls on the ground floor and at gallery level.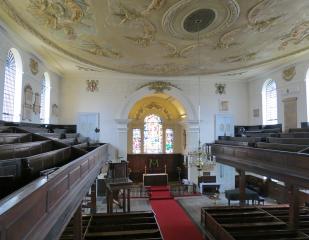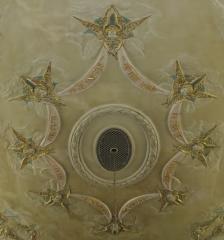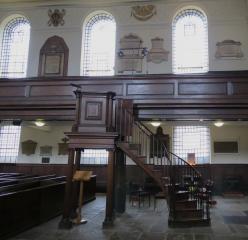 St George the Martyr, interior and Basil Champneys' ceiling, and tall pulpit.
Monuments
The Church contains about 40 wall panels, showing various of the simpler types of memorial, mostly from late 18th and early 19th Centuries, with odd bits of carving - elegant Greek pots or urns in high relief are a particular speciality - but no figural sculpture, and several where the monumental mason signs their work. In addition there are a couple of early 17th Century brasses, without pictures alas. We take them mostly in date order.
18th Century monuments
We have a series of about 11 Classical panels dating from the 18th Century, all except one from the last two decades or so, including the coloured marble so prevalent in monuments of the period, and a variety of small pots and urns on top. Four of them seem to be by the same, anonymous stonemason, and there are several signed pieces.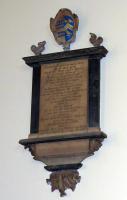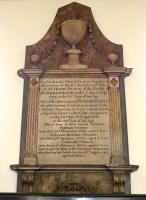 Revd. Heald and Mary Pigeon monuments, early and late 18th Century panels.
Revd. Wheatley Heald, d.1734, who died 'as he was Preaching in the Parish Church of St Nicholas Cole Abbey', a City Church which survives today, and wife Anna Heald, d.1785, and their son, also Revd. Wheatley Heald, d.1786, and his wife, Alice Heald, d.1807. Panel with dark mantelpiece-like surround, painted coat of arms in a cartouche on top, with lamps in the shape of shells to the sides. Under the lower shelf, a blank apron, Acanthus leaves to the sides, mouldings, and a central corbel at the base carved in some leafy design.
Mary Pigeon, d.1779, husband Henry Pigeon, d.1783, and four grand-children through to 1817. Classical panel, with fluted side pilasters, an upper shelf in several parts, and on top a thin-stemmed pot on a Baroque plinth, with two miniature replicas to the sides over the pilasters. Garlands of small flowers hang from the handles of the large pot. At the base, two brackets, and between on the apron, a cartouche, finely carved, which likely had some coat of arms in the centre, but now blank. This monument is made with several coloured marbles, with broad masses of colour rather than simple veins, giving a sense of largeness and richness.
John Griffith, d.1779, his wife Ann Griffith, d.1792, son, also John Griffith, d.1810, and his wife Nancy Griffith, d.1826. The first of three panels to this family in the Church. Panel with yellow and black outer frame of marble, and on top, a thin shelf surmounted by a curly pediment of the variety known as swan-necked, with outer curls forming small acroteria, and each curl enclosing a small carved flower. In the centre on top is a small carved pot. At the base is another shelf, broader, supported on moulded brackets, with a central wavy apron piece, on which is painted a coat of arms. And at the very bottom, a little half sphere of stone with an inset circle of marble, which I think is a maker's mark.
Richard Easterby, d.1781, and wife Mary Easterby, d.1788, with a nicely coloured, pinky-buff marble surround, upper shelf on which rests two small pots, more like cups in shape. At the base, a central blank field (apron) between two curved supporting brackets. At the bottom is the same sort of small sphere we saw on the Griffith monument.
Richard Cody, d.1782. To the same design as the Easterby monument noted above, and with the stone sphere with a marble 'eye' at the base.
Matthew Wallis, d.1788. Another coloured panel, with the central inscribed panel – with much room for later relatives to be added, but they never were – surrounded by a border of pinkish brown marble, quite blotchy. Around this are upper and lower shelf and receding side pieces, in pale marble again. At the top, there is a panel of darker blotched marble, cut in a wavy shape, the outer humps of which include attached pots or urns acting as acroteria ('ears'). At the base. A wavy cut apron panel with two supporting brackets to the sides; the proportions, if not the colours or the shape of the pots, are the same as for the Easterby panel above, and like that one, there is the stone sphere and eye at the base.
Mary Griffith, d.1793, wife of Thomas Griffith, and his second wife, Louisa Griffith, d.1796. With receding sides, upper and lower shelf, rather deep, and on top a plinth supporting a pot in high relief, which has a small shield on its front and a Roman S-shaped pattern around the rim along with foliage. The panel is unusually thick, being built out in boxlike fashion away from the wall. It is signed, but the signature is partly rubbed off and I could not read it. Perhaps the initials were R C; the word 'fecit' ('I made it, this monument') are more clear to see. An earlier Griffith monument is noted above, and both are pictured together (click to enlarge).
John Davis of Clerkenwell, d.1793, a short, broad dark coloured panel with upper shelf, bowed down in the middle, to allow for the base of a roundel with a lightly carved wreath upon it, and on which is painted a gilt diamond shaped shield. Behind this is a bell-shaped backing plate. The base of this little monument is cut to form block-feet at the sides, and between them is a winged cherub head, carved in the style of the period. A strange composition: I wonder if originally there was a taller panel which was cut down.

Unusual panel to John Davis, d.1793.

William Cody, d.1795, and his mother, Eleanor Hill, d.1795. The pinkish panel, with red line inscribed border, is on a backing cut with feet below and with a shelf above. On this, rather than a simple lid or pediment, is a more ambitious construction: entablature, then a section curving inwards, enclosing a painted shield of arms with oversized surround of carved leaves, and on top, a smaller, blank pediment surmounted by a small pot. The whole in a mix of yellow and pinkish marbles. Two 'buttons' with carved flowers are on the feet, and the piece is signed by the maker, W. Law of Camberwell. An earlier Cody is described higher up on this page.
Anthony Hall, d.1799, the brief inscription carved on a black panel, really rather late for this style which was de rigeur in Jacobean times. The fluted border is in panel marble, and has at each corner a stylised flower carved in relief within a square. The upper part of the monument is cut in the shape of an obelisk or tall pyramid, the only example of an obelisk monument in the Church, and upon this is a high relief carving of a both with leaves carved on the underside of the bowl; the base of the pot is missing. The base is of a varicoloured marble, cut to a curvy shape, and allowing for two small corbels to support the bottom corners of the frame above. Signed by J.M. Rosseter, a local stonemason.

J.M.Rosseter's panel to Anthony Hall, and James Francis's one to Eliz. Davidson, 1790s.

Elizabeth Davidson, d.1798, her husband William Davidson, d.1803, a young son, George Davidson, d.1786, and William Davidson, d.1812 and Joseph Davidson, d.1814. From right at the end of the era of coloured monuments, with the white inscribed panel surrounded by ar recessed border of streaky serpentinite or similar stone, which is also used on the upper and lower portions of the monument. To left and right are fluted side pieces, and all is surrounded with a reddish stone border cut at the top to the shape of a broad obelisk. On top of the upper shelf is an attached pot, narrow of stem and with fluted sides, and at the base, between two curved supporting brackets, is a shield with cross. The overall effect is of some richness. The stone mason who made the work, James Francis of Clapham, signs it prominently. Gunnis, the historian of sculpture and monuments, notes that he rebuilt the tower of St Anne Soho in 1802, and also worked as a mason at Clapham Parish Church. He repaired, and signed, the monument to Dame Mary Scawen in Carshalton Parish Church.
19th Century Monuments
There are almost 30 monuments from the 19th Century, 20-odd from early in the Century, and the remaining 10 from Victorian times. This period sees the abrupt end of the use of coloured marbles, so what we find are white-on-black panels, or in one case reversed, and in several cases the backing being painted white, so we cannot tell if the original black stone is underneath, or some white panelling in wood or plaster to suggest a lost or damaged backing plate. The main types of design are the tomb chest end, which has a border and backing made with feet, and with an upper shelf, on which is a lid, or sometimes more of a pediment. There are a few unusual examples too, including double monuments where a second, later generation is added as a separate panel to an existing one, and one example of a monument carved as a hanging, unrolling scroll; always nice to come across one of these. The carving is fairly minimal in the majority of examples, with a few honourable exceptions.
Joseph Armstrong, d.1800, a linen draper by trade, and his wife Mary Armstrong, d.1823. Dark panel with a fluted frame of pale marble, circlets at the corners. Above is a shelf, on which is a multi-partite construction with a small relief pot and drape in the centre, with a pointed window shape in black marble as a backing, curved elements to the sides, and squares with small attached circlets in the corners. At the base, darkened and coloured, is a wavy-edged base or apron, which had a pair of supporting brackets at the sides, both of which are lost, leaving one small attached sphere.
Robert Hill, d.1808, his wife Ann Hill, d.1805, and later members of the family through to 1838. Tall panel cut with feet, each with a carved roundel or button, and no other ornament, on a black backing.
Hannah Dakin, d.1809, a retainer 'at the house of Thomas Myers Esq. in Tilney Street, May Fair. In his service she devoted herself to the care of his children with a degree of affection and anxiety for their welfare which could not be exceeded even by maternal tenderness...' The tightly written panel has a surround of dark, streaky marble, with sidepieces, upper and lower shelf, cut pieces to form a pyramidal pediment and separate acroteria, no carving involved, just cutting, and beneath, a broad wavy apron and side blocks each with carved concentric circles in low relief. A convincing design.
Martha Willmott, d.180, husband William Willmott, d.1846, and various offspring, including Emily Mary Ann Willmott, d.1923, aged 106 according to the inscription. Panel with frame cut with half round bases to the sides and a curved base, upper shelf, or more an entablature, and rounded pediment; the overall effect is rather blobby. Perhaps conscious of this, the mason has added two sharp pointed acroteria ('ears') at the sides. A strange thing.
Thomas Griffith, d.1812, and wife Elizabeth Griffith, d.1840. We noted two panels to earlier Griffiths above. A fairly elaborate panel. The inscribe d central panel of pale marble is surrounded on three sides with a gap through which the black backing is seen, and has on top a broader shelf, to allow for fluted pilasters on each side, with another shelf below. The effect is to make the central panel look as if it is floating, piercing through the upper shelf, to a top section acting as the base of an almost oriental-looking flaming urn, Aladdin lamp style. To the sides are acroteria on small blocks above the side pillars, each with a carved anemone pattern. The backing behind is cut in the shape of a window arched to a point, but not Gothic in proportion, and forming a small field below with concave edges. Upon this is the bell-shaped mark of some attachment, now lost, which could have been broader with a small attachment, perhaps a shield. To each side are supporting brackets, scrolled, and each bearing a fine carving of three bunches of grapes, each wrapped in a leaf, like a papoose.
John Theakston, d.1815, John Horatio Theakston, d.1822, a child, Josephine Theakston, d.1825, an infant, and William Theakston, d.1827. Plain panel, with a white, presumably plaster or wood backing cut to show a tomb chest end with pediment-shaped lid and acroteria, and small legs; presumably representing an original surround, now lost. Could these be related to the family of sculptors called Theakston, one of whom lived in Lambeth?
Robert McGhie, d.1815, 'late proprietor of Retreat Hampstead and Coxheath plantations in Jamaica'. Plain panel, with painted, raised backing in shape of a tomb chest end.
Thomas Webb, d.1817, and wife Elizabeth Webb, d.1833. Panel with feet, upper shelf with mouldings, and on top of that, a delicate, wide bodied pot or urn, with fluting and little stars around the body.
Thomas Burbidge, d.1818, wife Nancy Burbidge, d.1821, and family through to 1840. Yellowed marble panel with dark surround as a tomb chest end, with feet, thin upper shelf, and top or lid cut in the shape of a shallow pediment with acroteria, bearing slight anemone carving.
Joseph Meymott, d.1819, plain panel with a white painted surround as if a tomb chest end, with shallow lid or pediment and acroteria.
Susan Pigeon, d.1820, husband Henry Pigeon, d.1822, and further members of the Pigeon family through to 1871 – an earlier monument to the Pigeon family is noted above, and an 1860s one below. Plain panel with upper projection as if a very low pediment.
Elizabeth Hust, d.1823, and husband Richard Hust, d.1835, parish clerk for 'upwards of 58 years'. A simple casket end, thus with outward sloping sides, upper and lower shelf, a piece at the top cut as a lid or low pediment, and at the bottom, a curvy apron cut with feet to the sides.

H.R.Hartley's simple panel to the Toulmin family.

William Toulmin, d.1826, and wife Ellen Toulmin, d.1835. Among other offices, William Toulmin was Commander of the Christchurch Armed Association voluntarily raised for the defence of the state. Plain panel cut with small feet, and with a projecting top. This simple, non-sculptural design is the same as for the Susan Pigeon monument noted above, and Gunnis, the historian, notes them both as being as by the stonemason H.R. Hartley, though I confess I did not notice the signature on either monument.
Daniel Taylor, d.1827, with a long eulogy. Broad panel with feet, blocky upper shelf, and on top of that, a carving of an open book with the words 'He was a good Man and a just', from Luke. Behind the book are a crucifix and a leafy branch; a not unusual motif, though generally these accoutrements would be crossed diagonally rather than lying recumbent as here.

Daniel Taylor, d.1827, panel with Bible and crucifix.

George Ware, d.1829, and wife Sarah Ware, d.1834. Panel with border, and squares etc at the corners and in the centre of the long sides. On a black backing.
William Kirkham, d.1830. The Tudor Gothic equivalent of a Classical panel. Thus the inscription is on a broad Gothic window, surrounded by a panel with clustered attached pillars to the sides, a crocketed balustrade above, all spiky flowers and groups of three baubles repeating alternately across the top, and below, five squares each with low relief carved quatrefoils with smaller devices inside them. The Tudor Gothic arch gives broad, low spandrels (triangular spaces) above on each side, with minor floral decoration carved in relief.
William Joseph Williams, d.1832, wife Mary Williams, d.1861, and four infant children. Plain white panel with slight veins, cut to angular shape and on a black backing.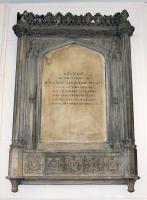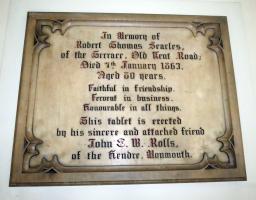 Gothic panels: Kirkham and Searles.
Florance Young Family:
Florance Young, d.1835, a small panel with upper and lower shelf, and on top, a curly rimless pediment heavily carved with scrolls and flowers. The panel rests upon an additional, broader panel in the same marble to his wife, Sarah Young, d.1832, and to their son, George Young, d.1833. This has side pilasters, rather broad, and fluted, and a curved base. Together the two panels form a double monument. In this case, we may assume that the lower one was affixed first, and the upper added when Florance Young died a few years later. The reverse is true in the monument noted below. By the partnership of Bacon and Manning. Manning is the less important sculptor, but John Bacon Junior is a significant figure who made many beautiful monuments, as well as other sculpture. It is difficult to know how much of the production signed by both men was due to Manning; it has been suggested, I am not sure on what evidence, that he was responsible for most of the work, with Bacon adding the cachet of his name; if this is so, then good on Manning.
Sarah Ellen Young, d.1843, brother Henry Loud Young, d.1847, and sister Ellen Jane Young, d.1853, offspring of Charles Allen Young and Elizabeth Young. Another double monument, and here the panel to these persons, cut to a casket shape, with little feet, outward slanting sides and an upper shelf, rests upon a base which forms the upper shelf of a lower panel, cut with feet. This lower panel commemorates Charles Allen Young, d.1855, second son of Florance Young, and his wife Elizabeth Young, d.1871, and their second son, Charles Florance Young, d.1890. The older monument on top has a backing panel of similar width to the lower panel, so that this, and the top of the combined monument, which bears a curly pediment, form a rough obelisk shape.
Florance Thomas Young, d.1855, first son of Florance and Sarah Young noted above. Panel with receding, curved sides, blocky feet, and an upper shelf, all showing how the mason could make some effort at ornament without any carving, and then on top, a curly pediment with scrolls and flowers, similar to those we have become familiar with on the Young monuments.
Mary (Young) Rippingall, d.1852. Classical panel with fluted, receding side pilasters, a shelf above, and a curly pediment on that without a rim. It is carved with two S-shaped curves, flowers and a bit of foliage.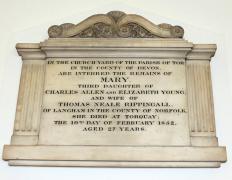 Mary (Young) Rippingall - Classical panel with pediment and pilasters.
And having finished with the Youngs, back to the chronological sequence:
20th Century monument:
Jessie Hogbin, d.1923, panel of pitted stone, quite tactile, with moulded edge and line border, and an inscribed cross in the corner; typical of the small unornamented panels which came in after WW1.
Brasses:
John (?) Jones, d.1600 with a brief Latin inscription. Plain panel on wooden board.
Etheldred Reynell, d.1618, 'Daughter & sole heyre to Sir Edward Pecoke of Finchley, Kt, and wife to Sir George Reynell, Kt, Marshall of ye king['s] Bench', plain panel.
There is also a modern brass to William Neville, d.1910, panel with black capital text, and a few principal letters picked out in red, and an inscribed red line border, all set on a wooden panel. This is typical of the style favoured by the panel makers of the late 19th and earlier 20th Century.
Also in the Church
The beautiful oval ceiling with its plaster decorations was mentioned at the beginning of this page. A stone plaque on the wall notes the 20th Century restorations of the Church in 1939, after WW2 bomb damage, and that it was 'greatly beautified' in 1952. Also worth a mention are: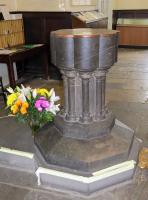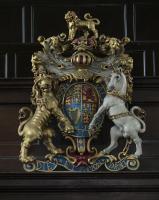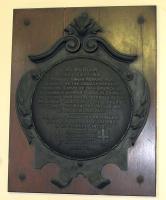 Font, coat of arms, note of reburial.
The very high wooden pulpit, raised to not far below the height of the galleries on four tall legs carved as ionic columns - it is pictured near the top of this page.
Two Royal coats of arms, carved, painted and gilt, pictured above, and at top of this page.
A leaden chest, given by subscription in 1738, covered with low relief sculptural motifs, most satisfactory in design and consciously hearkening back to the 1600s. The field is divided by mouldings and floral patterns into separate areas, with a variety of little beasts, flowers, and indescribable things. The long front panel has the inscription in two parts, either side of a central panel with a little St George ahorse, treading upon a small dragon, and surrounded by heraldic beasts. At one end, an almost nude female deity sits astride a seahorse, holding a trident; on the other, a standing figure of Neptune, similarly almost nude, holds a sceptre or staff in one hand, a clutch of seaweed or something else in his other hand, while at his side a small beaked monster raises its head; around the central panel are wavy-armed stars, flowers etc. An excellent piece.
Three oval wall panels recording charities of the parish, benefactors to the parochial schools and the Ragged Schools, and the Rector, the Revd. Hugh Allen and church wardens presumably from the time the panels were raised.
A wooden panel picture, triptych, against a wall, showing Christ as a Shephard with lambs, and with vines to the sides, presumably from the very end of the 19th Century, pictorial rather than aiming for high art.
A dark stone font, octagonal, with odd rounded sides to the bowl, and supported ona massive central shaft, Norman style, but with little attached pillars all the way round.
A typical brass Eagle lectern.
A round metal panel of 1900, recording the removal of 1484 coffins containing human remains removed from the crypt in 1899 to Brookwood Cemetery. The surround is embellished with scrolling and acanthus leaves.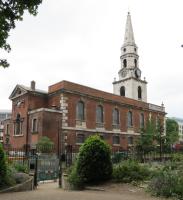 Churchyard
The Church is on an island site surrounded by traffic, but across the road is a garden made from the Churchyard, largely cleared, but with broken remnants of tombstones made into a rockery, with the odd early 19th Century date still discernable on the fragments.
With many thanks to the Church authorities for permission to show pictures of the monuments inside St George the Martyr; their website is http://www.stgeorge-themartyr.co.uk/history/.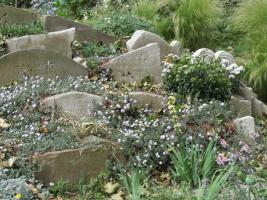 Re-used tombstones in the rockery.
Borough High Street sculpture // Trinity Church Square statue and Church nearby // Mosaic in Red Cross Garden nearby // Eastwards to Tooley Street statues, Bermondsey
Or eastwards from St George the Martyr along Long Lane to St Mary Magdalene, Bermondsey // Borough to Bermondsey: churches and sculpture
Some other London Churches // Introduction to church monuments
Visits to this page from 14 May 2016: 4,856