Red Cross Garden, Southwark, South London – Mosaic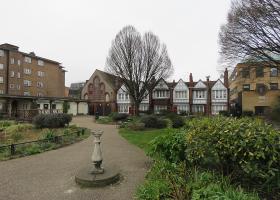 Red Cross Garden, Southwark, and the mosaic, 1896.
Parallel to Borough High Street, accessed from Red Cross Street via Union Street, is a small public garden called Red Cross Garden. There is a nice group of six cottages, late Victorian, with a hall with tall windows next to it, which were established, so a blue plaque informs the visitor, by the social reformer Octavia Hill, who pioneered the Army Cadets 1887-1890. But the interest to these pages is the mosaic roundel, dated 1896, now mounted on the side of a modern building.
The mosaic shows a standing woman sowing seeds from a basket or hamper, the figure being in the style of the illustrator Walter Crane. At the base, we see a bit of the field, with brown furrows of earth, and the bare branches of some bush. Behind and around is the sky, with two small birds flying, and the words 'The sower went forth to sow'. Around the border of the roundel is depicted a grape vine.
The figure appears simple but shows the quality of late 19th Century mosaic. She is muscular, and stands in a dynamic pose, with neck taut, arm outstretched with a clenched fist with the seeds, feet well apart. She wears a short, white toga-like garment, with a red cloak over the top, swirling around her. The drapery is good, the head better, the use of just a few mosaic pieces to indicate the muscles of neck, arm and around the foot are excellent. There is a border around the lighter parts of the figure in dark mosaic, which is a conventional style. The piece is made in Venetian glass mosaics (Smalti), tightly packed on the face, more widely spaced on the background, with a poor repair on the top left of the border in a different type of mosaic.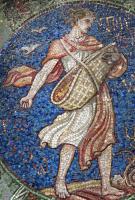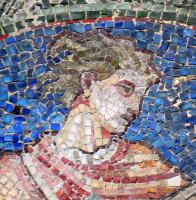 Mosaic figure of the Sower, and detail of the face.
A small panel under the mosaic notes that the plaque was given by Miss Julia Minet in 1896 and restored in 1956 by the Horace Street Trust, and an older plaque under that, notes that the garden was laid out in 1887 and has a religious quote.
Borough High Street // Trinity Church Square statue and Church
Or eastwards along Long Lane to St Mary Magdalene, Bermondsey
Introduction to Victorian and Edwardian mosaics
Visits to this page from 20 Mar 2016: 3,065