Bermondsey – Tooley Street Sculpture, and remnant of St John Horsleydown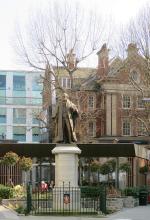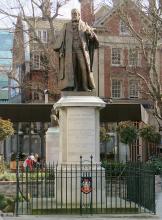 Samuel Bevington statue, by Samuel March.
Just where Tooley Street meets Queen Elizabeth Street, close to Tower Bridge Road just south of Tower Bridge itself, is a small open patch where a bronze statue and a bust can be found.
The statue is of Samuel Burne Bevington, the first Mayor of Bermondsey and was erected in 1911. Raised up on a pale stone plinth surrounded by railings, Bevington is shown standing, wearing his thick, furred Mayoral robe over which is draped his chain of office. He is shown in late middle age, bewhiskered face serious, gazing slightly to the left. In one hand he carries a folded paper or parchment, I think, the other is empty, but with one finger raised as if he is about to make some point. Rather sketchy in parts, with the finer detail reserved for the face, hands and chain, this is a dignified statue by Samuel March (1876-1968). He was one of a large artistic family, with several sculptors among his siblings, with whom he collaborated on various works, above all the National War Memorial of Canada, mostly designed by his brother Vernon March, who died in 1930 before it was completed. As well as various busts and small figures, Samuel March made war memorials, including those at Sydenham and Bromley in South London, and elsewhere.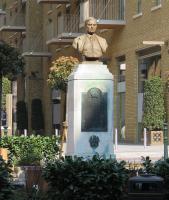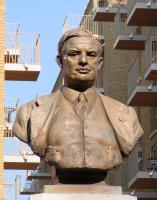 Ernest Bevin, by Edwin Whitney-Smith.
The Ernest Bevin bust is also on a tall square stone plinth, and a commemorative panel on the front notes his activities as a trade unionist as well as subsequent career as a politician. Rather a puffy look, to features and to the waistcoat, he is shown frowning, presumably as an indication of steely purpose. Edwin Whitney Smith (1880-1952) was the sculptor. He is more or less contemporary with Sydney March, but this work dates from the end of the artist's career, almost half a century later than the Bevington statue. Apart from portrait sculpture, Whitney Smith made a variety of statues of graceful nudes, and the Bevin bust is not particularly characteristic of his work.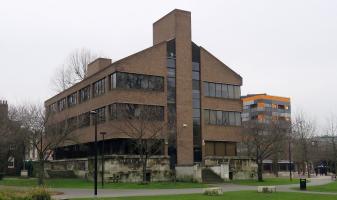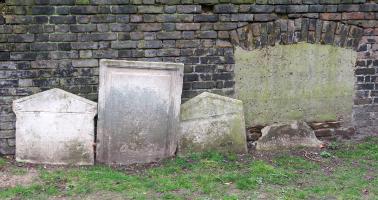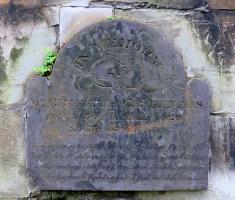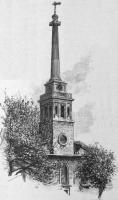 St John Horsleydown stone base, and memorial plaques, and the original obelisk spire with comet.
Behind the range of buildings to the south side of the triangle where the statue and bust are located is an open space where once stood the Church of St John Horsleydown: its base of white limestone with steps leading up can still be seen – with insult added to injury, a mean and ugly modern block has been built on top, housing the London City Mission (picture above left). St John Horsleydown was a distinctive church with a tall obelisk as a spire, with a weathervane shaped as a comet on top, discernible in the Victorian engraving above, far right (you will need to click to enlarge). It was designed by Nicholas Hawksmoor and John James in 1727, and was rather similar to the surviving (but no longer ecclesiastical) church of St Luke Old Street by these two working in partnership. After World War II bombing, it fell into disrepair, was used for a while as a chapel of ease to St Mary Magdalen, Bermondsey, and pulled down in the 1970s. I am have not come across mention of any monuments within the Church, but is described as containing 'a picture by the Rev Dr Peters, representing St John in the Isle of Patmos'. A few headstones from the cleared graveyard are decaying against a wall, and a slate one affixed to the base records Mr Griffith Griffiths, d.1829, a century after the Church was originally built. Against another side is a World War I memorial with a bronze Christ crucified on a wooden cross, pictured below.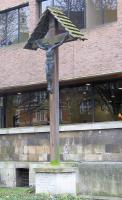 Westwards to Borough High Street // Southwards along Tower Bridge St to St Mary Magdalene, Bermondsey // East and South to Bermondsey Old Library and Town Hall
Borough to Bermondsey: churches and sculpture // London sculpture // Sculptors
Visits to this page from 1 Apr 2016: 4,454