St Mary Magdalene, Bermondsey and its Monuments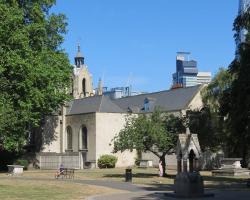 St Mary Magdalene, Bermondsey.
St Mary Magdalene in Bermondsey contains about 30 wall panel monuments, with a few interesting things outside in the largely-cleared churchyard.
From the outside in the churchyard, St Mary Magdalene in Bermondsey presents a broad, low structure of pale stone and slate roofs, with a short tower. It is only from the other side, facing onto the street, that we see some symmetrical aspect to the frontage, with two high aisles, all battlemented, flanking the central short tower, which has a balustrade and four corner pinnacles, and a short central spire with cupola and weathervane. The shape is because while the tower is of medieval date, kept when the Church was rebuilt from 1680, the new building was on a larger scale; further additions took place in the latter 18th Century, and then the usual 19th Century revamp and alterations. The result is a low, pleasantly informal exterior rather than a building looking to dominate by its height.
Inside, the Church is bright and white with gilt, tall and broad, with arched ceilings, galleries dating from late in the 18th Century thus some time after the Church was rebuilt, and pillars separating off the tall aisles from the nave. Several of the monuments we have come to see are around the walls, including a few at gallery level, and more and larger ones cluster in the chancel.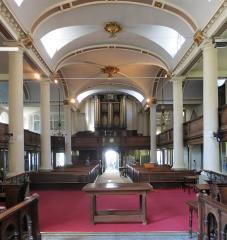 St Mary, Bermondsey - interior views.
Monuments
There are just over 30 monuments in total, all wall panels. The earliest one is a grand panel of the 17th Century, then eight 18th Century monuments including three less grand but still imposing Classical pieces with coloured marble frames, a cartouche, and an obelisk monument. All the rest bar one are 19th Century, with the usual strong preponderance for the early part of that era. These 19th Century monuments are generally rather modest, white marble efforts, on white backgrounds some of which could be painted black marble. The very last panel dates from World War I. The sculptural adornment overall is small, but includes a few draped pots in relief, that staple of the early 19th Century statuary mason, various coats of arms and simple accoutrements, a single small carved figure of a girl, and a couple of cherubs. We take the monuments in date order.
William Casteilus, late 17th Century:
William Casteilus [William Castell], d.1681, so just after the medieval Church was pulled down and the new one being erected. Inscription on a black panel which is the centre of a grand wall monument. There is a frame of pale stone, with repeating leaf design carved in low relief, and to the sides are pillars, with black shafts and composite capitals. Above, a broken pediment, with a cartouche within it, with painted shield of arms; smaller cartouches are to the sides, including a sideways-facing one, which is unusual. On the sloping sides of the pediment are reclining cherubs, or more likely from their light poses, flying cherubs. One holds a wreath, and some broken handle, the other holds a skull as a memento mori. At the base of the monument is a black shelf, then an apron between two carved brackets, with an architectural trophy carved upon it around a central painted shield of arms. A trophy typically consists of a variety of crossed weapons, and here we see swords, a cannon, flags, and various helms, as well as a gauntlet, cuirass, and bagpipes.
17th Century monuments:
There are eight in all, including as well as the already-mentioned large, framed works, the cartouche and the obelisk, two panels which are oval in shape, a rather uncommon but widespread style.
William Steavens, d.1712, with a short Latin inscription. The cartouche monument. The central panel, shaped somewhat like a turtle's carapace, has underneath it a smaller cartouche with the remnants of a coat of arms, and above it, a still smaller similar shape with a painted shield of arms. Around all three is the broad, carefully carved frame, of roughly diamond shape, with scrolls and leafy designs, three winged cherub heads, and two skulls, lacking their lower jaws in the fashion of the time. A good piece.
Elizabeth Wood, d.1730, and husband Basil Wood, d.1734, in Jamaica. Classical monument with side pieces, empty pediment, lower shelf and bell-shaped apron with terminal bauble, in different shades of marble.
Joseph Heaton, d.1742, his wife Rebecca Heaton, d.1715, and members of the family, who all deceased him. Pale, plain panel with elegant script characteristic of the period.

18th Centurys: Steavens cartouche, Roffey Classical tablet, and Browning obelisk.

Nathaniel Roffey, d.1755, one time High Sheriff, his wife Mary Roffey, d.1765, and 10 children, erected by their three surviving sons. Tall, heavy monument, with the central panel domed upwards to a completely open pediment, more a roof, with instead of side pillars or pilasters, a series of small hanging flowers of the bluebell variety. On top of the pediment is a pot, and at the base is a shelf, curled brackets and apron; there was clearly something attached to it once, perhaps a coat of arms, or a winged cherub head. In different marbles.
William Browning, d.1758, wife Elizabeth, d.1727, and their sons the Revd. William Browning, d.1740, Rector of the Church, and Stephen Browning, d.1724, a child. A tall obelisk monument, with the lower part having the inscription as if on the side of a casket with sharply slanted sides. On top of the casket is a lid, pediment-like, and within this is a carving of the head and forelegs of a sheep, looking straight out; a curious choice. The black obelisk stretches up to some considerable height, and has upon it a cartouche with flamboyant scrolling and leafy shapes around the centre, which is painted with heraldic arms. The obelisk has a frame, which is unusual, and on top is a small flaming urn. Down at the bottom, the casket is supported on two moulded brackets, with a central apron with a a carved pillow upon it indicative of the sleep of death perhaps? Unless it is a sack, and this and the sheep indicate some farming profession of the family.
Daniel Jennings, d.1770, and wife Anne Jennings, d.1786. Tall panel with side pieces, open pediment above, and a free-standing pot above. At the base, a shelf and a wavy apron between two moulded brackets.
William Mason, d.1791, and wife Mary Willy Mason, d.1799. An oval panel, without ornament or surviving frame, held on a moulded bracket.
Butler, John, d.1793, and wife Elizabeth Butler, d.1816. Another oval panel of the same design.
Dorothy Darnell, d.1788, husband William Darnell, d.1810, and offspring, in a column on one side of a panel, with the second column headed by James Robson, d.1807, and wife Katherine Robson, d.1830, two interconnected families, with the last name added in 1880. Plain panel.

19th Century monuments:

Mary Ann Muskett, d.1809, aged 20, after just 11 months of married life. Panel with fluted sides, small feet, and a thin upper shelf, on which rests some semicircle on a base, perhaps a cut off part of some larger device.
Henry Cox Mason, d.1810, Rector of the Church, and his wife Mary Mason, d.1832. Plain rectangular panel with inscribed frame.
William Fox, d.1810, and an infant daughter of John Dabbs; the lower part of the monument is concealed. What we see is a tall panel with slight pediment above, without any entablature, and carved in relief.
Elizabeth Hardwidge, d.1811, and husband James Hardwidge, d.1819, needle maker to HM Queen Charlotte, and their daughter Artemisia, d.1804, and six unnamed infants. Panel with fluted side pilasters in grey marble, and a low pyramid on top of pink and brown marble, with a high relief carved pot in front of it; there is also a curvy base and two block supports.
Mary Anne Owen, d.1812, daughter of a baronet. Panel cut with small feet and with a slight upper shelf, on a white painted backing cut with a pediment.
Miriam Beller, d.1816(?), as a casket end, made of yellowy marble, much veined, with a pale surround and top, carved with a hanging drape. Whatever device or carving which once occupied the exposed top has now gone. At the base are lion feet.
Ralph Page, d.1819, his son, also called Ralph Page, d.1833, great grandchild Rachel Page, d.1833, and an infant, William Stone Page, d.1833. Panel with inclined sides up to an entablature of repeating leaf design, rather Egyptian in style, with on top a nice sculpture of a standing girl, mourning over a funereal urn on a plinth on which is the declaration 'He rests in peace'. The girl leans her head on one hand, the elbow propped up on the pot, and in her other hand is a small book, thumb inserted to keep her page. The distinctive part of the composition is the carving of a tree over and above her – the droopy-leaved tree is a common enough emblem, but here it is enveloping, with foliage on both sides and protectively overhead. There are two acroteria, with anemone patterns, and at the base, two supports in the form of budding flowers. Signed by Hinchliff of Hampstead Road. J.E. Hinchliffe was chief assistant to the eminent Classical sculptor John Flaxman for many years and then on his own account, and made several memorials of greater and lesser ambition. This one is particularly good.
Francis Baynham Bryan, d.1821, plain panel without any surviving border, in an old-fashioned font.

Elizabeth Gaitskell, d.1822, by Bacon and Manning (upper sections).

Elizabeth Gaitskell, d.1822, a monument of several parts, for below is a separate panel to her infant children, a son John Frederick Gaitskell, d.1833, of the East India Company Civil Service, the husband, Henry Gaitskell, d.1836, put up by a later wife. The inscription to Elizabeth is on a panel which forms the plinth for a pot, with a wilting tree growing out of it, which hangs down to each side; a second wilting tree seems to be behind on the left hand side. There are three smaller pots or funereal urns on the same plinth, indicating the deceased children, and behind, a lightly carved piece of limp drapery. The lower, broader panel has an upper shelf, feet to the sides, and a central downward-bulging apron. This is attached to the third part of the monument, which is a roundel to the son of Elizabeth and Henry Gaitskell, Lieutenant Henry Gaitskell RN, d.1844. The frame for this is carved as a coiled rope, with anchor at the bottom, flag and cutlass hilt behind at the top sides, and nicely carved branches of olive and oak, indicating peace and strength respectively. The upper monuments are by the prolific monumental partnership of Bacon and Manning, and the lower one by an unknown hand. More on John Bacon, by far the more gifted of the two, on this page.
Charles Fox, d.1823, and his eldest daughter Frances Sarah Fox, d.1821, with the grim epitaph: 'So bloomed the rose and dropped'. Round panel with a frame of seemingly painted stone.
James Riley, d.1825, and his son, also James Riley, d.1829, and wife Christian Riley, d.1837. Panel as a tomb chest end, with feet, and upper lid like a very shallow pediment, and acroteria, with precisely cut repeating patterns on the different elements, effective in creating patches of shadow to contrast with the flat panel and give variety to the eye.
Mary Ann Field, d.1827, plain panel of streaky white marble.

Beriah Drew, d.1829.

Beriah Drew, d.1829, and wife Jane, d.1834. A short obelisk monument, with the obelisk itself a painted attachment to or part of the wall. In front of this is a pot carved in relief, egg-shaped and asymmetrically draped, with the sculptor paying some considerable attention to the lie of the drapes. This rests on a shelf, underneath which is the inscription on a panel with inwardly slanting edges towards the bottom, where the base is formed by a flat corbel carved with leaves in low relief. This is a second monument by J.E. Hinchliffe, whom we met in the Ralph Page monument above.
Joseph Watson, d.1829, pioneering teacher of the deaf. A tomb chest end, with light carving over much of the surface. Thus the side pieces have wavy fluted lines, the lid has a sunburst and two acroteria (not centred above the side pieces, which looks uneasy) with carved leaves, and the blocky feet are carved with acanthus leaves.
Robert Rich, d.1829, and wife Sarah (Bennett) Rich, d.1832, a curved, black panel with tiny writing in gilt, as if the central panel from a Jacobean monument. Unusual for a 19th Century panel.
Ann Banks, d.1834, and her infant daughter. An oval panel, carved with a low relief pot on a plinth, with behind, the drooping leaves of a dying tree, most symbolical. The inscription is on the side of the pot, and there is a short eulogy below on the base. Unfortunately the lower part of the panel, which would have had any signature of the sculptor-mason, is now covered.
Elizabeth Gibson, d.1834, with a long eulogy, and daughter Sophia Gibson, d.1836, and husband John Gibson, d.1836. A casket end, with outward sloping sides, upper shelf, lid with the name of the deceased, and acroteria. At the base, a shelf and two moulded feet; there is a white painted backing.
William Nottidge, d.1853, 'Merchant of the Staple', with a long inscription listing his various offices. Classical white panel with frame, upper pediment with painted shield of arms, and lower shelf, with two bell-shaped feet lightly carved with stylised floralities. The painted backing panel has two block feet, one signed by the company which made the monument: the London Marble Works, Westminster.
Thomas Gaitskell, d.1839, wife Jane, d.1858, and unnamed offspring. As a tomb chest end, with outward sloping sides, lion-feet below and standing on a shelf, upper pediment bearing a painted, carved shield of arms, and two anemone acroteria ('ears').
Edward William Wilson, d.1888, plain panel with inscribed line border. He was Head Master of Bacon's School, Bermondsey, and the tablet was erected by Old Boys of the School.
Mary Eason, d.1889, last survivor of her family and benefactor to Middlesex Hospital and the people of Bermondsey. Plain panel on pinkish alabaster.
20th Century panel and brass:
Revd. Henry Lewis, Rector of the Church, d.1914. A typical modern brass, with blackletter inscription, principal capital letters in red, and a double line inscribed border with little repeating squares with quatrefoils all the way round, with crosses in circles at the corners and at the top. Such revival brasses became a popular alternative to marble panels from the late 19th Century.
Basil Pemberton Plumptre, d.1917, killed in action, plain panel on a wooden backing.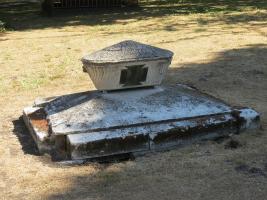 Casket tomb outside the Church.
Also in the Church:
A broad, panelled reredos, all in dark wood as if in some City Church, presumably 17th Century, with paintings of Moses and Aaron and a large central cherub head surrounded by festoons of carved fruits.
A pair of chandeliers, one with an inscription that it was the gift of Winefrid Ellwood in 1699, the other of 1703.
A font, with carved white bowl of the 18th Century bearing winged cherub heads around the outside, on a bulging stem of brown and yellow alabaster, perhaps of later date, and a note at the base that the piece was the gift of James Hardwidge, churchwarden in 1808.
A wooden pulpit, standing on a narrow column, and with more carved winged cherub heads and minor decorations.
The usual brass eagle lectern, though here with small lions around the base.
A commemorative metal panel to Alfred the Great, who died in 901, with a quotation, and set on an alabaster panel with a note of 'The millenary of Alfred, 1901, presented in memory of Queen Victoria' by Richard C. Jackson. With a relief portrait of the great king, surrounded by a wreath, and with oak leaf designs to the border.
A small panel in remembrance of men of the Parish who perished in WW1.
A panel recording the War Savings Campaign 1944, presented by the War Office 'in recognition of successful achievement in Salute the Soldier Week', with a relief of an advancing soldier, rifle and bayonet at the ready, of historic rather than artistic interest.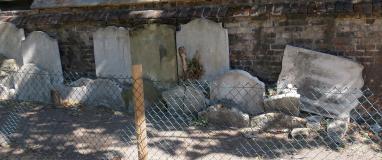 Remnants from the cleared Churchyard.
Outside the Church:
Outside, the open space which forms the churchyard was once the site of the important Bermondsey Abbey, now perished entirely (a couple of bases to pillars survive in the Church). The churchyard closed as a burial ground in the mid 19th Century, and the area was largely cleared of gravestones after being given to the vestry of Bermondsey in the 1880s, as noted on an obelisk. There remain a few larger chest tombs left, and a table tomb with six legs supporting a great stone on top. There is one much larger tomb or mausoleum lurking in a corner under some trees, bearing carvings of crossed downward-pointing torches (an allegory for life being snuffed out), and there is a monument to several children consisting of a little stone crib on a base, rather touching; it has little bronze lion heads set into it. A few gravestones survive, partially buried, partially smashed, against one wall. Round the other side, on the Church wall is a panel to Susanna Wood, with her husband also commemorated; he died in 1837, aged 108 years, according to the inscription.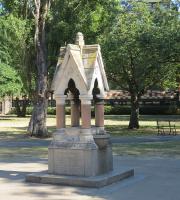 Colonel Bevington's fountain, 1902.
Finally, two pieces of Victorian park furniture. At the corner, inset into the wall, is a drinking fountain, gift of Henry Sterry, 1859. And in the open space is a very characteristic fountain, of the shrine type, with square base of Cornish granite, four pillars of Aberdeen granite, and a stone four sided roof, most decorative. It was given by a certain Colonel Bevington as late as 1902, so just post-Victorian, but the style is characteristic of the previous several decades.
The Church website is at http://stmarysbermondsey.org.uk/history/.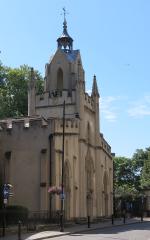 St Mary Magdalene, 1830 west front by George Porter.
East side of Churchyard, walk north along London Bridge Rd to Tooley Street statues
West along Long Lane to St George the Martyr // or Borough High Street, // Trinity Square // or Red Cross Garden
Go South and West to Wells Way, Burgess Park // or East to Bermondsey Old Library and Town Hall // and thence Southerly to // Deptford Town Hall
Or further East to St Mary Rotherhithe and the Caryatids in Southwark Park
Borough to Bermondsey: churches and sculpture // Some other London Churches // Introduction to church monuments
Visits to this page from 19 Apr 2016: 6,175