Trinity Church and King Alfred Statue, Trinity Church Square, Southwark
A couple of minutes walk from the north part of Borough High Street (see this page) by St George the Martyr Church, is Trinity Church Square, with the eponymous church and a significant statue; close by is an original stone mason's premises.
Statue of King Alfred the Great
The statue first, as this is the preoccupation of these pages. It is reputed to be of King Alfred the Great, and we see a tall, broad figure of a king in stone, raised up a little above the railed garden within which it stands. King Alfred, if it is he, is depicted wearing a crown and rather clerical garb, wearing light robe caught above the waist, over which is a great robe hanging down to the ground, held at the front by a semicircular clasp. Both hands are clenched, and would once have been holding something, for example a sceptre and scroll. He is shown as an older man, with full beard, moustaches, and hair down almost to his broad shoulders. But apart from the crown, his dress is not particularly rich, though there is scrolly ornament on his belt, and an edging to his cloak bearing crosses and other small devices. The drapery consists of fairly simple folds, elegant by their length and by the hangings over the arms, and the statue is imposing by virtue of Alfred's broadness of shoulder.
Alfred the Great statue.
The statue of King Alfred has been visibly damaged and repaired, and is rather plain at the rear, suggesting it was against a wall or within some niche. Its origins are obscure. The famous 18th Century sculptor John Michael Rysbrack certainly made a statue of Alfred the Great, in 1735, for Carlton House garden, along with a companion statue, The Black Prince, and this could be that statue. Some of Rysbrack's statues are more baroque in their clothing than this one, but his statue of Hans Sloane for the Physick Garden in Chelsea is another broad solid piece in a calm pose, along with slighter examples such as his Mona in the museum in Aylesbury. So the attribution to Rysbrack is at least plausible.
An alternative is that the figure is one of eight made for Westminster Hall (the ancient hall which is part of the 19th Century Houses of Parliament complex). Several of these were removed in the 1820s, at about the same time that Trinity Church was being built, and their fate is not known. Certainly the statue was in place by 1830, for an engraving of the Church published in that year shows it in place. If it is one of the Westminster Hall statues, that would put it as being of Medieval origin. In that case, I would think that the restoration was more extensive than it appears, with the head reworked and likely the body under the outer cloak being the original part. Regardless, it is a good thing. See this page for the most well known Alfred the Great statue, in Winchester.
Portrait of King Alfred the Great statue, various views.
Holy Trinity Church, Trinity Square
Holy Trinity Church dates from 1823-24, and is by the noted architect Francis Bedford. The name comes from the fact that the ground was given by the Brethren of Trinity House. The exterior, clad in beautiful Bath stone, has a grand portico of six Corinthian columns, with a blank pediment, and has a Classical tower above, with several stages: clock faces on the lowest, then a pillared stage, both square, then a smaller square stage, and then an octagonal lantern with thin pillars, and a little roof with a raised crucifix at the summit. But the windows and the rest of the exterior are really very plain, which is a shame.
Trinity Church view, and tower with Shard behind.
Holy Trinity was bombed in World War II, wrecking the interior, and made redundant in the 1970s and converted to a hall for concerts, called now the Henry Wood Hall, and I have not been inside. The interior is described as being a single span, with a frieze of honeysuckle and pilasters (flat pillars against the wall) with further honeysuckle ornament, and a coffered ceiling. There were several monuments, dating from 1825 soon after the Church was opened, through to the 1860s, but no descriptions are given and they would likely have been simple marble panels. There had been a font by Croggan, who took over Mrs Coade's manufactury of artificial stone, but this had been replaced in 1890. Martin Travers, who redesigned the interior of so many churches, designed a reredos for the Church in 1930. The building remains as an impressive centrepiece to the Square, and the Classical tower can be seen from some distance.
E.J. & A. T. Bradford's Premises, 62A Borough Road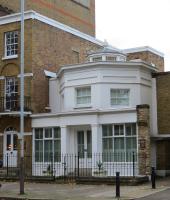 E.J. & A.T. Bradford, Stone masons, 62A Borough Road.
Back past St George the Martyr in Borough High Street is Borough Road, and a short distance along this is a curiosity: No. 62 & 62A Borough Road, which is an original stone-mason's premises. The small octagonal building somehow survives between taller brick buildings, and was built for H.R. Hartley, a now obscure stone-mason, at the beginning of the 1820s, thus almost contemporary with Holy Trinity Church. But later on it passed into the occupancy of E.J. and A.T.Bradford, architectural sculptors. Like many such firms, most of their work is unsigned and anonymous, but in Walworth Road is a municipal building dating from 1937 (now Southwark Health Centre), which has a group of allegorical figures apparently by the firm. E.J. and A.T. Bradford advertised in trade magazines of the early 20th Century, an example of which is below, where they refer to themselves as 'sculptors, carvers, modellers, craftsmen', able to supply 'architectural enrichments in fibrous plaster, stucco, modelled and cast cement; wood and stone carving, scale models, garden ornaments; and memorials in wood, stone, marble, alabaster, bronze, etc'. For a significant example apparently of their work, see this page.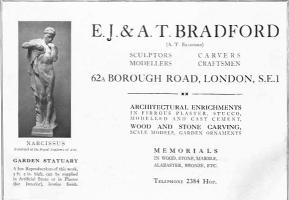 Typical advert for Bradford's of Borough Road.
St George the Martyr Church to east // Borough High Street // Mosaic in Red Cross Garden nearby
Or eastwards along Long Lane to St Mary Magdalene, Bermondsey
Borough to Bermondsey: churches and sculpture