Bermondsey Old Library and Municipal Offices (Old Town Hall)
Bermondsey Old Library, today and before loss of summit, and sculpture.
In Bermondsey, South London, beside Bermondsey Spa Gardens (formerly Spa Park), an open space a little south of the railway, are two significant buildings, the Library and Municipal Offices, the former of which has a nice group of architectural sculpture.
Bermondsey Central Public Library, Spa Road
This rather grand library, alas, a library no more, is a substantial three storey building in terracotta and red brick with pale stone trimmings. The ground floor is centred on the portico, with a pair of coupled Ionic pillars on each side, and pilasters separating the two wide bays to either side. One floor up we have arched windows, separated by flat pilasters; there are carved keystone heads on each arch, and lightly moulded scrolling decoration on the terracotta within and around each arch. Then the highest floor, with much smaller arched windows, and an entablature with terracotta festoons all across the front. The centre of the building above the portico is enriched with balcony and upper, curved pediment with a ship's prow as a keystone, and then above this is a slate roof, with a centrally raised bit of tower bearing the sculpture: a pair of seated figures, male and female, flanking a roundel with a cartouche of arms within it. Behind them rises a central roof – an odd thing, until we realise that it is the lopped-off remnant of a taller structure of successively smaller stages - see central picture above (click any picture to enlarge, hover for caption). That roof gives away the date, which is late Victorian and already foreshadowing the raised-up structures, and materials, of Edwardian times. We have a date above the portico of 1891, which is when the building was completed, and the architect was called John Johnson, not the Georgian one, but a later and seemingly unrelated one. Anyway, a fine building.
Bermondsey Old Library: details of sculptural group.
Let us look at the sculpture. The central roundel contains the arms, which consist of a lion holding a crozier (see picture below; you will need to click to enlarge), which a little later than this building, were incorporated in the Bermondsey borough arms. The two figures, shown in detail above, are seated with their lower backs to the roundel, so perforce face outwards rather than towards each other, but while the male figure faces considerably to the right, the female one has her upper torso twisted so she can look almost forwards, and down. She is a fairly conventional but nicely rendered figure, one arm holding a large book across her lap, t he other resting below her knee, either on some bit of drapery or some object now gone – there is some weathering, together with evidence of some restoration of this figure. Her face is youthful, and she wears a short-sleeved blouse, caught up with some sort of girdle under the breasts, and below, long, heavy skirts which have lost something with time. The male figure is far older, a serious figure with a long beard divided into many strands across his chest. He wears drapery rather than clothes, and cradles on one arm what may be a rolled up scroll; he too seems to have some parchment across his kees, but there is much weathering here. There seems to be a small owl at the base, unless it is some creation from a vague lump by the restorers. Who do these two represent? The male figure might be Government, with a connotation of wisdom because of the owl, and the girlish figure could conceivably be Education. But there could be other allegorical references entirely.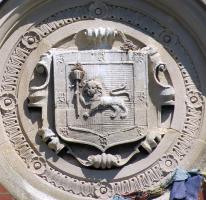 Coat of Arms
Bermondsey Municipal Offices
A little to the right of the former Bermondsey Old Library as we look at it from Spa Gardens is the former Bermondsey Municipal Offices, a late Classical building put up in 1928-30, the architect being a certain Henry Tansley. Though sometimes called the Old Town Hall, it was built as an extension to the existing late Victorian Town Hall on the site, another grand building which was pulled down in the 1960s, having sustained damage in World War II. The surviving extension building is two storeys high, but from closer to it than across Spa Road in the park we can see there is a basement storey too.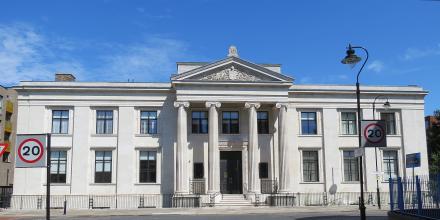 Bermondsey Municipal Offices, 1928-30. The main feature is the full height portico, with four fluted Ionic columns supporting a broad pediment above an entablature. Within the pediment is the shield of arms of Bermondsey. We see the lion holding a crozier we have already seen on the Old Library, here shrunk to the uppermost part of the shield, and with the letters BB for 'Bermondsey Borough' by it, and the other symbols of the new borough below: a crown and axe, and a three-masted ship. A good knight's helm on top, and the mantling from it branches out into scrolly leaves and flowers, much stylised. Good, crisp, high relief carving. There is an embellishment on the very top of the pediment, of the type called an anthemion. The whole edifice looks very fine in the bright light of spring. The interior features a grand staircase, all generous curves and fine marble pillars, but is not accessible as the building has been converted into residential flats.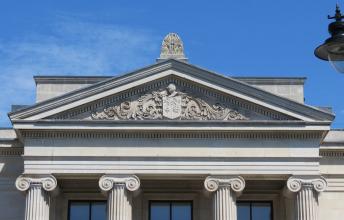 We may note that just round the corner from Bermondsey Spa Gardens, on Grange Road, is a surviving entrance to the grand premises of Martin's Fur Merchants, a maker of sealskin products. The gate, which is dated 1869, has a crude carving of a seal upon it; still, we must cherish it as seal sculpture is rather rare – a few more examples are on this page. Behind, the 1930s rebuild of the company's Alaska Factory survives, again as a block of apartments.
Westwards to St Mary Magdalene, Bermondsey // or West and North to Tooley Street Sculpture // or South and East to Deptford Town Hall // or a bit North and East to St Mary Rotherhithe
Borough to Bermondsey: churches and sculpture // London sculpture // Sculptors