Hyde Park Corner
Hyde Park Corner has a tube station on the Piccadilly Line, or makes a pleasant walk from Marble Arch through Hyde Park itself, or from the Victoria Memorial by walking along Constitution Hill, or a short walk from the shops of Knightsbridge.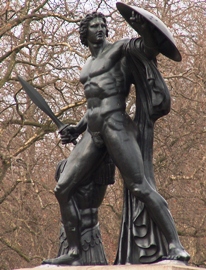 The Wellington Monument.
A good crop of sculpture here. The largest and most obviously impressive statue is the Wellington Monument (1822 by Richard Westmacott RA), a nude Achilles, a cloak draped over his arm, and his armour beside him. He carries a leaf-shaped short sword, and holds aloft a shield, criticised for its small size, given that Achilles would have born a large hoplite-style shield. The whole effect however, is very fine and muscular, heroic indeed, and the statue is nicely elevated on a pediment of plain granite blocks in two colours. More pictures on this page.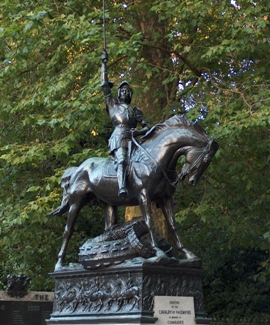 Cavalry of the Empire.
Following the path around the corner of the park, is the Monument to the Cavalry of the Empire showing a fine St George and the Dragon by Adrian Jones (1924). St George has his sword pointing upwards, and his fiery horse steps over the vanquished dragon, which is of the crocodilian kind, as may be noted from its back and tail. Around the base, a frieze of galloping horsemen. (Several views of this statue are on the Horse statues for drawing page; if you want a variety of St George and Dragon statues, see this page.) Across the bridalway in the rose garden is a cherubic figure in marble trying to ride a grotesque fish - remarkably, this is by the Pre-Raphaelite sculptor Alexander Munro, and is called Boy and Dolphin (1863). Nearby a fountain with a slender nude Diana, or Artemis with bow, very beautiful. She is on a scalloped base in the centre of a marble basin supported on four steles bearing Egyptian-style half-figures. The composition is by Lady Feodora Gleichen and dates from 1906. More on this work on this page.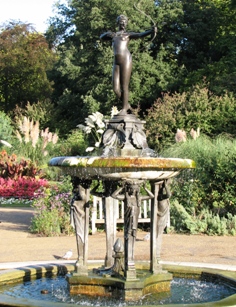 Artemis (Diana) by Feodora Gleichen.
Across the road from the Achilles, stranded in the traffic, is a statue of Byron. It is reached by a tunnel from next to the Queen Elizabeth Gate, an ambitious, modern (1993) combination of bright metals owing much to art nouveau and looking impossibly delicate to survive vandalism. The Byron (1881) is by R. C. Belt - but see below. He is seated, looking most suitably contemplative, and the pose is very successful, if marred somewhat by the dog beside him (not seen in this picture), which has unconvincing fur looking like a cloak. The group is on a pedestal of incredible pink and white marble (donated by the Greek Government), somewhat pitted by pollution. Questions were raised about whether Belt carried out the sculptural work signed by him, or whether it was done by others, which came to a head with a libel case by Belt against another sculptor called Lawes regarding the Byron, which Belt won, though his detractors did not withdraw their claims. There is much information on this case, for those interested, including available online via a google search. The Byron statue is described in some detail on this page.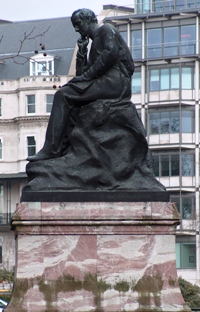 R. C. Belt's statue of Byron.
The big pale stone triple gate to the park (Hyde Park Corner Screen) is by the architect Decimus Burton. It has a martial frieze all the way round the centre top, by John Henning Jr. This frieze shows Grecian soldiers on horseback and precessing priests etc, and is based on figures from the Elgin Marbles. It may be compared with similar work by Henning on the Athenium at Waterloo Place. However, the chunky, flat style chosen makes it look rather busy and claustrophobic, and not really suggestive of the mood of the delicate 5th Century reliefs from the Parthenon.
Next door is Apsley House, the Wellington Museum, with Corinthian columns in sandstone. It houses a good art collection.
In the central reservation facing the gate, surrounded by traffic and best reached from underground, is the huge triumphal Constitution Arch (again by Decimus Burton) with Corinthian columns - the biggest in the vicinity - and much additional ornament above, wrought gates with heraldic symbols, and on top the magnificent chariot, horses and winged Victory. This is one of the most impressive sculptural groups in London, and is by Adrian Jones (1912), whose Cavalry monument we have already seen. It replaces an earlier equestrian statue of Wellington, by M. Cotes Wyatt, (1846), which now resides at Aldershot. The picture below, looking out through the Hyde Park Corner Screen with Constitution Arch behind, shows this old Wellington statue.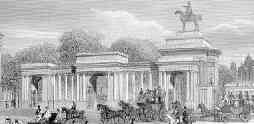 Hyde Park Corner, 1880s.
Other statues on the central island include Wellington (1888) by Boehm and the Machine Gun Corps Memorial (1919). This is by Derwent Wood and shows a central nude warrior (David, apparently) with a long sword, with the machineguns and other modern accoutrements placed lower down on each side - a nice solution to the problem of combining classical heroic figures with 20th Century weaponry. Also in the Square is the Royal Artillery Memorial, a chunky marble piece by C. S. Jagger.
North-East to walk along Piccadilly // Northwards by the Park to Marble Arch // and thence Oxford Street
Eastwards along Constitution Hill to Victoria Memorial // South-West along Grosvenor Crescent to Belgrave Square // West to Albert Memorial in Hyde Park
Victoria Memorial and Hyde Park Corner statues in the snow
Visits to this page from 13 Mar 2014: 11,671