Gilbert William Bayes RA (1872-1953)
Groups by Gilbert Bayes for the National Museum of Wales.
'[Gilbert Bayes] is a sculptor not merely in the sense of making "statues and busts", but in the sense of working in plastic materials with some definite relation to the useful or ornamental purposes of contemporary life in view.'
What is this saying? In looking at the sculptural work of Gilbert Bayes, we need to take into account that his interest was very much in decoration, and he approached his work with the eye of a designer. Much of his work - and his oeuvre is considerable - is architectural sculpture, fountains and garden ornaments, smaller pieces with an element of decoration - and for these, Bayes' focus has been on how his work fits with the surround and is appropriate to it. For this reason, some of his work tends to a story-book pictorial look, a little like Walter Crane's pictures, especially some of his architectural friezes, which have tended to be much overpainted over the years. So when we see something like a plump cherub, or his animals on the side of a building, we must recognise that they are done with the eye of the designer, considering how the proportions fit to the building of which they form a part, and can they practically be seen from the street below, and are they solid enough to last, rather than aiming for ideal beauty and delicacy of form. His statues and statuettes are different of course.
Groups by Gilbert Bayes for the National Museum of Wales.
Bayes worked from the end of the 19th Century and through Arts and Crafts and WW1 and Art Deco and WW2 and beyond. Because of his large output of decorative architectural sculpture and ornament, his work is perhaps more widely seen, if not recognised, than the work of many other sculptors. He has some good male portrait statues, and war memorial work, however for my part I think his best works are his statues of the 1900s, slender-bodied nudes often with turning, twisting poses and tending to the Art Nouveau rather than Arts and Crafts, and his more statuesque female figures of the 1920s and 1930s, often with a hard edged Art Deco look, and equally often with a highly sculptured surface.
Bayes was born in London and studied at the RA Schools from 1896. Subsequently he spent time in France and in Italy. As a sculptor, he was particularly interested in the use of colour, and as noted above, in the use of sculpture for decorative purposes. His output therefore included designs for Doulton stoneware, reliefs for buildings and other ornamental work as well as statues. His most familiar work is the richly ornamented Queen of Time (1908) statue which supports the clock above the main entrance of Selfridge's in Oxford Street - see this page.
Priestley statue.
Also in London, a long frieze by Bayes (dating from 1931) survives above the entrance to the cinema on Shaftsbury Avenue close to Cambridge Circus. The Fire Brigade building on the Albert Embankment (a minute's walk from the Doulton building, see below) has decorative relief panels by him. Bayes has two figures on the front of the V&A. We may also mention Aeculapius and Hebe steles at the Royal Masonic Hospital in Ravenscroft Park.
Outside London, important allegorical groups by Bayes showing mankind through the ages (prehistoric period onwards) are on the exterior of the National Museum of Wales, Cardiff. A seriously Assyrian-style frieze by him is on the wall of the Masonic temple in Birmingham.
Bayes' works for Doulton include exterior decoration formerly on their building in Lambeth (now in the V&A), various fountains (including a much-reproduced 'Child and Fish' design), and bold and colourful exterior decoration for the Sidney Street Estate by the St Pancras Housing Association - see this page.
His sister, Jessie Bayes (1890-1970) was a painter and designer in the Arts and Crafts style. She exhibited at the Royal Academy from 1908.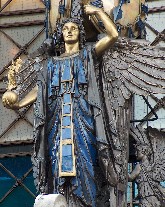 The Queen of Time.