Gilbert William Bayes RA (1872-1953)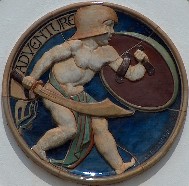 Decorative roundel by Gilbert Bayes.
'[Gilbert Bayes] is a sculptor not merely in the sense of making "statues and busts", but in the sense of working in plastic materials with some definite relation to the useful or ornamental purposes of contemporary life in view.'
The sculptor Gilbert Bayes was born in London and studied at the RA Schools from 1896. Subsequently he spent time in France and in Italy. As a sculptor, he was particularly interested in the use of colour, and in the use of sculpture for decorative purposes. His output therefore included designs for Doulton stoneware, reliefs for buildings and other ornamental work as well as statues. His most familiar work is the richly ornamented Queen of Time (1908) which supports the clock above the main entrance of Selfridge's in Oxford Street - see this page.

Also in London, a long frieze by Bayes (dating from 1931) survives above the entrance to the cinema on Shaftsbury Avenue close to Cambridge Circus. The Fire Brigade building on the Albert Embankment (a minute's walk from the Doulton building, see below) has decorative relief panels by him. Bayes has two figures on the front of the V&A. We may also mention Aeculapius and Hebe steles at the Royal Masonic Hospital in Ravenscroft Park.

Outside London, important allegorical groups by Bayes showing mankind through the ages (prehistoric period onwards) are on the exterior of the National Museum of Wales, Cardiff. A seriously Assyrian-style frieze by him is on the wall of the Masonic temple in Birmingham.

Bayes' works for Doulton include exterior decoration formerly on their building in Lambeth (now in the V&A), various fountains (including a much-reproduced 'Child and Fish' design), and bold and colourful exterior decoration for the Sidney Street Estate by the St Pancras Housing Association - see this page.

His sister, Jessie Bayes (1890-1970) was a painter and designer in the Arts and Crafts style. She exhibited at the Royal Academy from 1908.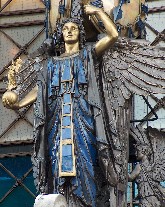 The Queen of Time.

Visitors to this page since 22 Nov 2011: 6,660