Alfred Waterhouse (1830-1905)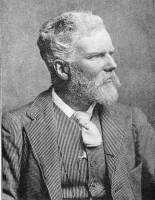 Alfred Waterhouse.
The Victorian architect Alfred Waterhouse is best known for his deep red terra cotta Gothic buildings, of great mass and grandeur, decorated with carved and moulded sculptural details, and sometimes statues.
Alfred Waterhouse, Victorian Gothic architect par excellence, was born in Liverpool, grew up in London, but received his artistic training in Manchester, under the eclectic and today somewhat obscure local architect Richard Lane. Lane tended mostly to the Classical, while Waterhouse cleaved to the Gothic, but it was back to Manchester that he returned after travels in Europe to set up his own practice, staying there for over a decade. He had an important influence on that city, being responsible for the Manchester Assize Courts, which was lost after bombing in WW2, the Manchester Town Hall, greatest of all British town halls, the Strangeways prison, the Royal Insurance building, St Mary's Hospital, and Chetham Hospital as well as more minor things, and having an influence on the characteristic architecture of the city.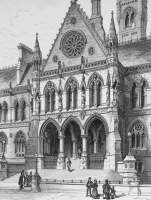 Entrance to the long-gone Manchester Assize Courts, with statues by Woolner.
In London, Waterhouse was of course the architect of the Natural History Museum, his most famous work along with Manchester Town Hall. Among various other London works, the most important are the headquarters of the Prudential Assurance Company in Holborn (see this page), and he also designed other Prudential buildings, including Nottingham, Leeds, Southampton, and Edinburgh. Back in London we also have University College Hospital by UCL, and the main part of Whitehall Court and the National Liberal Club, which sounds obscure but which forms the fantastic skyline seen by all who walk along the South Bank towards the Tate Modern. We may mention the Ukrainian Catholic Cathedral (built as the King's Weigh House Chapel) just south of Oxford Street as a centrally-placed Waterhouse building which shows his excellence on the less grand scale.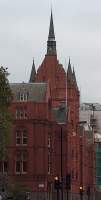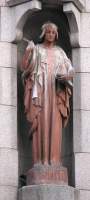 The Prudential, Holborn, a detail, and a figure of Prudentia (Prudence) from the Liverpool Pru.
Waterhouse's work is also found in a variety of other towns and cities, and he designed many private houses as well as major public works. We may mention but a very few here – the imposing North Western Hotel, Liverpool (see bottom of this page), large enough to compete with the other great buildings around the Town Hall there, also the Royal Infirmary and Liverpool University, part of Leeds University, Eaton Hall (the Chapel survives), parts of Balliol College in Oxford, Girton College and parts of Gonville and Caius College and Pembroke College in Cambridge, and Rochdale Town Hall. Waterhouse lived near Reading for a period, and among several buildings by him there is the excellent Town Hall and Art Gallery.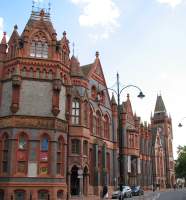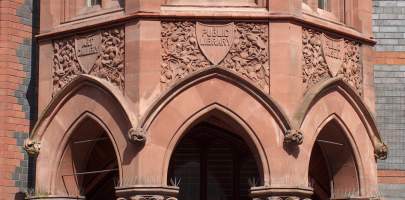 Reading Town Hall and Art Gallery, and detail.
Waterhouse developed and evolved his Gothic style, starting with Ruskin, fond of polychrome brick and terra cotta, and later the dark red terra cotta which characterises a number of his buildings. His work is characterised by a massiveness and solidity, and a feel for the spirit as well as the letter of medieval design, and complex and exciting skylines. Particularly of relevance for these pages, he adorned many of his buildings with architectural sculpture. With Waterhouse, the sculpture would never dominate or be a defining characteristic of the building, but an accent or emphasis sufficiently important that the buildings would be the less without it.

Whitehall Court and the National Liberal Club, by Waterhouse and Archer and Green.