Edouard Lanteri (1848-1917)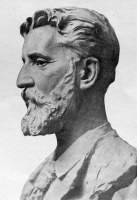 Lanteri, by Pibworth.
The sculptor Edouard Lanteri was born in Burgundy, and was sent to Paris as a boy to study music. But by age 14 he had turned to sculpture as his true vocation. He studied under Millet and Guillaume, then left France in 1872 to escape civil war, and settled in London, working as the chief assistant to Edgar Boehm (he in fact retained this post until Boehm's death in 1890). His work included various portrait busts, among which were artists such as Boehm, Alfred Stevens, J. Sparkes, and W B Richmond. His oeuvre also included ideal figures and sculptural groups, from classical or more modern times. This rather wide range, combined with not a particularly large number of examples of any one type, as so much of his time was spent as a teacher rather than a maker of finished pieces, makes it difficult to describe his style, though certainly he had a love of drapery, so that even modern clothes become textured and present a variety of surfaces to the viewer. Maybe this is a result of his being a teacher, that he did not settle on one style or characterisation. In any event, it is hard to find a more preferable statue of his than the allegorical figure of Sculpture, holding a Sphinx, very high up on the V&A (for more statues of sphinxes, see this page).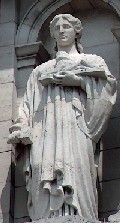 Sculpture, holding a Sphinx, V&A tower, by Lanteri.
Lanteri became professor at the National Art Training School, South Kensington (which later became the RCA), after Dalou, and while still in the studio of Boehm, and was one of the more important teachers of sculpture. Among his pupils there were Albert Toft, Derwent Wood, Alfred Gilbert, William McMillan, Conrad Dressler and F.W. Doyle-Jones.
Portrait statues and busts by Lanteri may be seen in the National Portrait Gallery (e.g. the chemist, Mond), the V&A (Beatrice), Tate Britain (his excellent 'Paysan' - not a portrait, but a demonstration work for students) and elsewhere (e.g. Landau at the Laing Art Gallery in Newcastle). Good examples of his larger work include his allegorical figures on the exterior of the tower of the V&A (Sculpture, shown above, and Architecture).

Peace, an ideal figure.
More works by Lanteri are shown on this supplementary page.
Visitors to this page since 22 Nov 2011: 4,050