Alfred Stevens (1817-1875)
The artist Alfred Stevens is a difficult case to assess - he is represented by a single masterwork of sculpture, his Wellington Memorial in St Paul's Cathedral, and otherwise by a host of unexecuted ambitious designs, and a mix of drawings, ironwork, and minor decorative wares. It is hard not to feel that he represents a wasted opportunity, a potentially great artist or craftsman in any of several fields, who never produced the depth of oeuvre in any one of them to be called 'great'. Having said that, there is no doubt that his influence on other sculptors was enormous, to the point where he was commemorated with a statue on the front of the V&A.
Stevens was born in Blandford, Dorset, and after showing a precocious interest in art, helped his father in his local business as house painter, decorator, and sign-painter, before a rich patron, Revd. Samuel Best, sent him to Italy at the age of 16. There he stayed for nearly a decade, studying the work of Andrea del Sarto in Naples, 14th Century paintings in Florence, to Pompeii and Capri, to Rome, and back to Florence again, then to Milan. Along the way he learned how to paint in Fresco, became a copyist for various dealers, supervised the molding of the Ghiberti gates on behalf of the government of Austria, and studied architecture under Albertolli. Finally, he worked for Thorwaldsen in Rome, and when the great sculptor left in 1842, Stevens decided to leave also, and returned to his home town of Blandford, 25 years old and penniless, but with a belief in the unity of art, and the ability to express himself in any of several of the major and the minor arts.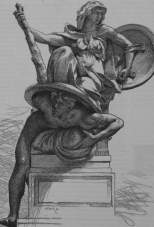 Group for Wellington Monument.
In 1844 he made his way to London, where he found employment in the Government School of Design at Somerset House. Among his pupils was a certain Mr Young Mitchell, who became head of the School of Design in Sheffield, and advised a local firm of stove manufacturers, Hoole and Robson of Green Lane Works, to take on Stevens as chief designer. Stevens left London for Sheffield in 1847, designing metalwork for that company, and becoming the inspiration for a generation of young craftsmen in the area.
By 1851, Stevens was back in London, near Fulham, making grand designs for national art competitions, and supporting himself with a variety of decorative work. After several failures, his design for the Wellington Monument was chosen after two more favoured designs - by W. Calder Marshall and W. F. Woodington - were found to be unsuitable for the chosen setting in St Paul's. Starting in 1857/8, the commission was to last the rest of Stevens' life, and was only completed by John Theed after Stevens' death. The problems revolved round money, and Stevens' pursuit of the perfection he knew from Italian art. Starting in 1858, it took him until 1867 to produce a full-size model of the monument, and the £14,000 cash ran out soon after, with Stevens of the opinion that at least as much again was needed to complete the work. After much fuss, with the contract at one point being terminated, an extra £8,500 was made available, on the strict understanding that Stevens was the artist and designer, but the money was to be in the charge of an industrialist friend, Mr Leonard Collmann, 'as Mr Stevens had a want of all knowledge of the value of money or of its management'. The final monument, a cut-down version of Stevens' original proposal, has the recumbent figure of Wellington in bronze under a shrine-like canopy held up by a dozen pillars. The two allegorical groups are Valour triumphant over Cowardice, and Truth plucking out the tongue of Falsehood.
What else did Stevens produce during this time? A real mix - the interior decoration of Dorchester House, designs for Shakespeare and the Bible, a railway carriage for the King of Denmark, more ironwork, including for the Coalbrookdale Iron Company, a pavement for St George's Hall in Liverpool and the long-gone pediment, furniture for his own house and other things ornamental and decorative.
As well as the Wellington in St Paul's, there are also mosaics by Stevens in the dome showing the four prophets. Maquettes for the allegorical groups on the Wellington Monument are in the Whitworth Gallery, Manchester. Fireplaces by Stevens may be seen in the William Morris Gallery, in Dorchester and in the V&A, and further ironwork is also in the V&A - as well as a portrait statue of him on the front. Stevens also produced several types of ironwork lions, and the small ones sitting on the railings of the British Museum are to his design.
Visits to this page from 23 Nov 2011: 4,990