Sir Alfred Gilbert RA (1854-1934)

Alfred Gilbert.
'The position of Mr Alfred Gilbert in the art world of England has long since been proclaimed by his brother sculptors and accepted by the public. Their admiration, which is born of sober judgment, has set him on a pedestal so high that his work as a whole is almost beyond the range of outside criticism, even as his reputation is beyond harm and attack.'
An important and influential sculptor, the central figure in the New Sculpture movement, Alfred Gilbert was born in London. He showed great artistic talent as a youth, but intended to become a surgeon before failure at his exams - fortunately for the cause of art - meant he turned to sculpture. He then trained under J. E. Boehm, Lanteri, and then on their advice, continued his studies in Paris at the Ecole des Beaux Arts under Cavelier, and then Italy, where he remained for some years developing his own personal style. In 1884/5 Gilbert returned to London, living at his parental residence in Maida Vale, and working in a studio next to that of Boehm in Fulham Road. His first public commission, in 1887, was the Henry Fawcett memorial in Westminster Abbey, and in that year he also won the commission for the Queen Victoria statue for Winchester, an ornate statue only finished in 1910. Also in 1887, he was elected ARA in 1887, at a time when under Leighton, himself a sculptor of repute, sculptors were in vogue at the Academy - another one, E. Onslow Ford, became ARA the following year, and Hamo Thornycroft became RA also in that year. This generation were the New Sculptors, and among them, Gilbert was the leading light. Much of his work around the turn of the century is rich in art nouveau detail, and Gilbert was also a goldsmith of considerable merit, and skilled in other crafts, producing a variety of decorative works.
By the late 1880s and early 1890s, then, Gilbert was at the peak of his career, with his Statue of Eros (the Shaftesbury Memorial Fountain) being unveiled in that year, taking a Royal commission for the Clarence Tomb in 1892, and completing his grand purpose-built artist's residence in Maida Vale in 1893. A variety of important works of around this period included the statue of Joule in Manchester Town Hall, John Bright, John Howard (for Bedford), and an unfinished reredos for St Albans. However, his troubles were already mounting. Gilbert was poor at managing his money, and took on too many commissions, far more than he was ever going to be able to hope to complete. As he spend deposits and cash in hand on materials, but was unable to finish works to delivery, his financial situation deteriorated, and in the end he became bankrupt in 1901.
A difficult period followed - Gilbert retreated to Bruges on a more or less permanent basis - though he was Professor of Sculpture at the Royal Academy from 1900-1905, lecturing intermittently at that institution and achieving much popularity with the students. But attacks in the Press for his failure to finish his commissions took its toll, and in 1907 he resigned from the RA, and lived on in Bruges, in some poverty. He stayed there during WW1, but in 1923 went to Rome, where his fortunes improved somewhat, and three years later he was able to return to England to complete the Clarence Memorial, under Royal patronage and installed in the studio of Lady Helena Gleichen. In that year he was commissioned to produce a final important work, the Queen Alexander Memorial, which was unveiled in 1932. Gilbert received a Knighthood for that work, and was re-elected to the RA, so that his final years saw his complete rehabilitation into the highest echelons of English artistic society, before he died in 1934.

Queen Victoria, Winchester.
Gilbert's most well-known work is the Eros in Piccadilly Circus (see also this page). We have already mentioned the remarkable Queen Victoria in Winchester and the Fawcett Memorial in Westminster Abbey, and the Joule at Manchester Town Hall. Others of his works include Comedy and Tragedy (1892), a Perseus Arming (a small version of the bronze, 1881, is at Cartwright Hall, Bradford), and an Icarus which became the possession of Lord Leighton. An excellent and over-the-top Chimneypiece with many small figures is in the Leeds art gallery.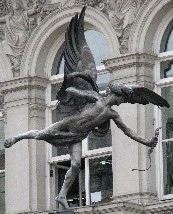 Eros, Piccadilly Circus.
Visitors to this page since 13 Mar 2014: 6,669