F. Derwent Wood RA (1871-1926)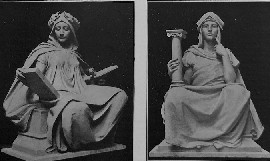 Derwent Wood statues for Kelvingrove Art Gallery.
The sculptor Derwent Wood is best known for his ideal nudes, mostly female, of which Atalanta is familar in London, and the occasional male, where his London example is the figure of David for the Machine Gun Memorial. Other ideal figures by him, mostly of reduced size, are found in various art galleries. There is architectural sculpture by him in London and Scotland, and he also made a variety of portrait busts, and the public portrait statue of Titus Salt at Saltaire. He achieved his greatest popularity in the 1900s, and was a firm favorite of the influential art magazine The Studio.
The sculptor Derwent Wood was born in Keswick, Cumbria, and educated abroad in Switzerland and Germany. He returned to England in 1887, working as a modeller in potteries and foundries, combined with studying sculpture, first under Lanteri at South Kensington, then at the Slade as an assistant to Legros. He then worked for Thomas Brock, and attended the Royal Academy Schools (from 1894). Three years or so later, he took up a position at Glasgow School of Art. After the First World War, he became Professor of Sculpture at the Royal Academy.
Derwent Wood nudes.
Derwent Wood's work includes many allegorical nudes (see for example the panel showing Sacred and Profane Love on this page) and other figure subjects, including some notable architectural sculpture. He also produced a large number of portrait busts. Around the turn of the 19th Century and afterwards, his work was much admired in the arts and crafts magazine, The Studio. His females are fairly solid, wide in the hip, their hair short or piled up rather than long and down, and often they wear arts and crafts style headgear. His men are strong rather than athletic, and their surface detail tends to make them look more mature rather than youthful. His drapery can be very fine, in a Greek manner.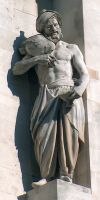 Derwent Wood architectural sculpture.
Examples of Derwent Wood's exterior architectural sculpture include allegorical figures on the roof of the Kelvingrove Art Gallery, Glasgow, and also in that city, figures for the Caledonia Low Level Station and the British Linen Bank building on Govan Road. In London, by Finsbury Circus is Britannic House, with stone figures on the corners by Derwent Wood. Allegorical nude figures by Derwent Wood may be seen for example in Leeds (a Bacchante), Bristol (Truth, and also Daedelus equipping Icarus - a picture of the former is among the allegorical statues of Truth on this page), the Lady Lever Art Gallery in Liverpool (Psyche), and out of doors in London, the Atalanta in Chelsea Embankment Gardens (the marble version is in Manchester Art Gallery), and the figure of David for the Machine Guns Corps Memorial, Hyde Park Corner. Among his portrait statues, we may mention a figure of William Pitt for the Houses of Parliament, Titus Salt for Saltaire, Charles Henry Wilson for Hull, and General Wolfe for Westerham, in Kent, and the charming figure of Violet Morgan on her memorial in Norwich Cathedral.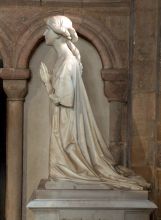 Violet Morgan, monument in Norwich Cathedral.
Derwent Wood was one of those sculptors who won commissions for statues in the colonies, notably India, where there are two copies of a statue of Lord Ripon, at the Victoria Memorial Calcutta, and in Madras, and an Edward VII, now apparently in a museum in Patiala, Punjab.

Atalanta in Chelsea Embankment Gardens.
Visitors to this page since 22 Nov 2011: 6,152