Pibworth, Charles James (1878-ca. 1958)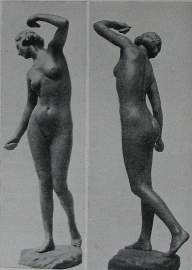 Dancer with Castanets, by Pibworth.
A less well known sculptor who has two main public works, both architectural sculpture. The first consists of a series of three panels on the exterior of the Central Library, Deanery Road, Bristol, showing King Alfred, Bede, and Chaucer, and four statues of abbots on the Abbey Gateway adjoining. The second, in London, includes four figures for the Law Society extension in Chancery Lane (Truth, Justice, Liberty, Mercy). Another architectural work, more modest, is his figure in relief of Euterpe on the exterior of 13-14 Archer Street in Soho, one-time HQ of the Orchestrial Association. His other work includes various busts, of which one is of the sculptor Edouard Lanteri and a later one of the sculptor and painter Glyn Philpot. He also made allegorical and ideal figures (Sorrow, Ecstasy, Boadicea, Andromeda, Sappho, Nausicaa, Diana and so forth), though none of these seem to have found their way into major public collections, and at least one design for a fountain. Finally, he seems to have worked as a medallist though I have not seen any such works by him.
Pibworth studied at the West of England Academy, in Bristol, then at the Royal Academy Schools at the turn of the century. He settled in London, living in Chelsea, and continuing to send works to be exhibited in Bristol until 1930. He was a member of the Royal Society of British Sculptors from 1907, and later the Art Workers Guild.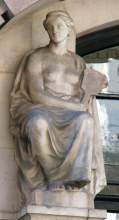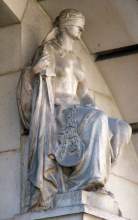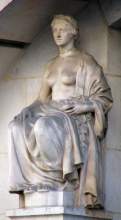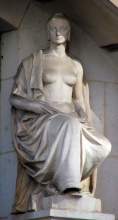 Truth, Justice, Mercy and Liberty.
His work is of his time, which is to say from an Edwardian through to Deco, but with no real settled style. His work at Bristol is in a formal religious style which could have been from 30 years earlier than its 1910s date; his figures are sometimes naturalistic, sometimes classical. Let us consider at least the four Law Society extension figures shown above. They are fairly small, and date from 1904, so early in his career. Although classically draped, or semi-draped, they are definitely creatures of the 1900s. Truth, with her mirror, is the most classical, with her hair, calm face and broad shoulders. Looking at the profile of Justice, we could envisage an illustration by Henry Justice Ford, or some other follower of the Pre-Raphaelites. Mercy, holding a vine, is classical in pose and hairstyle, but her eyes and mouth are in the modern idiom, and Liberty, holding her torch, wears an almost deco helm. Looking at her face with its narrowed eyes and purposeful set to the jaw we see a girl who did not exist before the opening of the 20th Century. All four have a softness and fullness to the figure contrasted with something of a solidity to the neck and muscularity of arm which betokens the athlete. The drapery, though not complex, is used to give some variety to the different aspects of the figures, which given their small size and recessed position, might easily have been left to be viewed from the front alone. The figure of Truth is particularly good in this respect, and altogether, these figures rate far above the average and make the artist deserve to be better known. (These pages contain a variety of allegorical statues, and by comparison other figures of Justice are on this page; and Truth on this page.)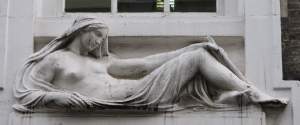 Euterpe, in Archer Street.
Visitors to this page since 22 Nov 2011: 9,869