Sir Joseph Edgar Boehm Bt (1834-1890)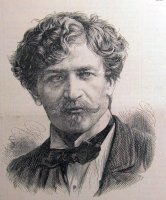 J. E. Boehm, Hungarian by descent and Austrian by birth and education, became one of the foremost sculptors in Britain and one of the chief portraitists of the great and the good. He was born in Vienna, his father being Director of the Imperial Mint and possessor of a huge collection of fine art from the times of ancient Egypt onwards. With these surroundings, it is unsurprising that the young Boehm was inspired to become an artist, although there was some pressure to follow his father's lucrative profession. He was given a general education, first in Vienna, then in England, where he spent much time studying the drawings of the old masters and sketching from the Elgin Marbles in the British Museum. His father had a job arranged for him back at the Austrian Mint, but Boehm had by this time decided to be a sculptor, and went to Paris.
As young as age 22, Boehm won the Imperial Prize at Vienna in 1856, the first of various honours. He settled in England in 1862, and was naturalised in 1865. He became ARA in 1878, and RA in 1882.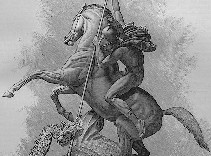 St George and the Dragon.
Boehm believed in making contemporary sculpture, not harking too much back to the past, and he disapproved of sculptors 'trying to be ancient Greeks':
"It is in vain to complain of the paucity of inspiring subjects in our age, of our ugly costume and the dearth of suitable figures for sculpture. You may regard objects and compose like Homer, but you may not inanely copy from the antique. Do not return from Rome with some more bad nymphs, another Venus or another Cupid. Try to use the much-abused dress. Treat a coat-sleeve, a woman's gown, con amore, ennoble it by art, and it will be a pleasing object in the sight of those whose praise is worth having."
To be fair, Boehm wrote this in reaction to the continental and especially Italian school of overdone gesticulation, and might well have reacted differently to late Victorian sculpture. After all, there can never be enough good Venuses and nymphs.
Boehm was particularly a portraitist, and said that the first and most necessary talent of good portraiture was 'an instinctive perception of character'. This is a very Victorian statement - especially applicable to painting, where a modern portrait is a surprise to us if it remotely resembles the subject, and powerful portraits capturing both the likeness of the face and the essence of a personality seem to have rather withered away since the Victorian age.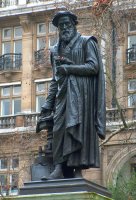 Tyndale, in the Victoria Embankment Gardens.
There are various statues by Boehm in central London. In St Paul's is his well-known General Gordon. At Hyde Park Corner near the Marble Arch is a large equestrian Wellington, and at the end of Fleet Street statues of Queen Victoria and Prince Edward on the Temple Bar monument. His well known Tyndale is in the Victoria Embankment Gardens, and other statues may be found in Westminster Abbey and in Waterloo Place. A representative series of portrait busts are at the National Portrait Gallery. His other important works include St George and the Dragon and Francis Drake.
Outside of London, we can mention Boehm's Bishop Dunscombe in York Minster, M. T. Bass in Derby, the Bunyan Memorial in Bedford, Emperor Frederick in Windsor, and Archibald Tait in Canterbury.
Visitors to this page since 13 Mar 2014: 5,501