Albert Toft (1862-1949)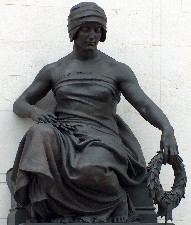 Figure from the Birmingham Hall of Peace.
The sculptor Albert Toft was born near Birmingham, where his father, Charles Toft, was principal modeller at Elkington, later moving the family to Staffordshire to work for Wedgwood. Young Albert Toft also went to work for Wedgwood, studying at the art school in Henley in the evenings, and then at Newcastle under Lyme. In 1881 he won a National Scholarship and commenced study in London at the National Art Training School, under Lanteri. He set himself up with a London studio, producing first bas-reliefs and apparently doing some black and white work, and then turning to portrait sculpture. From the late 1880s he also made ideal works, rather influenced by Alfred Gilbert. These included a series of ideal nudes - Lilith (his first one, exhibited in 1889), Fate Led, Hagar and so on, well into the 20th Century. A Bather was bought under the terms of the Chantrey Bequest in 1915.
Toft also designed a number of memorials, most notably the Welsh National Boer War Memorial in Cardiff (see this page), the Royal London Fusiliers Monument in Holborn (noted on this page), and in Birmingham, the South Africa Memorial in Cannon Hill Park and the King Edward Memorial in Centenary Square, as well as figures outside the Birmingham Hall of Memory. He produced three Queen Victoria memorials, in Nottingham, Leamington and South Shields.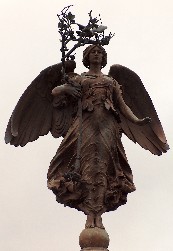 Figure from the Cardiff Boer War memorial.
Fate Led is in the Walker Art Gallery, and the Spirit of Contemplation is in the collection of the Laing Art Gallery, Newcastle. Examples of Toft's portrait sculpture are in Peterborough, and the remarkable Captain Ball memorial is in Nottingham.
Toft's ideal female figures are very beautiful. His ideal girl has hair parted in the middle, just off the shoulder, straight or slightly wavy rather than curled, slightly heavily lidded eyes, a sensuous mouth, rounded cheeks, and a small, slightly cleft chin. She has a fairly full figure, well proportioned but realistic rather than perfect, and drapery, where present, is simple, but not particularly in a classical style. Often highly symmetrical, symbolist compositions, and some of his work, notably the Captain Ball memorial, fit squarely under the New Sculpture banner. On the basis of seeing just a few of his male portraits, though his young men are rather similar, he seems to have a particular talent for characterful older portraits.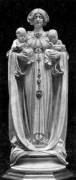 Visits to this page from 23 Nov 2011: 6,573