La Delivrance, Henly Corner, North London, by Emile Guillaume - Sculpture of the Month for December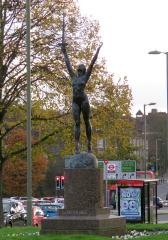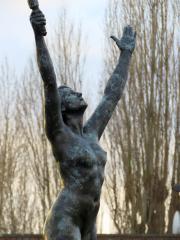 La Delivrance, Henly Corner, by Emile Guillaume.
In the uninspiring environs of the North Circular orbital road in London stands a statue of an ideal female nude, La Delivrance, by the French sculptor Emile Guillaume.
The figure stands on tiptoe, balanced on a globe, her arms stretching upwards, one holding a long sword, with the title, 'Delivrance', embossed on the hilt. The silhouette in different lights is very lovely - see pictures below (click to enlarge). The pose is uncomplicated, the emphasis being on the stretching motion, the curve of her back, the taut muscles of her legs. Indeed, we have a fairly muscular figure, with much care on the massed forms of leg and thigh and back. There is English work in this style, often by French-trained sculptors, but typically dating from rather earlier than this one, and although there are plenty of allegorical girls on British WW1 memorials, typically as Angels of Victory or Peace, these tend to be in a late Arts and Crafts or Art Nouveau style, rather than what we see here, and with more of a finish and fine detail than the rough surface of La Delivrance. Some of these British female statues are quite sensuous, and semi-nude is acceptable, but complete nudity is really not the done thing on a WW1 memorial in this country, plentiful enough as nude figures are in architectural and studio sculpture. The more undulating surface with a move away from the more carefully finished ideal figure is again common enough in the UK, but mostly from either earlier or rather later on, for soon after the end of the World War I memorials, we are into the Art Deco period with an entirely different idiom and physique for the nude figure, with flat surfaces, perfect roundness and simplified sculptural shapes. Lots of nude statues on the Feminine Beauty in Sculpture page. And a nice Italian group of nudes are in Twickenham, noted on this page.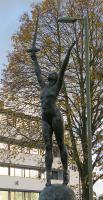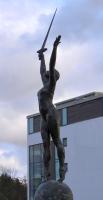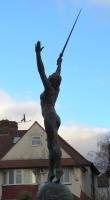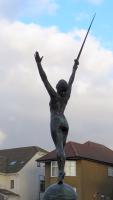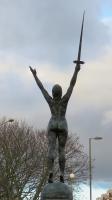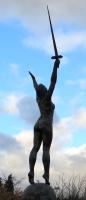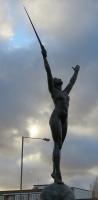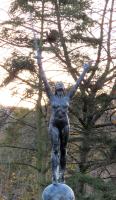 La Delivrance, different aspects and silhouettes.
The sculptor, Emile Oscar Guillaume (1867-1942), has several public statues in France, including the original La Delivrance, as a World War I memorial in Nantes, dating from 1920. This was popular enough that around a dozen copies were made, mostly put up in France, and in Belgium, and the one noted here in London, which according to the information panel by the statue, was put up in 1927 (unveiled by Lloyd George no less), after being commissioned by Viscount Rothermere, owner of the Daily Mail – a jolly good idea, and more newspaper barons donating grand allegorical statues to London would be most welcome. I am not aware of other works by Guillaume in Britain, and La Delivrance seems to have been by far his most popular creation. There are plenty of pictures by an Emile Guillaume, but he was a different artist, working rather later than the sculptor.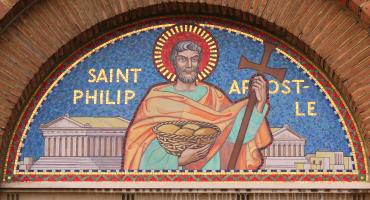 St Philip Apostle, mosaic and paint.
Walking northwards along Regents Park Road, at right angles to the North Circular, we have on the left a Catholic church, St Philip the Apostle, Finchley Church End, and although the brick building is not really of interest to these pages, there is a good modern mosaic lunette above the main door, showing a half-figure of the saint carrying cross and basket. Mosaic – well, only half a mosaic, for the difficult bits – face, hands, even the drapes, are painted, or painted tile, Greek Icon style, and only the background and border are in mosaic, using traditional Italian smalti, laid in modern fashion. Notes on important London mosaics on this page. A little further on leads us into Finchley, with its Parish church (St Mary) on Hendon Lane to the left, which contains a decent collection of 18th and 19th Century memorial panels, with a bit of sculptural interest, and by it, Pardes House School, built in 1860 as Christ's College School, with a dominating turret which is something of a landmark.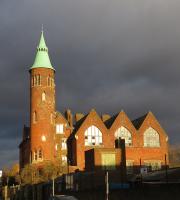 Pardes House School, 1860.
Go back to Sculpture of the Month for November // Onward to Jan 2018
Visits to this page from 1 Dec 2017: 3,926