Chingford All Saints (Chingford Old Church) - Monuments
The monuments in All Saints Chingford, of which there are 17 or 18, include six good figure pieces, of which two are early 17th Century kneeler monuments, and one a fine pair of early 19th Century girls by the sculptor Humphrey Hopper. The other panels include a range of the white-on-black tablets which dominated in the earlier 19th Century. .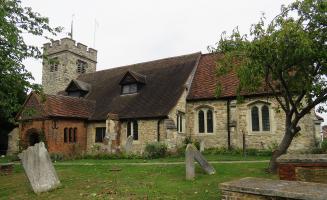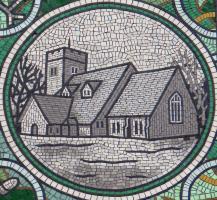 All Saints Chingford, exterior and mosaic views.
All Saints Chingford dates back to the 12th Century, and although only the north wall of the nave is from that date, the Church retains much ancient fabric: the tower from 1400, and the nave and chancel and south aisle from 13th to 15th Centuries. It became known for its covering of ivory in the later 18th Century (see the picture), which in the end caused severe damage, becoming ruined in the 19th Century, with the building of the new church (St Peter & St Paul, completed 1844 - see this page) meaning that there was little requirement for the old one. Happily, restoration came in 1930, and the monuments, which had been previously removed to the new church, were returned for us to see.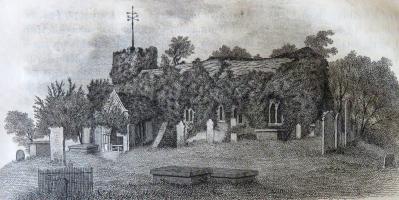 The ivy-covered exterior, early 19th C view.
The Church itself is modest in scale, long and low, with steeply pitched roofs and the low battlemented tower already mentioned. The fabric is a pale, irregular stone or rubble with flint, with dressed stone around the windows and corners, and the 16th Century porch in red brick, a goodly thing but rather jarring by contrast. Inside, the monuments are mostly in the chancel, and along the walls. We take them in date order.
Monuments
Marye Legh, d.1602 - Elizabethan monument with relief scene.

Marye Legh [Mary Leigh], d.1602. A late Tudor monument of interest as it contains a carved scene of the subject rather than the more conventional kneeling figure of the later Leigh family monuments. She lies in bed with a swaddled infant, turned away from the baby as she faces the viewer, leaning on one elbow. The bed is quite simple in structure, with thin legs, a headboard, and seemingly little by way of a mattress; the only decorations are corbels at the corners, and the gilt-fringed blanket. Over all is a canopy, red-painted, and not just open, but apparently blowing to each side to expose the scene within. The rest is more usual: side pilasters with decoration carved in high relief (rather splendidly floral), and strapwork to the base and at the top the latter enclosing the painted shield of arms, with a small pot to each side. The inscription is above the figure and in what we may term the entablature, on the usual black backing in small, hard to read text. The use of coloured alabaster, and colour more generally to give a rich effect all over, is typical of the period.

Sir Robert Leigh, d.1612, the husband of Mary Leigh noted above. A conventional kneeler monument, with Sir Robert sculptured in the round, kneeling on a red, tasselled cushion, his hands raised in prayer, a prayer-stool bearing an open book (faldstool) in front of him; also conventional is the little drapery hanging down the side of this. As a knight, Sir Robert wears plate armour, still with ruff and pantaloons. Also conventional is the broad arch under which he is placed: its interior is decorated with carved bosses. To the sides are tall obelisks, symbols of death, and beneath these, acting as supports to the shelf, are carved lion heads, rather simple and much stylised. Up at the top, a winged cherub head occupies the centre or keystone position of the arch, which supports a broad shelf. On top of this rests a painted coat of arms, within a circlet of strapwork with outer 'handles', which is quite usual on such monuments. To the sides of this are further, smaller painted shields of arms, supported by ruined squatting figures. Underneath the lower shelf is the dim text of the inscription, on the usual black panel, and at the base, a small winged cherub head. As in the monument o his wife, use is made of coloured alabaster, here with dark inclusions, and paintwork in heraldic colours. A good and typical example of a kneeler monument - for more examples of the type, see this page.

Margareta [Branthwaite] Leigh, d.1624. Another kneeler monument, representing the female type. Her statue kneels on the usual tasselled cushion, her arms raised in prayer (though her hands are gone). She wars a long enveloping cloak, and has a large ruff at the neck, smaller ones at the wrists. The top of her head is bare, showing her swept-back hair, gathered at the back under a cloth which hangs behind. As with Sir Robert Leigh, we see her in profile, facing her faldstool, under a broad arch. More ornamented than the older monument, this has painted coats of arms in the spandrels (triangular fields to the sides), and an elephant at the base of one pillar (not so usual in English sculpture, though see this page for some later examples), a cockerel standing on some draped lump at the other. The top of the monument consists of a great semicircular pediment with painted lozenge of arms and carved ribbons flanked by two tall, broken obelisks, and a central figure: a winged, bearded man, naked but for a thick belt or sash; whatever he once held in his hand is now gone – the aged figure suggests he is Time, and thus likely carried an hourglass.

17th Century panel with carved cherubs to Baronet Thomas Boothby.

Thomas Boothby, Baronet, d.1669. He was Lord of the Manor of Chingford, having purchased it from the Bathurst family in 1666; the Boothbys continued in possession until 1774. While still with the black central panel, the monument here consists of a generous frame of white marble, carved with a pair of naked winged cherubs holding up a piece of drapery over the top of the inscription so that it can be read: they visibly struggle with the fabric. Down the sides are two upturned olive branches, and at the base is what seems to be the remnant of some attached device, perhaps a shield of arms. A painted shield of arms with a helm on top rests on top of the upper shelf.

Classical mid-18th Century panel to Anna Sclater, d.1749.

Anna Sclater, d.1749, with a Latin inscription. Classic mid-18th Century 'fireplace' style monument, with side pilasters, upper and lower shelves, a central arch (less usual) and lower apron, which looks as if it once held an attached coat of arms: there may have been more on top too. In streaked-white and coloured marbles, which is typical of that time.

Monuments Mary [Clarges] Snell, d.1781, wife of Robert Snell of Chingford Hall, daughter of Sir Walter Clarges, Baronet. Oval panel carved with a thin frame.

John Paul Berthon, d.1792, and others of the Lewis family, through to his wife, Amphillis Eliza Sarah Tweed, d.1860. Plain panel with upper and lower shelf and thin sidepieces, resting on two brackets.

John Heathcote, d.1795, figure carving on an obelisk monument.

John Heathcote, d.1795, erected by his wife, Lydia Moyer. With a female figure carved in alto relievo, against a tall serpentine or similar dark marble obelisk. She is fairly simply carved, but quite robustly. She is leaning her elbow on the top of a fluted funereal urn, which is not quite tall enough, so her figure leans somewhat she wears a long Classical dress with short sleeves. Her dress hangs to the ground, where her toes peek out. A little short of body and with a convincing solidity, the impression is not particularly Classical, and she wears a rather modern headpiece. She stands, with the backing obelisk, on a broad shelf, below which is the inscribed panel, with a thin serpentine border (one side is missing), and side pilasters. Below, a shelf and then a curvy apron with painted shield of arms and crossed branches. An interesting piece.

Esther Cook, d.1803, and her husband Col. William Cook, d.1814, erected by their only daughter. A fine figure piece: two standing girls in classical dress flank a pillar bearing a funereal urn. The one stands with head bowed, one hand to her cowl, with her elbow leaning on the base of the urn, her other hand holding an upside-down torch, symbolic of life snuffed out. The drapery is excellent, swirling round her stomach and thigh, emphasising the fullness of her figure. The other figure is emblematic of Religion, her folded arms resting on a tall cross with a circlet around it. She looks upward, a pleasing contrast to the other figure, and again the carving is very good, for example in her delicate hands and lower arms. The urn above is much ornamented, with rows of leaves rising from the narrow stem and below the bell-shaped top, and festoons of drapery finely carved. Behind the group is a black panel shaped as a triptych. The lower part of the monument consists of the inscribed panel with a narrow border, within a mantelpiece-like Classical frame, with fluted pillars, a Roman repeating design on the shelf above, and chunk brackets with flowers carved din low relief. Between is a shallow apron bearing the shield of arms and two leafy branches; this is painted. The piece is signed by the gifted sculptor Humphrey Hopper, and dated 1805, and this is a good example of the quality of his carving.

Frances [Boothby] Charnock, d.1808, noting that her husband, John Charnock, d.1809, was a 'Native of the Island of Barbadoes, A Barrister of the Inner Temple, And a Man of eminent Talents and Accomplishments.' She however had numerous eminent relatives, including successive Lords of the Manor of Chingford Comitis and patrons of the Rectory. White panel with a black surround and arched upper, bearing a shield of arms, cut with little feet and resting on two supports with mouldings. See picture below left. This is one of a number of these white-on-black panels in the Church, the most typical of all panel monuments from this period. See this page for an introductory page to church monuments.

White-on-black panels, vertical designs, early 19th Century.

Henry Newton, d.1819, and his brother James Newton, d.1830. With a curly pediment above, carved in relief, and an acanthus leaf carved terminus below, on a shaped black backing - see picture above, centre. Nicely proportioned.

Martha Busk, d.1821, daughter of the Revd. Joseph Dawson of Royds Hall in the county of York, with a long inscription in closely written text, filling the available space in a manner of much older panels. On the top is a pediment with acroteria, resting directly on the inscribed panel with no entablature, and bearing low relief carving of a shield of arms, painted, and ferny fronds. On a black backing.

William Marshall of Regent Street: panel to Sir John Silvester, Baronet, d.1822.

Sir John Silvester, Baronet, d.1822, and his wife Harriot Silvester, d.1843. Horizontal 'tea tray' panel, thus with handles to left and right of the main panel, triangular in outline and enclosing carved flowers within wreaths. There is an inner and outer frame, and between these two is a repeating pattern of flowers and vines carved in relief and undercut. On a black backing, and signed by the carver, William Marshall, Regent Street, Westminster.

Lydia Heathcote, d.1822, erected by her son, John Heathcote – it was she who inherited the manor from the Boothby family noted above. A tall white-on-black monument, more ornate than usual. Thus the oval inscribed panel is on a plinth which supports a smaller block on which a flaming funereal urn stands, gadrooned (corrugated) and with garland of flowers around it. On a shaped black backing, tapering in sections to the top, and with scratches suggesting there were further attachments to sides and base. See picture a little above, right.

Revd. Robert Lewis, d.1827, 50 years Rector of the parish, and his wife, Harriett, d.1832. White panel with upper shelf and cut with feet below, on a black backing.

Caroline [Cook] Hamilton, d.1838, wife of Vice Admiral Arthur Philip Hamilton, noting she was a liberal supporter of the schools and charitable institution of Chingford. Tomb chest end, with upper shelf and lid, lower shelf and small feet, on a shaped black backing, also cut with little feet.

Catherine Moyer, d.1851, related to the Heathcote family.

Catherine Moyer, d.1851, 'who having passed a long life in the exercise of every virtue that can adorn humanity, died... aged 92 years.' The monument was erected by her nephew, John Heathcote. A good white-on-black piece. The inscribed panel has Doric pilasters to the sides, a shelf and entablature at the top, supporting a central flaming urn and a pair of flaming shells to the sides; below is a thinner shelf, curly brackets, and a central apron which once contained a shield and festoons. On a shaped black backing.
As well there is a modern inscription with nice text to Robert Rampston, d.1585, affixed to a ruined stone, and presumably reproducing the original inscription before it wore away. He was a Yeoman of the Chamber of King Edward and Queen Mary and a benefactor to Essex paupers.
Also in the Church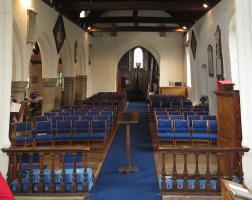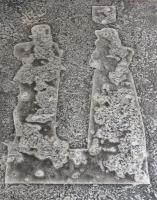 Interior view of Chingford Old Church, and, perhaps, indent of Robert Pampston and wife.
Most of the fittings were removed to the new church, including an 18th Century pulpit, an ancient chest, and oldest of all, the 12th Century font presumably from when the Church was first erected. Remaining is the matrix of a brass to a couple in the floor, which I think is the Robert Rampston noted previously, and his wife Margaret – the brasses were stolen in 1857, and the slab used to be part of an altar tomb. Also on the walls, a couple of hatchments. There is a decent stone font of no great antiquity, an old pair of stocks, and a modern stained glass window of the Annunciation in memory of Ione Louisa Burls, d.1963, really rather good - see picture at the top of this page.
Chingford Churchyard
Outside, in the partially cleared churchyard, alongside more minor things there remain a few hefty tombs, of which we may note three:
Robert Boothby, d.1733, and members of the Bootby ad Heathcote families, a curvaceous casket tomb raised on steps.

Colville family casket tomb raised on lion feet, with a flaming urn on top. Edward Dod Colville died in 1886, but the older members of the family are less clear.

Mary Barron, d.1893, tall plinth with stepped roof and draped urn on top. Nearby is the new church, St Peter & St Paul, not very large, but ambitious in its complex flint and stone decoration, and with a stepped tower with the spire supported by flying buttresses.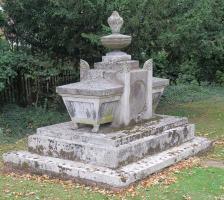 Colville monument: a complex casket tomb.
With many thanks to Chingford Church authorities for permission to show pictures from inside the Church: their website is at http://parishofchingford.org.uk/all-saints-and-hall.
Go to Chingford New Church (St Peter & St Paul)
South East to Wanstead Church // South to Leyton Church // South West to Walthamstow Church // or West to Edmonton Church