All Saints Church, Edmonton - Monuments
All Saints Church, Edmonton, contains a good crop of monuments, including a coloured marble one with skulls and a statue of Time, to John Huxley, d.1623, and various panels to the Huxley family and others, mostly 17th and 18th Century panels, a group of 19th Century white-on-black panels, and a small group of characteristic Arts and Crafts pieces.
Edmonton Parish Church, All Saints, is low, stone and brick, with a square tower, three stages high with a corner newel turret characteristic of 15 C towers of Middlesex churches. A bit of Norman arch is inside, see end of this page, with most of the rest being 15C-16C, the bricks added in 1772, and the Church received Victorian makeovers in 1855, 1868, and by the local architect W. Gilbee Scott in 1889, as noted on one of the pillars, at which time the south aisle and chapel were added. The brickwork covering to the stonework is of 1772, and 'is said to be due to the jobbery of the two churchwardens, one of whom was a bricklayer and the other a carpenter' – they would have encased the stone tower too if not stopped by higher authority.
All Saints Church, Edmonton.
Monuments
We take the monuments in date order:
John Kirton, c.1530 [assumed]. The oldest stone monument in the Church a great recess in the wall, with ornate Tudor arch above, with tracery and a vine carved above that, and three shields - see picture at top of page. At the front, three surviving square panels with low relief carving and further shields. At the back of the recess we can see indents - where brasses once were - of three kneeling figures, and shield and scrolls. Once, there would have been a great stone slab on top, in the table top position, likely protruding considerably from the wall, with the lower panels set forward and with surrounding frames. The attribution is by Lysons, who says John Kirton was 'the fourth in descent form Alan Kirton, w ho died anno 1362', and that the arms, already almost obliterated in Lysons' time [1795], were described by Norden. Lysons also noted 'an ancient altar-tomb of Purbeck marble, richly ornamented with quatrefoils &c', at the north east corner of the chancel, which he thought might be the monument to Sir Thomas Charlton the Elder, d.1447, Lord of the Manor, but I did not see it.

Monument to George Huxley, d.1627.

George Huxley, d.1627, of Wyre Hall, Middlesex. The grandest monument in the Church, on the side of the chancel. The lowest level is a sideboard-like affair, or altar tomb, with inscribed panel on the front of pale alabasters, with chunky moulding, and receding side of a pinky-brown alabaster. On top is a heavy shelf of dark marble. Seated on this is a narrow second stage, centred on a painted shield of arms within a scrolly cartouche, more of the pinky brown and pale alabaster around it, and then to the sides and corners, a dark marble. Then the third stage, all in the pale alabaster of the lower levels, flat against the wall, with large central panel with semi-circular top, entirely filled by a carved shield of arms with its surrounding knight's helm, mantling, hanging fruit and drapes, and ribbon. To the side are ornate scrolls, with hanging fruit and flowers, and a cut-out. Finally, the top stage: on top of the curved shelf above the main panel, to the sides are little carved skulls on short plinths, and in central position, likewise on a plinth, stands a small statue of an elderly but highly muscular man, clothed in a long beard and a carefully positioned piece of drapery. Whatever he was holding is broken, but I would think it would have been a scythe, and he is a figure of Time. The figure has gilt beard and hair, and lips marked in red, rather garish, and wanting to be allowed to peel off over the years. The overall effect of the different alabasters and marble and paint is of a colourful richness.

Anne Huxley, d.1653, a daughter of George Huxley noted above. Oval panel with frame carved as a wreath, and a lozenge of arms above, now blank, and a small scrolly surround.

John Dent, d.1659, 'Hee married Sarah ye daughter of Richard Rochdale Citzen and Brewer of London by Whome hee had one only daughter, Sarah'. So bright and clean I wonder if this is a later, moderately faithful reconstruction of a decaying original. As we see it today (picture below left), the inscribed panel has receding side pilasters, Corinthian, a cornice, and curly broken pediment above with a central painted cartouche of arms; the base below the lower shelf is lost. In bright, white marble with the pilasters and part of the cornice in grey.

17th Century panels in Edmonton Church.

Edward Rogers, d.1661, his wife Lidia Rogers, and eldest son Richard Rogers, d.1661. We see here (picture above, centre) the certainly original counterpart to the John Dent panel noted above: the general composition is similar, excepting the cartouche of arms at the top is in front of a curved pediment rather than that pediment being broken, and the base or apron survives, with curly strapwork and a bit of drapery carved upon it. The frame, though, is in a heavier and more forceful style ,and of brownish alabaster rather than white marble, and the text is on the black background more usual at the time.

John Huxley, d.1661 ['Johannes Huxley de Wyerhail in Agro Middx Armiger'], with a Latin inscription, on a black panel - picture above right. The surround has strapwork to the sides, outer Corinthian black-shafted pilasters, entablature above, and on top of that, the painted cartouche of arms, with now blank shields of arms on the corners to the sides. So far so good. The pediment thing in between is odd, and it may be that its two pieces are recut somewhat, and were originally further out and at a shallower angle, behind the side shields. At the base, the supports and black lower panel look right, but the very bottom, with the festoon and further minor strapwork, may not be in quite its original position.

Thomas Maule, d.1714, Surveyor General of HM Customs in the Kingdom of Ireland. Grand panel in a typical 18th Century style - see picture below left (you will need to click to enlarge to see detail). Thus the central panel has large fluted pilasters to the sides, themselves flanked by receding scrolling. At the top is a type of curved pediment, broken at the base to allow for a painted shield of arms with scrolly surround and dependant wreaths of fruits, resting on a winged cherub head (lots more of such things on this page). At the very top is a flaming urn. At the base, a thick shelf, resting on two oversized brackets, with corbels carved with leaves. Between these is the apron, here carved as a hanging drape - quite unusual to do this without having an inscription upon it - and at the very base, to act as counterpoint to the winged cherub head, is a fine deaths head, with bat wings. The whole is well carved, and an asset to the Church.

Early 18th Century grand panel monuments in the Church.

Francis Chaplin, d.1720, with a Latin inscription, also noting his son, also Francis Chaplin, d.1726. The inscribed panel, with gently domed top, has a narrow frame, and sits between free-standing fluted Ionic pillars, which support a curved shelf bearing a small pot - Picture above centre. At the base, a thick shelf, supported on two curly brackets, and with an apron carved with crossed branches around a painted shield of arms, and at the very bottom, under a little shelf, is a winged cherub head. The use of streaky marbles, and a more beige one below, is typical of the period, when masons used a variety of tones and colours in their monuments to add richness.

Elizabeth [Huxley] Tatem, d.1730, and added later, her husband Samuel Tatem, d.1756. Typical grander panel of the 18th Century, with a massive frame, here in grey-and white marble and contrasting white - picture above right. To the sides, pilasters, above, entablature and summit pot with dragooned (corrugated) top and base. At the bottom, shelf supported on curly brackets, with a central cartouche of arms, and a basal winged cherub head. The sense overall is of heaviness and vigour. A later Tatem panel is noted below.

Thomas Maynard, d.1770, erected by his wife, Frances Maynard, d.1793. The inscribed panel has a raised top, egg shaped rather than semicircular, and a narrow inner border, then a broader frame of black and yellow-pink marble, most distinctive. There is an upper shelf, which curves over the centre, and supports in the middle a painted shield of arms with some slight curved surround, perhaps once more full.

Sarah Walbancke, d.1778, and added later, inscriptions to her husband Edward Walbancke, d.1784, son William Walbancke, d.1791, and six unnamed infants. Elegant 18th Century panel monument, with upper shelf, highly moulded, concave-sided upper in grey marble, bearing a low pot with droopy carved flowers around the centre, and at the base, a bell-shaped apron of grey and white marble, with shield of arms and three small corbels. A fine understated composition, albeit not sculptural.

Martha Warren, d.1798. With a thin black border and painted arms on a spiky lozenge at the top.

Thomas Huxley, d.1801, noted as a benefactor who as well as supporting the poor of Edmonton, also left a smaller amount to the Ladies' Charity School, St Sepulchre. Panel with curled side pilasters, moulded upper shelf, wavy pediment with a now blank shield of arms and stylised fleurs-des-lys at the sides, and a wavy base missing some ornament.

1807 panel to Thomas Tatem, d.1748, Elizabeth Tatem, d.1785,, Mary Tatem, d.1792, John Tatem and Samuel Tatem left without dates, erected by George Tatem, d.1807, HM Consul General in the Island of Sicily and a Director of the East India Company. A late obelisk monument, with a nice ornamented pot in front of the obelisk, the long inscribed panel below, and a low apron with carved leafy surround to the shield of arms, on a grey backing - see picture below, centre. The revival obelisk is short compared to the typical proportions of mid-18th Century ones.

Early 19th Century white-on-black panels.

Elizabeth Beard, d.1807, and added later, her husband John Beard, d.1830, of Forty Hall, Enfield (which still survives and is visitable), and added later and in smaller type, a second wife, another Elizabeth Beard, d.1845. Picture above left. Tall panel, with thin upper and lower shelf. On top is a nice casket tomb carved alto relievo, with crossed branches in low relief upon it, and a neat top, and to the sides of that, small acroteria. At the base, a bell-shaped apron with a leafy terminus, and bearing a painted shield of arms. On a shaped grey backing.

Mrs Margaret Uvedale, d.1814, daughter of the Revd Francis Cooke, Vicar of Edmonton, mostly to note she left funds 'to keep in good repair the Vault with the Tomb and Railing over it and the Flat Stone that comvers part of the Vault in the Churchyard of this parish, belonging to the family of the Reverend William Washbourne, the late Vicar of it and to cause the Railing to be painted with two good coats of paint, once in every three years'. Black inscribed panel with white frame, upper shelf with moulding, and above, a central painted shield of arms on a cut out of colourful marble, with contrasting Grecian pots to the sides. At the base, a different bright marble between the two pillar supports. Unusual choice and colour scheme for the time.

1825 panel to Joseph Salmon, d.1790, and his wife Ann, d.1796, erected by their daughter Sarah Salmon, d.1842, with an attached panel below. Plain white panels on a black backing, with painted shield of arms at the top.

Thomas Teshmaker, d.1771, of Fords-Grove, his daughter Sarah Thomasin, d.1824, wife of Edward Busk, and also his wife Sara Teshmaker, d.1832, after which date the panel was erected. Blocky inscribed panel with shield and lozenge of arms above, on a black backing panel with nipped upper corners. Picture above right.

Fountain Elwin, d.1833, and his wife Anne Maria Elwin, d.1810. Plain white panel with upper shelf, on black backing with two brackets, one of which is dimly signed by Hill & Son, Barnet (?) - another tablet presumably by the same statuary is in St Mary Virgin, East Barnet.

Dawson Warren, d.1838, Vicar of the Parish for 43 years. As a tomb chest end, with heavy sides and upper shelf, on which rests an asymmetrically draped pot, well carved and with the drapery cascading down on each side of the monument - picture below, centre. There is a thick base, bearing a shield of arms carved in relief, and two small feet. With a shaped black backing above. Lots more tomb chest ends are described on the white-on-black monuments page.

19th Century tomb-chest end designs.

William Mellish, d.1838 noting his descent, and that he was a Director of the Bank of England for nearly half a Century, and MP for Grimsby and then Middlesex. Pale panel, with a curly upper portion with shield of arms and curly ornament resting on a shelf above, and the lower shelf supported on carved brackets. On a black backing, signed faintly by Marsh, presumably T. Marsh of New Road, London as the proportions are characteristic of his work. Picture above left.

The Revd. James Tate, d.1843, Vicar of the Parish, erected by two sons, who also became vicars (see Thomas Tate below), with a eulogy. Crisply cut monument, the panel having at the top a shelf and entablature and pediment-shape on top, and a thick shelf and two brackets carved with stylised leaves at the base. On a black shaped backing. Picture above right.

Dawson Campbell, d.1844, plain panel with a carved shield of arms on top, on a shaped black backing, by E. Gaffin of Regent Street. Under it is a completely plain panel to his wife, Jane R.A.A. Campbell, d.1899. The Gaffins, father Thomas and son Edward, produced innumerable simple white-on-black panels, and we shall meet a couple more of them below - more about them on this page.

Elizabeth Mary Cobbett, d.1848, with two Biblical quotes. Panel with blocky upper portion cut as a pediment, blocky base, and block supports, on a shaped black backing. Signed by Richardson.

The Revd. Thomas Tate, d.1863, who succeeded his father The Revd. Canon James Tate, noted above, and was Vicar of the Parish for nearly 20 years. The monument is of the same family as his father's, thus with tall panel, upper shelf and heavy base, but the top, angled but not pediment-like, bears a carved coat of arms, and the supporting brackets are elegantly shaped, with carved anthemion patterns. Signed by Thomas Gaffin, of 63 Regent Street.

Carving on Eastwick panel, by Thomas Gaffin.

Robert William Eastwick, d.1865, with a long account of his adventures as a seaman, fighting and being captured and escaping from various naval actions. With a nice carving on an anchor at the top, pairs of crossed sails behind, and the protruding ends of cannons behind those: sort of an architectural trophy (which normally consists of several or many crossed weapons). Above is a small shield of arms. There is a heavy base, two brackets with mouldings, and the whole is on a black shaped backing, signed again by Thomas Gaffin of 63 Regent Street. A less plain than usual example of the company's work.

The Revd. Charles Vincent Dolbe, d.1902, one time Chaplain of the Strand Union Schools, Second Chairman of the Edmonton School Board, and Head Master of Latymer School for over 30 years. It was the pupils of that school who erected the monument. And what an odd one it is, for the style looks mid-Victorian at first glance, with its short attached pillars at the side and fussy outline. But the second glance shows it could not be so, if only because of the black shaped backing and the cloudlike trefoil at the top bearing an incised cross. Really quite interesting, and signed by the maker - again rather unusual in so late a piece - who was T. Collier of Tottenham.

1888 Gothic monument to William Cowper and Charles Lamb.

1888 double-panel monument to the poets Charles Lamb, d.1834, and William Cowper, d.1800, erected to commemorate the visit of the London and Middx. Archaeological Society to the Church. Lamb is buried in the churchyard, while Cowper is commemorated as he refers to Edmonton in 'John Gilpin'. In excellent Victorian Gothic, in the form of a pair of highly crocketed windows, the separate inscriptions being in the blank windows, with medallion portraits of the two great men. Lots of minor carved foliage on the frame, in typical sandstone used for Victorian Gothic monuments; the shafts of the thin pillars are in coloured marble. A worthy and fine-spirited addition to the Church, though still in the 1950s it was described as 'deplorable'.

George Eedes Eachus, d.1910, Consulting Engineer and District Surveyor for 39 years. The first of four very Arts and Crafts panels, five if you count the Revd. Evill slab, all of similar style. Thus each bar that to Revd. Gregory has an elongate pale marble or alabaster panel, a thin border of mosaic, gilt and coloured, surrounded by a frame of pinky brown alabaster, a favoured colour of the Arts and Crafts movement. The Eachus panel has the mosaic with a damask-like repeating pattern of leaves in gold and green. Effective in giving a glittery, precious appearance.

Two of the mosaic-edged Arts and Crafts Panels in the Church.

Robert Stewart Gregory, d.1912, 18 years Vicar of the parish, and one-time Rector of Much Hadham, Herts. Here the central panel is not marble but glazed tile, surrounded with a very narrow ribbon of gold smalti mosaic, and then the frame of pinky brown alabaster. Such tile panels are found here and there, but never achieved any great popularity.

Lieut. Claude Fitzgerald Sedley Brown, d.1916, killed in action, erected by his fiancée, Alice Henden. Back to the light pink central panel, and here the mosaic border has gold zigzags against turquoise, crosses at the corners.

Revd. Ernest Arthur Blackwell Sanders, d.1917, Vicar of Edmonton. Here the marble or alabaster chosen is more contrasty, with strongly darker and lighter patches. The mosaic border has a wavy line of gilt mosaic, crosses at the corners, and a repeated leaf design painted in the shapes between the mosaics.

Revd. Reginald Crosswell Evill, d.1944, Vicar of Edmonton for the entire period between WW1 and WW2. A generation later but keeping to the same Arts and Crafts style, the outer frame a darker red-brown this time, and now only a thin line golden mosaic with a line of turquoise within that.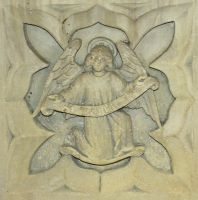 Brasses
There are several brasses, ancient and more modern, in the Church:
Elizabeth, and her two husbands John Asplyn and Godfrey Askew, dated as c.1500 by the Royal Commission on Historic Monuments, with the three elegant but simple standing figures of the deceased, shown in 3/4 view, praying.

Nicholas Boone, d.1523, and wife Elizabeth Boone, again standing, praying figures, she in a headdress.

I missed seeing the brass to Edward Nowell, d.1616, and wife Mary [Isham], d.1600-1, with offspring.

Unusual metal plates of the 18th Century, with shields of arms, to Edward Walbancke, d. 1784, and to his wife Sarah Walbancke, d.1778.

Henry Cooper JP, d.1902, characteristic 1900s brass panel with wide border of simple repeating floral design, set on a block of marble.
Also in the Church:
Pieces of a Norman arch, including a grotesque little head, reset in the wall after being found embedded in the south wall of the Church in the 1888-9 restoration.

Floor slabs with inscriptions and indents.

Hatchments on the walls above the arches.

Paintings of Moses and Aaron.

Painted decoration, including the Altar window surround, Chancel arch spandrels, with trumpeting angels etc, nice Victorian work.

Octagonal font, presumably from the 1889 restoration, with symbols of the Evangelists on the side panels.

Standard eagle lectern, presumably of similar date.

Stone panel commemorating those who died in WW1, and a metal panel commemorating the Royal Air Force and Women's Auxiliary Air Force who died in WW2.
.
Churchyard
Charles Lamb's monument is a simple headstone with twisted railings on two sides of the plot. He died in 1834, and with him is buried his sister Mary Anne Lamb, d.1847.
There are several more interesting 18th Century headstones, with characteristic wavy outlines, some with low relief carvings of winged cherub heads, shields, etc, and several of the less common and grimmer skulls.
One raised tomb has at the end a headstone to Ann Jane Susannah Browne, d.1822, and her brother Thomas, with a scene of a girl resting against a funereal urn on a plinth under a dying tree, a sickle cutting a flower behind her, symbol of life cut short.
A few tomb chests and other blocky pieces survive, and notable among these are the Rippon tomb next to the Charles Lamb one, with oversized upper bearing four small pediments, and the Snee tomb of 1732, a fine casket tomb raised on three steps.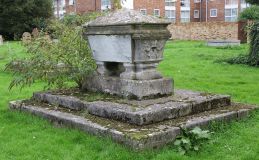 The Snee Casket Tomb.
All Saints Church, Edmonton's website is at https://www.allsaintsedmonton.org.uk/church-history.html.
Go North to Enfield Church Monuments // East to Chingford Church Monuments // South to Tottenham Church or South West to Sculpture in Hornsey