Twickenham Church Monuments, South West London
Twickenham Church, dedicated to St Mary, is fairly low, with a modest square tower of stone with buttresses and crenellations, but its commanding position on a rise gives it prominence; this tower dates from the 15th Century Church on the site, and the rest of the building, in brick, represents a new building of 1714-15, by the eminent architect John James, a contemporary of Hawksmoor and with him, being one of the surveyors for the 50 New Churches initiative of 1716, by which he built St George Hanover Square. The remarkable weathervane of cast iron on the old tower, with the vane itself cut into what appears to be a toothy monster, is from the 18th Century rebuild.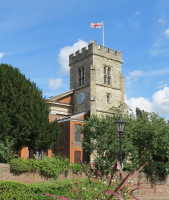 Twickenham Church, St Mary.
Inside, the Church is bright and high. At the altar end is a full-height arch, with a round window of moderate dimension above the Reredos. The main windows, down the length of the Church, are arched, semicircular on the upper level, segmental below. There are full length galleries to the sides of the nave, with monuments all the way upstairs and downstairs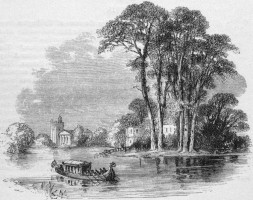 Approach to Twickenham Church by water, mid-19th Century view.
Monuments
The collection is extensive and broad, some 50-odd monumental panels, 9 each from the 17th and 18th Centuries, over 30 from the 19th Century, and a few into the 20th. They cover some of the most favoured types of wall monument: Classical, including on a grand scale, hanging drapes, obelisk monuments, and those from the 1800s and thereabouts designed as the ends of caskets or chest tombs. The sculptural efforts include a pair of early portrait busts, very fine, one girl with a pot in high relief, several cherubs and rather more winged cherub heads, and the usual draped and undraped pots, in the round and in relief, and minor decorations.
All the monuments are in beautiful condition, extremely well looked after. Almost a third of them are either signed or known to be by particular sculptors: the collection includes work b the eminent and prolific Sir Richard Westmacott RA, the less eminent but equally prolific John Bacon Junior, the excellent J.M. Rysbrack and Peter Scheemakers among big names. The monument to the most important personage buried in the Church, the poet Alexander Pope, is by Prince Hoare of Bath, the simple one to his parents (and himself) is by Francis Bird, and there is also work by several minor statuaries and masons, including a local man, John Mason of Twickenham.
17th Century Monuments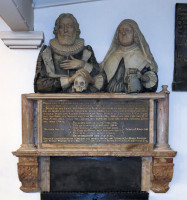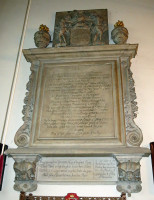 17 Century: Francis and Susan Poulton, and Lord Berkeley.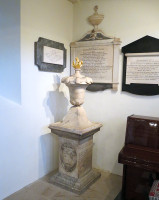 Corner with the Harvie monument.
18th Century Monuments
Alexander Pope, d.1717, and wife Edith, d.1733, erected by the poet to his parents [filius fecit – the son made it] 'and himself', with a short Latin inscription; he had said that the inscription to himself on that monument should be solely 'filius fecit, et sibi' [and friends]. Panel with wide border and a pediment, enclosing the initials 'D.O.M' (Deo optimo maximo, or 'To God, most good and greatest', originally referring to the Roman Jupiter, later Christian), and with a chimney-like pedestal on top which would once have borne a small pot or coat of arms or other device. The monument is known to be a minor work by the notable sculptor Francis Bird. The grand monument to Pope is noted below.
Hamon L'Estrange, d.1728, and wife Sarah, d.1746, with a completely open curved pediment above, and receding scrolled side pieces carved with Acanthus leaves, and a shelf below, in variably coloured marbles, characteristic of the time.
Nathaniel Pigott, d.1737, a barrister who was 'Possessed of the highest Character // By his Learning, Judgment, Experience, Integrity, // Deprived of the highest Stations // Only by his Conscience and Religion...' The earliest obelisk monument in the Church, the black obelisk accounting for around half the total height of the monument, and bearing upon it a carved cartouche with painted shield of arms. The base of the obelisk, and shelf underneath, are carved from a streaky dark and pale marble, and to the sides are two flaming urns, free-standing, in white marble. Below the shelf is the main panel, with double border, the outer curly side pieces and base being recessed and using different coloured marbles. At the base, two corbels at the sides, and a central apron carved in low relief with a wreath and flourishes. The separate pieces are all of fairly large size and blocky, giving a particular character to the monument, and this is a work by the important sculptor Peter Scheemakers. The inscription was written by Alexander Pope.

18th Century obelisk monuments: Nathaniel Pigott and Sir Chaloner Ogle.

Sir Chaloner Ogle, d.1750, Baronet and Admiral of the Fleet who defeated a notorious pirate called Roberts and took his three ships, with a long Latin inscription, erected by his wife Isabella. The panel forms the centrepiece of a rather magnificent construction, being the forward-set plinth for an upper shelf bearing a broken pillar with a small boy or cherub standing next to it, and behind which is an architectural trophy, which is to say a carved collection of weapons laid across each other and fanned out: here we have spears, a great cannon, axe, club, more spears with flags draped upon them, a full flagstaff, anchor, ram's head for a battering ram and a dimly seen peacock's head perhaps from an ecclesiastical sceptre, and a Greek Corinthian helmet - see picture at top of page (you will need to click to enlarge). The broken pillar is indicative that the deceased was the last of his male line. The cherub, rather gruesome, stands with one hand raised theatrically, the other holding a circlet which on close inspection is a snake biting its tail, here a symbol of eternity and rebirth, and has his legs crossed. He wears only a cloak, implausibly rising up at the front to spare his modesty. Behind the ensemble is a black panel cut as an obelisk. At the bottom of the monument, below the inscribed panel is a heavy shelf with light scrolling on the front, two solid scrolled supporting brackets – they do look solid enough to bear the weight of marble above, and an apron below bearing a cartouche with now nearly disappeared arms. This monument, of grandeur and solidity, is signed by John Michael Rysbrack, contemporary of Scheemakers noted above and also from an Antwerp descent, and dated 1751.
Pauncefote Green, d.1757, and wife Susanna, d.1771. An oval panel of speckled marble, with attached upon it a half-sculpture of a wide-bodied pot or urn, narrow of neck and foot, with the brief inscription written upon it. Below, a plinth, a shelf, and a cartouche of arms, painted. A refined, restrained composition.

Alexander Pope monument, by the sculptor Prince Hoare of Bath.

Alexander Pope, d.1761, the most famous character buried in the Church, noting that the monument was 'For one who would not be buried in Westminster Abbey', and with the lines by the poet that 'Heroes and Kings' your distance keep. // In peace let one poor Poet sleep; // Who never flatter'd folks like you: // Let Horace blush and Virgil too.' Needless to say, Pope designed the monument for himself. It is an obelisk monument, the obelisk being well over half the total height, and having upon it a roundel bearing a profile portrait of Pope, hanging form a ringlet - the engraving shows that this used to have a knot, and a carved wreath above. Beneath the obelisk is a shelf and then two panels, separated by a further shelf. The two small inscribed panels have wide borders of similar darkness to the obelisk, and the shelves, though a different marble, are also dark, so there is a unity to the whole rather than an appearance of a monument in two unequal halves: a nice compositional feature surprisingly unusual. The piece was commissioned by Pope's friend, William Warburton, and is the work of the sculptor Prince Hoare of Bath.
Jane Blicke, d.1793, with the short effective inscription 'Beloved Wife, exemplary Mother, excellent Woman. // Adieu: // Thy Virtues will receive Reward in HEAVEN.', and husband Sir Charles Blicke, d.1815. A broad oval panel, with upon it standing a high relief pot with a drape falling symmetrically from it, and completely round the sides of the panel; at the base, a carving of a rolled up kerchief with a shield of arms upon it, painted - see picture below left. The mason was John Bingley of London, one time partner of the sculptor J.C.F. Rossi. A later member of the family, Charles Blicke, has a panel noted below.
Ann Littledale, d.1794 (?), the question mark because the date is in Roman numerals, MDCCLXCIV, and the L and the last C seem incompatible – it could be the L is wrong, giving 1794 , or the C, giving 1764. 1794 looks more likely from the style, I would think. The surround to the panel is a stripy black and white marble, and aroud this is a Baroque frame with various parts of a segmented circle; the largest being a rounded pediment at the top with an Aladdin-style lamp carved in high relief within it, asymmetrically draped. At the base, two crossed branches in low relief.
Thomas Wildman MP, d.1795, erected by his wife, Sarah Wildman, d.1830, who has a panel attached at the base. It looks as if it came from the 20th Century: the inscription is within a semicircle, or almost semicircle, surrounded by a narrow rim, and this forms the front of a casket, with slightly waved undulations upon it, and a shallow pediment above without entablature; a painted shield of arms is within this, and directly below, a blank shield upon the rim of the semicircle - see picture below right. At the base, a sort of shelf with central low relief carving of a wreath with two fronds across it, and to the sides, two scrolly brackets; his wife's panel is plain except for two roundels. What to make of this? I would suppose it the reconstructed remnant of a decayed monument, with the casket and waves added in modern times, novel but not inappropriate. One of the original bits is signed by Moore & Smith of London; John Francis Moore was the better known of the partnership, and he also made monuments on his own account. The monument to Lady Margaret Wildman is noted below.
19th Century Monuments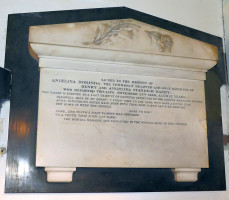 Angelina Barry monument, with broken flower.
20th Century Monuments
Henrietta Montgomrey, d.1905, plain panel of brownish tinged marble – apart from the colour, we might have expected some ornament given the date.
Major Gordon Stollard, d.1916, killed in France, shaped panel with inscribed line border, small regimental motif carved at the top under a protrusion, and a wide outer border of black marble.
James Bigwood, d.1919, MP for East Finsbury and later Brentford, and wife Marian, d.1909. A bronze panel in a by-then antiquated style, with Corinthian side pillars, rounded upper pediment, bearing a wreath with the dates of the couple's deaths, and blank lower panel and small apron between short pedestals and curly brackets: it would have looked in place 150 years previously in white marble.
Francis Walter Etherington, d.1933, churchwarden, a plain, speckled panel.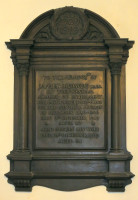 James Bigwood MP, d.1919.
Also in the Church
An ancient brass to Richard Burton, d.1443, Chief cook to the King, and wife Agnes.
Several modern brasses, notably to John Edward Meek, d.1884, inscribed with a crucifix beneath a portico with Ionic pillars, spandrels etc, and to individuals killed in action in World War I.
A solid, wooden chest, filled with Bibles, apparently 17th Century, with an impressive mechanism to lock it.
The Reredos, high and the full width of the Chancel, in wood, with two pairs of Corinthian pilasters to the sides, two arches in the centre, and much gilding. Early 18th Century according to those who study such things.
The Font, c.1714-15 according to the Royal Commission of Historic Monuments, pale stone, and gadrooned at top and bottom with octagonal curvaceous shaft between. A simpler version has been made in wood and stands in a corner.
A strange oil painting showing a seated girl holding two infants, rather over-sweet.
A collection of bells of the sort used to summon hired help, in Memoriam George Bradford, d.1963.
Several floor slabs, 18th Century, of which we may note that to the Countess of Drogheda, d.1735, with arms including an elegant dog and a heraldic sea-horse with curling tail.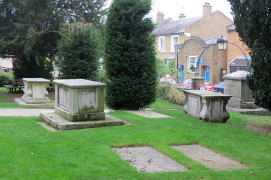 Tomb chests in the churchyard.
Outside, the Church stands in its own grassy churchyard. The monuments are mostly plain, but we can note one to Mary Beach, d.1725, the nurse of Alexander Pope, who erected the monument, and another to Thomas Twining, d.1741, and added later, his wife Margaretta, d.1751, erected by their children to the memory of 'a most Indulgent and Worthy Parent'. The piece has a Classical surround, open pediment, with supports to the sides bearing small carved hanging flowers. At the base is a central shield of arms in a cartouche. There are several tomb chests, neatly looked after, and among the various slabs now placed up against the walls of the enclosure, a few with minor carving in relief, e.g.a skull and crossbones as a memento mori, and one with a pair of winged cherub heads. Round towards the river side are the hexagonal base of perhaps a bird table or sundial, to Nora Aris, d.1960, without adornment, and a Churchyard Cross with Crucifixion, as a War Memorial.
With many thanks to the Church authorities for permission to show pictures of the monuments inside; their website is http://www.stmarytwick.org.uk/about-stmarys/history.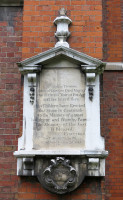 Thomas Twining, d.1741, exterior monument.
Also in Twickenham: York House Gardens statues // Radnor Gardens War Memorial
Nearby: Teddington Church monuments // Mortlake Church monuments // Kew Church monuments // Richmond Church monuments // Hampton Church monuments
Monuments in some London Churches // Churches in the City of London // Introduction to church monuments
Angel statues // Cherub sculpture
Visits to this page from 18 Jan 2015: 8,533