Pinner Church Monuments, Middlesex, West London
Pinner Church, St John the Baptist, contains only just over a dozen wall panel monuments, but these include a grand piece of the 17th Century, several 18th and 19th Century panels with minor carving, and a charming 1900s piece in Arts and Crafts style. An important sculptor, Robert Taylor, is represented by one piece, and there are two by a local stone mason, Tomlinson of Uxbridge.
But first a few words on the Church itself.
Church building
Pinner Church stands at the top of the ancient High Street, filled with picturesque houses of the 16th Century and later, its short tower conspicuous from the main road below. The Church was put up in 1321 as a chapel of ease to Harrow, becoming a parish in its own right only in 1766. From the 14th Century, the nave, chancel, and aisles and small transepts all survive – indeed, it has been suggested that the lancet windows at the end of the aisles, and those in the transepts are from an earlier church on the site. Tower and south porch are 15th Century, and the 19th Century saw the usual restorations, that of J.L. Pearson in 1880 being the most drastic, unfortunately leading to the replacement of the 1638 Chancel roof, and the nave roof, along with more desirable changes such as the addition of dormer windows and the enlargement of the South Chapel, which had been added in mid-Victorian times. The Revd. C.E. Greenside, Vicar at the time, felt the church was 'greatly changed for the better'.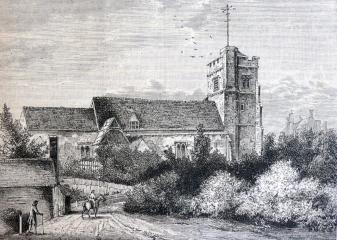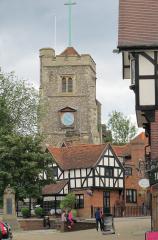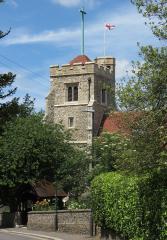 Pinner Parish Church, diffferent aspects.
As we see it today, the Church is small, with its low, square tower, all covered in flint and rubble, and buttressed far more than seems necessary given its modest dimensions. But very beautiful, and those buttresses give a sense of massiveness to that tower. The tower indeed does manage to look imposing from down the High Street, with three stages above the ancient door, and a balustrade at the top, and a newel tower in the corner – the tall cross, surprisingly, is a lead-encased survival of 1637, as recorded in the churchwardens' accounts as being celebrated with 'a diner and bread and beare'.
Inside, Pinner Church is intimate, the higher nave divided from the aisles by numerous octagonal pillars supporting pointed arches, the Victorian South Chapel being a notable feature. The monuments hang there, and on the walls of the aisles.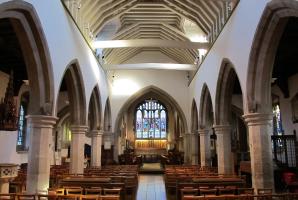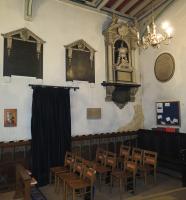 Pinner Church, interior views.
Monuments
John Day, d.1622, a dark early 17th Century piece, with an inscribed figure of a man in long robes holding an open book. The surround is a rounded arch with curvey outline, and something on top which is likely a once-painted heraldic arms, but I could not see it properly. The inscription is on a rectangular panel below. John Day was the minister of Pinner, and in the case of the line of his sister Martha Flacke failing, two thirds of his property was to endow 'the preaching minister of Pynnor'. However, Mrs Flacke had two daughters, and regardless of whether they had heirs, the lack of any record of the land that John Day bequeathed meant that Pinner Church could not in any case benefit from his will.
Christopher Clitherow, d.1685, 'ye son of Christopher Clitherow and Jane his Wife and Grandson of Sir Christopher Clitherow, Lord Mayor of London'. Jane Clitherow was born Jane Hawtrey, daughter of Ralph Hawtrey of Ruislip (see the page on Ruislip Church for more Hawtrey monuments). A grand monument, the panel being set in a tall Baroque structure with ornate carving. On top of the panel is a broken curved (swan necked) pediment, enclosing an acanthus leaf supporting the base of a large pot, bearing hanging festoons of bluebells. This pot, in white marble, stands within a black niche with a shell design domed top. To the sides, attached Ionic pillars support a curved pediment attached upon which is a large cartouche bearing the coat of arms in low relief. Seated upon the sides of this pediment are a pair of mourning cherubs, with disturbingly large heads, one holding a leafy branch, the other a handkerchief (if you like cherubs, see this page). At the base of the monument, the central portion is in black marble carved as a hanging, attached at sides and centre, with faint writing inscribed upon it, doubtless a later addition to the monument. It hangs between brackets carved with winged cherubic heads, and at the very base, a corbel carved as a skull and bones, rather damaged and rather ominous (for more cherub heads, see this page, and for skull sculpture, see this page). There is also a slab to Christopher Clitherow outside, bearing the date 1683, and another one inside the Church to Thomas Clitherow, d.1681, as well as one to John Hawtrey, d.1682 and his wife Jane, also d.1682.
Edmund Aubery, d.1748, wife Elizabeth, d.1723, daughter Martha, d.1738, and Martha Richardson, mother of Elizabeth Aubery, d.1725. Also second wife of Edmund Aubery, Rachel, d.1767. Black panel with a pediment on the top in white stone, supported by two long brackets, curly and striated, which serve duty as the upper parts of pilasters, each with simply carved hanging flowers. The pediment contains a coat of arms painted on a small cartouche. This piece is a minor work by Sir Robert Taylor, the eminent sculptor of the pediment to Mansion House in the City, and later an even more eminent architect. The signature is not easy to see - bottom right above the white support and so only viewable from a distance.
Ann Lightboun, d.1748, buried in St Sepulchre, London, erected by her friend Mrs Dickins. Pale, streaky marble panel with receding side pilasters, a solid pediment enclosing a nicely carved shell among leafy ornament, and beneath, an apron bearing a cartouche bearing a coat of arms in low relief, with a tiny eagle carved on top of it.
Rebecca Clarke, d.17?? much worn pale panel, nicely domed at the top with carved flowers round the upper edge and a central little ornament, perhaps an Acanthus leaf, rather battered. At the base, a short curvy apron bearing a cartouche, which once would have borne painted arms, with frondy foliage behind; to the sides of this are stylised low relief flowers, above short, plain brackets.

18th Century white panels: Lightboun, Budworth, Clarke and Holwell.

Richard Budworth, d.1791, of Lambs Conduit Street, and wife Susannah, d.1792, daughter of Philip Aldwin of Pinner Marsh. Marble oval with thin inset border of dark marble.
Elizabeth Holwell, d.1794, panel with streaky marble surround, set in larger stone panel with curved sides, upper and lower shelf, and at the top a rounded pediment bearing a low relief of a draped pot, with two acroterial roundels bearing flowers, and at the base, a curved apron bearing a winged cherub head, again in low relief. An unusual and distinctive design. We may note irrelevently that Elizabeth Holwell's husband, John Zepaniah Holwell, was a survivor of the Black Hole of Calcutta.
Henry J Pye, 1813, MP for Berkshire and Poet Laureate from 1790, and wife Martha Pye, d.1861, having survived him by 48 years. Panel with side pilasters, broken pediment containing coat of arms, and jelly-mould apron, all simple and without detail. On a black panel. Signed by Tomlinson of Uxbridge, a local stonemason.

Tomlinson of Uxbridge - panel to Henry Pye, d.1815.

Mary Aubery, d.1813, again signed by Tomlinson of Uxbridge, made in the same style as that to Edmund Aubery, ancestor of her husband, the Revd. Edward Aubery, Rector of West Camel, Somerset.
Ralph Carr, d.1837, wife Caroline, d.1823, sons Henry Dick Carr, d.1825, Lieutenant in the 44th Regiment who died in the Burmese War, Francis Carr, d.1833, Lieutenant in the 66th Regiment, and Ralph Carr, d.1855, and a daughter, Annabella Carr, d.1822. With a carved pot on top, asymmetrically draped, with the drapes running along the upper shelf and part way down the sides of the main panel. At the base, two brackets bearing stylised flowers, and a plain apron; all on a shaped black backing.
Daniel Willshen Soames, d.1882, of Pinner Lodge, and wife Marian Jane, d.1878, of Pinner Wood, both buried in Great Stanmore. A stone panel cut as a Gothic trefoil window, enclosing in the upper portion a coat of arms with a hawk seated on top, the whole on a streaky marble panel. Crisp.
William Arthur Tooke, d.1881, of Pinner Hill, who paid for the restoration of the Church in 1879 (which commenced the following year), and a separate panel to his wife, Mary Agnes Tooke, d.1891. These in a frequently found style of brass panel of the period, with the cut letters filled with black, the initial capitals in red, and a repeating border of red and black simple leaf designs, with crucifixes in circles at the corners. A fountain was erected in memory of William Tooke in Pinner – see bottom of page.

Edward Apps, d.1900, Arts and Crafts panel with mosaic.

Edward Russell Apps, d.1900 in the Boer War, with the inscription noting he was in the Imperial Yeomanry and died at Bamboo Creek, and was previously a clerk in the banking house of Messrs. Glyn Mills & Co, London. In arts and crafts style, with a mosaic border in characteristic blue-green and gold on a plain panel.
Charles Algernon Seaton, d.1900, a Solicitor of Pinner who joined the British South Africa Police but died of fever at Seln River, Matabeleland. Plain with an inscribed border, but in nice black letter text.
Plain brass panels to Revd. Claude E. A. Rowland, d.1932, and Revd. Charles Edward Grenside, d.1933, both vicars or Pinner. Above them, a survival of some ancient monument, being a coat of arms with the usual knight's head and generous scrolly feathering, on a cartouche. Presumably 17th Century.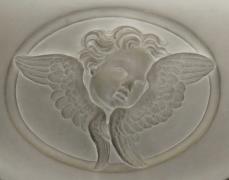 Also in Pinner Church
Outside the Church
Above the South Porch door is a niche containing a small coloured statue of St John the Baptist, presumably late 19th Century - see picture at top of page.
The Churchyard contains a few monuments. Already mentioned is the slab to Christopher Clitherow, 1683, and there used to be one to Sir Bartholomew Shower of Pinner Hill, d.1701, but it seems to have disappeared. However the pre-eminent monument in Pinner Churchyard is a massive pointed one made of masonry, with a stone coffin plunged through it, and a semicircular arch below with an iron grate. This is the monument to the parents of John Claudius Loudon, d.1809 (father, John Loudon) and 1841 (mother, Agnes Loudon). The story, which has been roundly dismissed but is too good not to repeat, is that the parents inherited the use of a fortune so long as they remained above ground, and that the son built this unusual memorial so as to keep their inheritance when they died. Regardless, a splendid thing.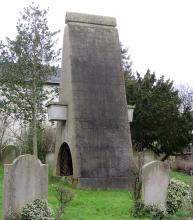 Loudon monument with coffin held aloft.
The visitor may choose to search for the tombstones of William Skenelsby, d.1775, Ann Winfield, d.1851, and Betty Evans, d.1853, all of whom passed their 100th birthdays. We might also mention the headstone to William Brinkley, d.1759, 'Late Citizen and Tobacconist of London' and his wife Sarah Brinkley, as a typical example of a tombstone with low relief carving of a winged cherub head in front of a sunburst, with minor floral decoration.
Also in Pinner
Following the road up to the left of Pinner Church leads to an open area in which is the fountain to William Arthur Tooke (whose monument we noted above), erected in 1886, a typical, modest Victorian Gothic creation of coloured granite.
The old High Street to which the Church provides the backdrop is well preserved, with, as one gazetteer put it, 'as good a selection of old buildings of modest size as can be found together in Middlesex'. Lots of Tudor black and white, treated a little bit sniffily by Pevsner, the architectural historian, on the grounds of the various renovations, but a satisfying ensemble - see picture at top of page. There is a small War Memorial: a beige stone plinth on steps with carved wreaths at the top and panels listing the fallen around the sides.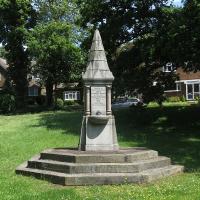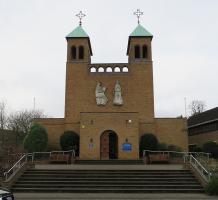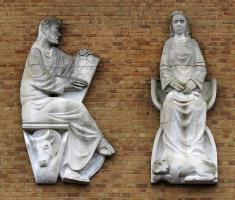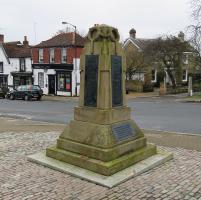 Tooke fountain, St Luke's Pinner and David John sculpture, and Pinner war memorial.
The rest of Pinner is mostly 1930s suburbia, with isolated older survivals and a few things Victorian. However, parallel to the little High Street is Love Lane, where of relevance to these pages with their sculptural interest is the figure sculpture on the front of St Luke's Church, Pinner (RC). The building itself is a rather splendid thing of the 1950s, by the ecclesiastical architect Francis Xavier Velarde (who also designed a church at Borehamwood among others). St Luke became the patron saint of artists, based on his work as an icon painter, and in particular on an icon he painted after the Virgin Mary: the sculptural grouping in Pinner shows this popular scene of St Luke painting the Virgin. She is here seated on an elegant chair, in a fairly symmetrical pose looking straight forward, her hands in her lap with some small letter or lettered cushion, a plump dog at her feet. St Luke is seated to the left as we look at the church, holding his large icon on which an outline profile can be seen. Under his stool can be seen a bull's head with a halo, traditional symbol of St Luke (though normally the bull is winged). The artist was the ecclesiastical sculptor David John, who has other work inside the church, and the group dates from when the church was erected, in 1957. Interesting to see sculptural work of the 1950s.
With many thanks to the Revd. Paul Hullyer for kind permission to show pictures of the monuments inside the Church; their website is http://www.pinnerparishchurch.org.uk/33.php.
Nearby in Middlesex: South West to Ruislip Church // and thence to Ickenham Church //South-East to Harrow Church // Sculpture on the Uxbridge Line
Monuments in some London Churches // Churches in the City of London // Introduction to church monuments
Angel statues // Cherub sculpture
Visits to this page from 25 Feb 2017: 5,736