St John the Evangelist Church, Holloway Rd, North London - Monuments
The Church of St John the Evangelist, Archway, stands near the top end of Holloway Road, a great Victorian artery of north London, next to Upper Holloway Station on the Overground. It is notable for its distinctive stepped, almost rocketlike shape from the front, aisle roofs rising to a tall nave, with the roofs of that flanking a tall central tower, symmetrical and with the visual impact increased by tall crocketed spires and buttresses. All in greyish, much soot-darkened brick, with window frames and details in a warm sandstone and a pale limestone. The architect was no less than the eminent Charles Barry, who designed the Houses of Parliament together with Pugin. He built this church, really quite an early work (1826-8) as one of three in Islington borough as 'Waterloo churches', and later built a fourth in the area. Apparently much later on and considerably more eminent, Barry turned his nose up at his early Islington churches: 'he carefully destroyed every drawing relating to them, and would have still more gladly destroyed the originals'.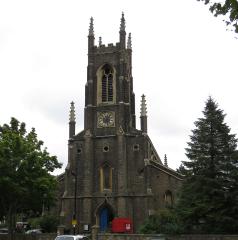 St John the Evangelist, Holloway Road, Archway, by Charles Barry, 1820s.
Inside, the immediate impression is the height of that tall nave, with its blue-painted panelled ceiling above a clerestory, with tall arches to each side and galleries. The few monuments, 10 in all, are of the panel type, attached to the walls of the aisles, with just one at gallery level. They are mostly not signed by the sculptor-masons, or at least I did not notice the signatures. The Church was only ready in 1828, past the better period of monument making, and there was no previous church from which old monuments were transported to the new, yet this small collection manages to include examples of a range of types of the period, from the first panel in 1835 through to the last in 1902. The two best panels with figure sculpture, by the notable sculptor R.W. Sievier, are stuck away behind a little curtained off vestry where they cannot be appreciated from a proper distance, but so it is. We start with this pair and then take the rest in date order.
R.W. Sievier monuments to two daughters of Nicholas Sykes:
Anne Sykes, d.1835, fifth daughter of Nicholas Sykes of Swanland, Yorkshire one of the two figure pieces. Her statue shows her as a Medieval religious figure, cowled and wearing a long dress, caught high above the waist, and her hood depends to form a cloak covering her arms and enveloping the side of her figure. She is barefoot. Crooked in one arm is a tall cross, and her other hand gestures towards a lamb (Lamb of God) at her feet. To the sides of this carved panel are flat panels with repeating low relief patterning of stylised leaves. At the top, with no intervening entablature, rests a pediment bearing a wreath and with acroteria. A bit more carving on the supporting brackets, and the whole is on a shaped black backing. By R.W. Sievier - see note below.
Martha (Sykes) Venn, d.1840, the second piece with figure sculpture. She was the fourth daughter of Nicholas Sykes noted above, and wife of the Vicar of the Church, the Revd. Henry Venn. We see Martha Venn as a mother, standing with babe in her arm snuggled against her breast, a second naked infant, rather older, clutching at her skirts, and the eldest boy holding her hand. Unlike her sister, she wears Greek costume, assuredly rendered, gently emphasising the curves of the figure, and with a nice understated sway to the hip and thigh. Her face too is quite Greek, with the nose a continuation of the forehead and a heaviness to chin and neck, though the hair is not so Classical and her small mouth could never be Grecian. But her children are firmly of the first half of the 19th Century, most especially the eldest with his pug face, overly plump cheeks and double chin. But a most successful, harmonious composition, a tall triangle rooted solidly at the base. Behind, we see a cross carved in low relief, with ribbons fluttering from it, and at the base, a hint of background flora. The surround and backing are as for her sister. Together, these figures are a credit to any church, and both the composition of the figures and some of the detail, such as the beautiful hands, are excellent. This panel and the one just described show the skill of the sculptor, Robert W. Sievier, who was a notable monument maker of his time - see this page.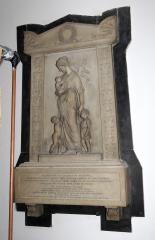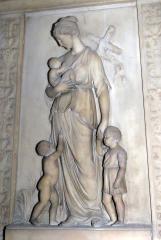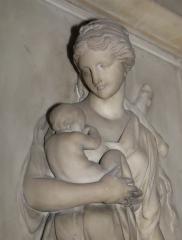 R.W. Siever: monument to Martha Venn, d.1840.
Rest of the monuments:
Revd. William Marshall, first Vicar of St John's Archway.

Revd. William Marshall, d.1834, first incumbent minister of St John the Evangelist, and fittingly, of some distinction as a monument. It is a white-on-black panel, the most common type of this period, styled as a tomb chest end, thus with the central panel with upper and lower shelf, side pieces, and a lid or roof like a small pediment with acroteria ('ears') to the sides, and blocky feet below. But the whole is embellished with relief carving: a crown with flowered tines and a ribbon on the pediment, anemone carving on the acroteria, various stylised floral designs along the broad base, and most interesting, a snake on each side, coiled in a figure of eight and biting its tail, a rather pagan reference to the eternity of the soul. The snake as a symbol of wisdom is not uncommon (see the snakes page), but these writhing shapes certainly are, and most welcome. There is a thin black backing and surround, made of a number of shaped pieces, but no signature that I noticed.
William Henry Hargrave, d.1836, of Holloway, and his wife Margaret Griffiths, d.1850, the short inscription noting that they were buried in the family vault at St Mary's Church, Twickenham. The panel is cut as a casket end, thus with outward-slanting sides, upper and lower shelf, and little feet, with in this case a blank apron in between. At the top, a rounded upper 'lid', reflecting the apron, and with acroteria at the sides, carved with anthemions. On a black shaped backing. The apron and lid are rather too round and blobby to make this a satisfying piece.
Frances Lambert Budd, d.1836, husband Richard Budd, d.1844, and their youngest daughter Caroline Ann Budd, d.1847. Another casket end, white on black, with the casket supporting a delicate carving of a dying tree (symbolic of death of course) in a Classical pot. The casket's feet are lion feet, and stand on a separate shelf, which is a popular convention for casket end panels. On a shaped black backing, cut to a broad obelisk above to allow for the pot. Crisply carved, and a fair example of a more ornamental white on black panel.
James Hunter, d.1837, and his wife Rebecca, d.1829. The only panel at gallery height, it is another white on black panel, here carved into an elegant shield shape, on a shaped backing, rising to an elongated curve at the top to allow for a knight's helm and some disappeared accoutrement. Shield monuments are astonishingly unusual, and I have seen only a handful in the various churches I have visited around England – I am not sure why, unless it be that it was thought aesthetically unsound to have a monument, with its implications of permanence and solidity and well-groundedness, as a shape balanced on one point. Anyway, here it is, rather a rare beast.

Typical mid-Victorian tablet: Susanna Edmonstone.

Susanna Mary D'Oyley Edmonstone, d.1852, wife of the Vicar of the Church, and two of their daughters, Mary Douglas Edmonstone, d.1865, and Amy Louisa Edmonstone, d.1865 – the monument is clearly from this latter date. A typical mid-Victorian construction, of what we might call a slightly Gothicised Classical type: there are side pillars with grey marble shafts, supporting a pediment with acroteria and a carved central motif of a wreath of leaves and two trailing tendrils, and a blocky base below with block supports. So far so Classical, but the pillars are wilfully thin, and the acroteria narrow and pointed, a complete departure from the Classical ideal towards the Victorian Gothic. On a shaped black backing. A successful composition.
An apparently brass panel, quite high up, which I could not make out in the gloom, but seems to be one of the typical brass revival pieces of the 1890s-1910s or thereabouts, with black letter script, the main initials and numbers in red, and, and an inscribed line border serving as a minimal frame.
Henry Hammond Tuppen, d.1900, of the City of London Imperial Volunteers, who died in the Boer War at Kroonstad. A fine example of one of the metal panels erected at the expense of the Regimental Fund and the Rt Hon. Alfred Newton, Baronet, and Lord Mayor. Such panels are found dotted around the City and more widely, to a standard pattern – for example there is an identical one in St Leonard's Shoreditch. Thus there is a frame with motto above, pilasters to the sides, something of a curved pediment, if so we can call it, and the coats of arms of the regiment (below) and the City of London (above), the latter with its spiky-winged pair of dragons, most satisfying. F. Wheeler was the sculptor.
Thomas Henry Bowness, d.1902, Churchwarden, erected by the parishioners and congregation of the Church. An excellent panel of the Arts and Crafts period, in the favoured pink-and-brown alabaster which revived a material from the 17th Century. The central inscribed panel is within a broad frame, with side pilasters, square and with Gothic blind windows, rising to carved leafy corbels. Along the top edge is a balustrade with quatrefoils and a central raised portion, a spiky roof with a shield carved within it, surrounded by leafy branches. At the base are two small corbels below the pillars, and in between, a frieze of leaves carved in low relief in a decorative arrangement.
Also in the Church:
[With many thanks to the Church authorities for permission to show pictures of the monuments inside; their website is https://www.london.anglican.org/directory/st-john-the-evangelist-upper-holloway/.
All the way south down Holloway Road are the statues of Islington, while going the other way to the north and west along Archway Road and then Falloden Way takes us to the Statue of La Delivrance at Henly's Corner.
Monuments in some London Churches // Churches in the City of London // Introduction to church monuments
Angel statues // Cherub sculpture
Visits to this page from 1 February 2018: 4,124