St Leonard Shoreditch, and its sculptural interest
A grand East End church by the important architect George Dance the Elder. It dates from 1736-40, thus a little earlier than Dance's City church of St Botolph Aldgate. The writer on churches, Bumpas, found it 'Externally an uninteresting pile of brick, redeemed, however, by its… Doric portico and its steeple'. The portico is indeed noble, and features on 19th Century woodcuts of the church. The steeple is tall, rising in stages of decreasing diameter, first square in cross section, then round, with many pillars, all this increasing the sense of height. Inside, the church lives up to the lofty and grand exterior, though it is rather crumbling. The monuments consist of a series of about 25 panels, not particularly significant from a sculptural point of view, bar one, but forming a nice sequence from the mid-17th Century through to the mid-20th Century, with examples fairly well spaced through the period.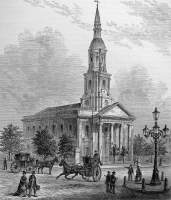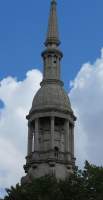 St Leonard's Church, and the tall steeple.
17th Century monuments
18th Century monuments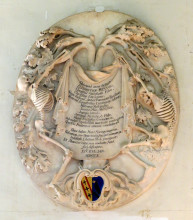 The macabre monument of Elizabeth Benson, d.1710, by Francis Bird.
19th Century monuments
20th Century monuments
There is also a WW1 memorial, an austere panel with serpentine or serpentine-like border.
We may also note the font, cleanly cut, in streaky marble, with a carved cover, and which I would think is contemporary with the church. The clock has an elegant gilt surround with flourishes, bunches of grapes, corn, garlands and an eagle , presumably in wood (see top of page for both of these). To one side is a large bell and its mechanism, most interesting. And a wheeled stocks. Above, some notes from the Society of Royal Cumberland Youths' bellringing activities, and a small memorial to their losses in WW1.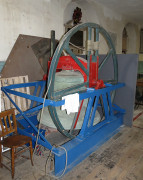 St Leonard's bell mechanism, and ornate clock.
At the altar end, two niches high up hold statues of two females, painted, rather Catholic and not obviously British in origin, and below these niches are paintings of St Leonard, and perhaps Moses, both in arches, accompanied by a pair of angels, with other figures in the lower foreground, in an illustrative manner presumably from the 1900s, somewhat of the Maurice Greiffenhagen school - see pictures at top of page.
With many thanks to the Revd Paul Turp, Vicar of St Leonard's Shoreditch, for permission to show pictures of the monuments inside; the Church website is http://www.shoreditchchurch.org.uk/#!building/cr2d.
Outside St Leonards Shoreditch
Outside St Leonard's Shoreditch, a few interesting Victorian buildings survive in a range opposite. The principal one of these is Wells and Company Commercial Iron Works, a symmetrical structure with two principle halls, indicated by the double storey arches at the front, with upper roms with five Gothic windows apiece, surmounted by low pitched roofs. To left and right are stubby towers with further Gothic-topped windows. The Company name stretches across the front, in mosaic, alas with only the typography and a couple of small stylised flowers as ornament (if you like mosaics, see this page). Above the Gothic windows, which have polished granite shafts, the spandrels have nice tilework, geometric shapes of red and purple and black in an opus sectile style, giving a sense of richness to the surface. The side towers bear six further ornamental tilework panels, showing six pointed stars in circles.
The adjacent building up to an around the corner is a vaguely Queen Anneish block, enriched by a number of corbels under the balconies showing heads among ornamental scrolls and leaves; similar things are at the pillar tops. Heavily painted, they are of no great pretention but at least some variety. Carrying on round the corner, and walking under the overpass, leads us immediately to Shoreditch Town Hall.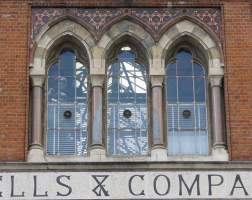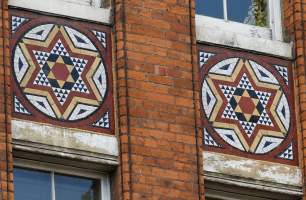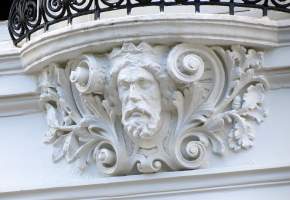 Details of Wells and Co factory, corbel from corner block.
George Dance the Elder // St Botolph Aldgate
Monuments in some London Churches // Churches in the City of London // Introduction to church monuments
Angel statues // Cherub sculpture
Visits to this page from 13 Mar 2014: 20 since 26 May 2023