Monuments in St Martin's Church, West Drayton, Hillingdon, West London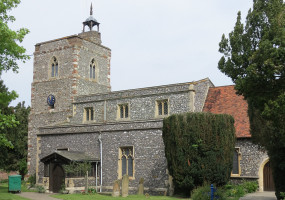 West Drayton Parish Church.
The parish church of St Martin, West Drayton, somewhat south of Uxbridge, largely dates from the 15th Century, with a sympathetic restoration of the exterior in the 1850s. It is long, low, and Medieval in aspect, made of flint with stone at the corners and old brick at the edges of the short, square tower. This bears a small cupola to one side, which juts up above the trees.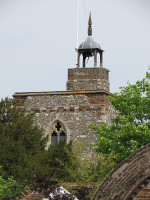 The cupola.
Inside, the Church is long and slender, tall for its width though none of the dimensions are large, giving an atmospheric, medieval feel; in fact, like the tower, much of the interior is 15th Century, notably the chancel arch and arcades to the Nave (and the wooden roof) and part of the aisles. In the chancel is a double bay piscina, which apparently predates everything else in the Church and dates from the 13th Century.
The evocative interior.
The monuments which we have come to see consist of a mix of tablets on the walls from the 1600s onwards, about 20 in all, including a few with interesting sculpture. The Lords of the Manor were the De Burgh family, and there are several monuments to them in the Church. They started with Fysh De Burgh, who was born Fysh Coppinger, a wealthy merchant of London, but took his wife's name on purchasing the manor from Henry Paget, Earl of Uxbridge, in 1786. In looking at the monuments, we start with the De Burgh family, then the Arabins, then the rest in date order.
De Burgh Family:
Fysh de Burgh, d.1800, by Bacon the Elder.

Fysh De Burgh, d.1800, previously Fysh Coppinger, 'Impropriator of this Parish and Lord of the Manors of West Drayton and Colbarn. A lengthy inscription gives his pedigree from Hubert De Burgh, Earl of Kent and noted his children by his wife Easter, below, including the Fysh De Burgh noted below who died in 1793 in his mid-20s. It is an obelisk monument, the obelisk occupying the upper 3/5th of the space, the panel the lower part, with a shelf between. The panel has side pieces descending most but not all of the way down, thus not pilasters, carved with flowers and foliage and terminated with small corbels. The obelisk above has a small flaming lamp on top, a coat of arms, and a carving of a kneeling girl holding a pot on her raised knee. The viewer has to gaze at her for a few moments before the pose becomes apparent: head and arms and legs in profile, but with her back towards us. She is in Grecian costume, with outer cloak, sleeves tied up just above the elbow, and long drapes below. The sculptor was the eminent and excellent John Bacon the Elder.
Fysh De Burgh, d.1793, with Latin inscription. A splendid obelisk monument in white and grey veined marble. The proportions are not usual for this type of monument. At the base, the inscription is on a panel with rounded bottom edge, under and within an entablature – if so we can call it – which also acts as the base of a shelf. It features low relief carving of a rapier covered with drapery, a ribbon and leaves, and to the side, two smaller panels bearing leafy plants in low relief. Above the shelf, a funereal pot stands upon a large base with a high relief panel of a seated girl. The pot is in low relief with on each side of a central coat of arms a delicate festoon of flowers stretching up through the ring-like handles, and repeating decoration. The sculpture of the girl, finely carved, is seated cross-legged on some rock or stool enveloped in drapery, and gazes towards an Aladdin-style lamp held before her in one hand, from which billows of smoke can be seen. In her other hand, by her side, she holds a long, leafy branch. She is young, elegant, Classical in face and hair and the diaphanous drapes which garb her. The monument is again by John Bacon the Elder, and demonstrates the delicacy and charm of his work on the smaller scale.

Bacon Jr's Catherine de Burgh monument.

Catherine De Burgh, d.1809. Another figural monument, based on a standing female figure within a Romanesque arch resting on blocky pilasters, the inscription being on a panel below this. To the sides and base are a shaped apron in dark, fossiliferous stone, with one half of a piece of drapery and a cluster of carved flowers which would have formed a small festoon on top of it. On top of the arch, a small pot in relief, with nicely carved informal bunches of flowers upon and next to it. There is a shaped backing around the upper portion of the monument of the same fossil stone as below. The standing girl has one arm raised in a beseeching gesture towards the sky, towards which her gaze is directed, and in her other hand holds a tall crucifix with an open book at the base. She is classically draped, revealing rather than concealing her figure, which stands in an understated contrapuncto pose. This work is by the younger Bacon, and makes an interesting comparison with his father's works noted above.
Easter De Burgh, d.1823, wife of Fysh De Burgh, erected by her grandson, Hubert De Burgh. Panel with a scrolled pediment above, with several carved glowers in a harmonious design, and at the base a small apron with high relief crossed branches of oak and olive, suggestive of strength and peace. On the usual black backing. It is signed by Mullane, New Road, London – many firms of monument makers were on the New Road.
Children of Hubert and Marianne De Burgh, to 1838, severe Classical panel with side pilasters, upper pediment, thick lower shelf and two brackets, on a black backing. The only carving is of the acroteria at the top, two stylised flowers, and the brackets.
Augustus George Frederick De Burgh, d.1864, with a relief portrait in low relief. He is shown as a young man, for he died young, with Roman cropped hair and the broad neck of an athlete. A crucifix stands on top of this, and the grey backing is cut into a short obelisk. The sculptor was George Gammon Adams, a significant sculptor of public monuments, including the Wellington statue for Norwich.
Arabin Family:
Other monuments, in date order:
Sir George Carey, late Baron of Hunsdon, d.1603, whose impressive array of titles included Lord Chamberlain to the King, member of the Privy Council, Lieutenant of the Country of South Hampton, Captain of the Isle of White, and Knight of the Garter. The panel notes his legacies to the poor, in West Drayton and the other places where he lived. A panel with closely spaced capital letter text, right up to the edges of the panel, which is not uncommon for the time. The only ornament is a coat of arms in a roundel at the top, and beneath, a small, low corbel in alabaster carvel with a skull and crossbones. Given the prominence of the man, it seems not unlikely this was once part of a larger monument, of which only the inscription panel and these two ornaments survives.

Baron Carey, d.1603.

Rupert Billingsley, d.1725, Captain of the Royal George, and son Rupert, d.1718, and his wife Mary, d.1727. Tall panel with receding side pilasters, upper and lower shelf, and on top a coat of arms on a carved architectural trophy of crossed flags, scrolls, anchor, sextant etc, to the sides of which are two small urns. A the base, between Acanthus leaves, is a delicate low relief carving of his ship, three masted, with many gun ports, and flags streaming in the wind. A good thing. See another Billingsley monument below.
James Eckersall, d.1753, wife Catherine, d.1712, and second wife Jane, d.1729. He was 'Clerk of the Kitchin to their Majesties Queen Anne and King George the First, And Chief Clerk of the Kitchin to His Majesty King George the Second.' Another variation of the obelisk monument, this time with the obelisk cut from the grey marble backing and occupying just about half of the height of the monument. It has upon it a painted shield of arms, and to the sides are two flaming pots. A shelf is at just below the half way point, and the inscription is below this on white marble, with scrolly sides (sometimes called lyres) carved with leaves, another shelf, and an apron carved with a small festoon of flowers etc.

Elegant cartouche to Rupert Billingsley, d.1759.

Rupert Billingsley, d.1759, son of the Rupert Billingsley noted above, and Jane Eckersall, d.1729, his aunt - thus we have two monuments commemorating this same lady in the Church. A cartouche, the oval central panel being surrounded by knotted drapery, with a mini-cartouche with painted coat of arms at the top, and a sheep seated upon it, also painted, and at the base, a winged cherubic head, most mournful, stares out from between the folds. Well proportioned and skilfully carved.
Catherine Eckersall, d.1772, wife of James Eckersall – this would be the son of the one whose monument is noted above, and again a Clerk to the 'Kitchin' to Queen Anne – and her son James Eckersall, who died an infant. An oval panel, with frondy branches all the way round the sides, not quite a cartouche. At the top, a scrolly shield of arms, very small, and a finial, and at the base, a single supporting winged cherubic head, with finely carved feathers, presumably indicative of the winged soul of her infant offspring.
Matthew Batt, d.1800, wife Ann, d.1844, and many descendants through to 1877. On a tall panel with chunky pediment with a wreath and ribbon in high relief, and equally solid base below with feet carved with leaves. All on a black backing.
Ann Atkins, d.1830, with a short poem. As a tomb chest end, with diagonal receding edges, upper pediment, lower minimalist feet, and no ornament. In a shaped backing with two supporting brackets.

Keymer monument, by the local mason Burgiss of Uxbridge.

John Keymer, d.1850, the panel with upper shelf, receding sides rather than pilasters, with blank panels within them, little legs, and on top, a draped pot, the drapery lying in nice knotted piles on either side. There is a curved-edge black backing, and the work is signed by the local mason, E. Burgiss of Uxbridge, whose work may be found in various churches in the area.
Florence Baker, d.1860, a young child. Plain rectangle with a small cross on top, on a shaped backing.
Stewart Nicholas Cason, d.1983, plain panel, with lightly engraved shield and some roundel emblem.
Archibald Henry Cox, d.1995, a plain panel with nipped edges on a rectangular backing
Julie Ann Knight, d.1995, similar to the Cox monument.
Brasses:
There are several brasses, of which we note the following:
Brass to Margaret, wife of Thomas Burnell, d.1529, a great stone slab in the floor with inset in to it the inscription, and on a separate brass a standing figure of the deceased, veiled and praying and holding what might be a censor. She has the simplest of drapery giving no hint of shape to the body underneath, and stands upon a cushion. In the top corners, two shields, one with arms, the other with a crowned head, the face scratched out, but hair, crown, and necklace left intact. Below the inscription, two smaller brasses, one showing a single praying figure, a miniature of the main one, the other, a pair of similar figures, male, robed and praying too. Finally, at the base, two coats of arms, one with a running dog.
A panel to John Burnell, d.1551, in a difficult to read black letter, as a brass panel with border, and beneath, a basal shelf with repeating stylised leaf patterns. At the top, a similar upper border, acting as base to a round pediment with concentric patterning, and two acroteria, looking to be stylised bunches of grapes among leaves, a frequent enough symbol in early marble monuments. The whole brass panel is set in a Romanesque stone arch, with small trefoil spandrels.
The Rt Hon Mary, Countess of Uxbridge, d.173…, on a not particularly old looking but worn rectangular panel, entirely without ornament, under a much older looking coat of arms with supporting hogs with powerful teeth, and a coronet above.
And two modern ones:
James Vivian Sargent, d.1917 in Calcutta, and buried in Sibpur College grounds. In the style made popular in the later 19th Century, being a panel with black lettering, some of the capitals and the dates in red, with an inscribed line border, and a little crucifix.
An undated panel to Edward Henry Rickards and wife Esther Rickards, and their daughter Luana Catherine, in similar style on a long, horizontal panel, with a more decorative border with leave, circles and crosses. Likely of earlier date than the Sargent memorial.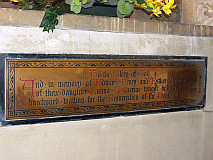 Rickards monument, typical 1900s brass with red capitals.
Also in the Church
There are various other items in the Church of interest. Most relevant here for is sculpture is the font, with eight small panels showing scenes of the Life of Christ etc, worn and somewhat restored by the look of it. Each panel contains no more than two or three figures, filling the space in a woodcut style. Angels are carved under these towards the centre, and the whole is seated on shaft of pierced stone of paler colour, Gothic in style, with blunted and ruined gargoyle figures at the base. The font dates from the 15th Century.
We may also note a great chest, apparently 16th or 17th Century, and a curious Eagle lectern of brass, looking rather ancient.
More recent is a pair of Burne-Jones windows to Daniel Mercer and his wife Martha, late 1870s. Unusually, the figures have a pale backing, perhaps to increase the entry of light, but the figures themselves are complex in their drapery, deep in colour, fair in face.
With many thanks to the Church authorities for permission to show pictures of the monuments inside; their website is http://www.stmartinwestdrayton.org.uk/.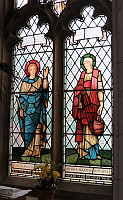 Burne-Jones stained glass window.
Also in West Drayton
Just outside the churchyard is the Gatehouse, the surviving remnant to the destroyed Manor House where the De Burghs lived. It is a red brick structure two storeys height- taller previously – and is early 16th Century, though the windows are relatively recent. The impression is of massiveness and Tudor strength, despite the relatively small size.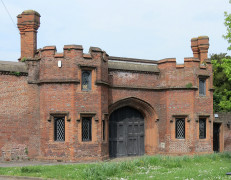 A short walk from West Drayton is Yiewsley, where in front of the church of St Matthew on the high street stands a small war memorial, to World War I, but with an added inscription at the base to World War II. It consists of a traditional churchyard cross, raised on steps, with a plinth, square column and summit cross, all in a fine white limestone. Carved on the front are a wreath and a downward-pointing sword. Walking southwards, a 20 minute walk leads us to another interesting church, that of St Mary the Virgin, Harmondsworth.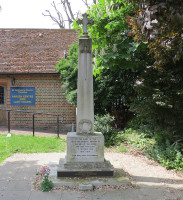 War Memorial at Yiewsley.
Hillingdon Church, with Earl of Uxbridge monuments // Ruislip Church, also in Hillingdon // St Mary the Virgin, Harmondsworth // Harlington Parish Church
Burgiss of Uxbridge, stonemasons // Sculpture on the Uxbridge Line
Monuments in some London Churches // Churches in the City of London // Introduction to church monuments
Angel statues // Cherub sculpture
Visits to this page from 27 May 2014: 7,932