Bilston, north of Birmingham, and its sculptural interest
The main artistic interest in the Church of St Leonard's, and in the museum. We start with the Church.
Bilston Church
St Leonard's Bilston is a white painted Classical building dating from 1826, the chief external feature of which is the clock tower, which dates from the previous church on the site and was put up in the 1730s. It is square in cross section but with the corners truncated to give an almost octagonal look, a clock on each face, and above, a balustrade with small pots behind which is a pretty dome with summit weathervane of wrought iron. Inside, there is a coffee shop separated from the main body of the Church by glass. The Classical interior has galleries all round, and a barrel ceiling, nicely panelled and painted. There are several panel monuments which we consider here, starting with the most significant sculpturally, that to Sarah Willim, which incorporates a fine sculpture of a standing figure:
Sarah Willim, d.1834, erected by her husband, John Willim, d.1837 and also commemorated with text presumably added later, which also notes other members of the family. The inscription is on panel forming the side of a casket, with little feet, one of which is missing, and topped with a thick shelf on which stands the slender female figure, leaning against the side of a tall tomb, on which is a short exhortation to the reader to live as virtuous life as Sarah Willim. The figure is really rather excellent. She is young, with smoothly rounded features, long neck and slender limbs. Her hair, long and ringletted and piled up at the back of her head, is constrained by a thin scarf, and for the rest, she wears a Classical robe, with delicate folds emphasising the supple figure and long legs underneath. She stands leaning on the tomb behind, her head slightly in front of one raised shoulder, that arm resting on the lid of the tomb, with a heavier fold of drape over it. Her other arm is bare, and her hand holds a small basket filled with flowers, sparingly but carefully carved in relief. One sandalled foot protrudes from under the hem of the long drape. All of this in white marble, with a black backing, which is signed by E. Gaffin of Regent Street, London. The Gaffin family of masons were hugely prolific, but their output tended to be extremely simple, and this work by Edward Gaffin is a much more ambitious and sculptural monument than we normally find by that firm.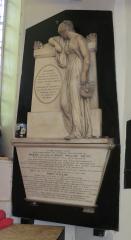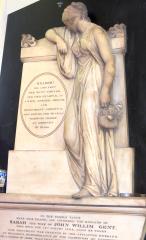 Sarah Willim, d.1834, by Gaffin of Regent Street.
Other monuments:
... Bickley, d.1776, and wife Katharine, d.1814, and infant daughter Margaret, d.1762. As a casket tomb end, with upper shelf, triangular acroteria (ears) flanking the lid, and shaped feet, on a black backing.
Mary Percival, d.1805, and husband Joseph Percival, d.1829, erected by their daughters. An interesting tablet which is probably best classed as a form of obelisk monument, a form which was popular 50 years earlier, and was occasionally revived, with variations, right up into Victorian times. Here, the inscribed panel has nipped corners at the top, a shelf above, on which rests a finely carved Classical pot in relief, with two palm leaves on the body. Behind this, the backing of black stone forms the obelisk, here rather curved and occupying about half the height of the whole monument. The base of the main panel has feet, and a central segment of a circle set into the backing stone, with that backing curved at the lower edge to parallel it; at the centre of that is a dependent corbel or support. The signature, which is worn, looks to be Weale, and here the address is Bilston rather than Wolverhampton, where he gives his address for his later monuments.

Mary Perceval, d.1805, and tablets to the Mason and Percival families (see text).

One of their daughters was Mary Percival, d.1839, and her monument forms one of three very similar memorial tablets, with her sister Sarah marrying into the Mason family to which the other two monuments are dedicated. Each is again an obelisk monument, or pyramid monument, rather more conventional than the earlier monument to the Percivals, thus with the obelisk having straight converging sides, and made of dark streaky marble occupying only the upper part of the monument. The lower part in each case is styled as the end of a tomb chest, with inscription on the side, a thinner entablature at the top, if so we can call it, and then a pediment-like lid supporting an asymmetrically draped Classical pot. They are carved extremely similarly, the main difference being that the two outer monuments are more ornamented, with the 'entablature' carved with repeating leaf designs and having the feet carved with leaves, and that the drapery on each pot is different -though again the outer two are much more similar than the central pot. Mary Percival is the pot on the right, as we look at the set; the central one is to John Mason, d.1803, and wife Mary Mason, d.1822; and the left hand one is to Sarah Mason., d.1863 (i.e. a second daughter of the Percivals and sister to Mary), and her husband John Mason, d.1886, in script added later. This last is signed by G. Legg, the central one by J.G. Bubb, and Mary Percival's monument on the right by P. Hollins. So the three similar monuments, forming such a fine group, are each by a different sculptor. Peter Hollins is the Birmingham sculptor, of some renown and of interest to these pages and the traveller around Birmingham and West Midlands churches – more information on him here. J. G. Bubb, a London sculptor, is forgotten today, but many people will be familiar with one of his works, which is the great frieze for Cumberland Terrace, one of the Nash Terraces around Regent's Park, London, but his work is scattered around the country. The few monuments I am aware of by Bubb generally date from around 1820, so this one to John and Mary Mason was presumably put up after she died in 1822 rather than when her husband died in 1803. The 1860s mason G. Legg is also the carver of the Howes monument noted below.
William Brueton, and wife Mary, d.1815, covered by a screen in part when I visited; as a casket tomb end, with upper shelf and a lid carved in relief with ornamental foliage; at the side are fluted outward-angling borders, and at the base, another shelf, with rounded feet. On a backing of grey and white marble and an outer backing of black. The piece was made in Bilston, but I did not see the signature, as that part of the monument was not visible. However it is recorded as being the work of Weale again.
Charles Stewart, d.1818, and wife Ann, d.1857, as a casket end, with upper shelf, pediment enclosing a scrolly device, and little feet underneath carved with leaves. Signed, covered up, by Patteson of Manchester, a mason whose work is recorded in Cheshire and Lancs.
Richard Silvey, d.1826, and wife Mary, d.1853, and son Richard, d.1881. An unusual design; the inscribed panel has an upper line of five little flowers, then a shelf with a carved repeating pattern, supported on the sides by two rounded brackets, fluted and with splayed lower edges, projecting fairly far forward and running halfway down the sides of the panel. Above, a pediment enclosing a carved wreath. The whole on a black backing panel and signed by the mason M. Allen, who, or whose firm, has several panels in St Paul in the Square, Birmingham. See picture below left.

Casket end panels to Silvey and Poolton, by M. Allen and Hollins respectively.

..el Taylor, d.1829, and wife, d.1852, with a reference to Revd. C. H. Hartshorne, of Denby in Northamptonshire. Another partly covered monument. Consisting of a panel with side pilasters, curbed backwards and fluted, and a lid above, little feet below, on a black backing. Signed by Hollins, Birmingham, a bit early for Peter Hollins, so perhaps by his father William Hollins, but we cannot know.
John Poolton, d.1820, and wife Mary, d.1830, erected by the will of their daughter, Charlotte Poolton, d.1828. Panel with small feet, upper blank pediment above a small shelf, acroteria carved with anemone patterns, and on top, a small wilted branch carved in relief. Another work by Hollins, father or son (see picture above right).
Daniel Hodson, d.1832, and son, also Daniel Hodson, d.1845. White panel with upper shelf and pediment, bearing low relief of a flying angel, rather busty, blowing a trumpet. On a black shaped backing. The monument is upstairs, and though I think it is signed, I could not discern by who.

William Weale of Wolverhampton's panel to Sarah Riley, d.1835.

Sarah Riley, d.1835, and in text added later, husband William Riley, d.1862. Above the inscription, which is on a chunky panel, is a second panel styled as the end of a casket, on blocky legs, with a roundel enclosing a relief sculpture of an angel flying upwards, holding the figure of a young woman, both wearing very light chemises, with a swirl of heavier drapery around the shoulders of them both. The woman has her arms clasped across her breast, and looks into the close face of the angel, who embraces and clasps her with one hand, while the other points heavenwards. A nice composition. Over the side of the monument is a deeply undercut drape which hangs down onto the lower tablet; the pediment above the roundel bears a downward flying dove in relief. There is the usual black backing to the upper part of the monument, arched at the top. The monument is signed prominently by the sculptor, William Weale of Wolverhampton, whom we met earlier styling himself as being of Bilston.
Mary Pearce, d.1836, and husband Thomas Pearce, d.1811, erected by their son Francis Pearce. Mary Pearce was born in St Ives, Cornwall, and the monument claims she was descended from three children of King Edward I. Plain panel with pointed top on grey backing.
Brueton monument, to Elizabeth Brueton, d.1837, Sarah Brueton, d.1838, ..l (nee Brueton), d.1843, wife of Revd. Richard Thompson, who erected the monument, and Thomas Brueton, d.1844. Another partially covered monument, with a round-headed niche enclosing a carved pot with a short drape upon it, a moulded shelf above, and some missing piece, presumably a pediment; the backing is grey within, black without. The monument is signed indistinctly, I think by Weale, whom we met as the sculptor of the more ambitious Sarah Riley monument above, and the earlier Brueton panel.
William Eyre, d.1837, 'whose remains are deposited in the first vault under the schoolhouse', wife Mary, d.1886, and daughters Mary Ann, d.1837, Charlotte Price, d.1840, and Caroline Eyre, d.1913. An obelisk monument, much carved. The inscription is on a panel with little feet which forms the base for a complex shaped plinth or pillar on which stands a flaming bowl, all in relief, and flanked by two small winged girlish figures – I hesitate to call them angels, for below the waist their little skirts are swallowed up in curly acanthus, as if mermaids – such figures should properly be called grotesques, as representation of the figure has been subordinated to the decorative elements of the design. Behind all this is an obelisk, and down the sides of this are drapes, symmetrically falling from the top. The whole is on a black backing, obelisk shaped at the top, and with a bit of light grey marbel under the feet. A good thing, confident and bold in execution, and most original in design.

William Eyre, d.1837, with little angels.

Thomas Pretty, d.1844, as a simple casket end, with shelf, base and little legs, on black backing, no carving.
Joseph Charlwood, d.1848, as a tomb chest end with upper and lower shelf, the line of five carved flowers that seems to be a favoured decoration of monuments in the Church, and above, a rounded pot without handles, and a somewhat ogee-shaped top. At the base, two legs with stylised flowers carved upon them, and the whole on a black backing - see picture below left. The monument is signed by the mason, J. Price.
Henry Pratt, d.1849, and wife Hannah, d.1870, panel with overweight upper shelf, pediment, and large brackets to the sides, on a shaped black backing.
Samuel Holloway, d.1850, boat builder of Bilston, and wife Mary Ann, d.1834, erected by their children. The panel has upper and lower shelf, each with a band of small carved flowers, the central one of which is missing, and above, an exotic pot, looking almost Art Deco with its sideways pointing handles and Arabic pointed top. The whole rests on two solid legs, each with a larger stylised flower carved upon it, and there is a rectangular black backing.
William Howes, d.1858, second wife Mary Ann, d.1886, and daughter Julia, d.1890, with upper shelf bearing repeating harts with trefoils within them, and above, a rounded pediment bearing a roundel with the IHS monogram, and scrolling lightly inscribed around it; and projections to either side. On a grey shaped backing. Signed by G. Legg.
Elizabeth Shale, d.1860, and husband William Shale, d.1868 (5?), coal master of the town, and his brother Joseph Shale, d.1864. Panel with upper and lower shelf, pediment bearing a low relief device, and the feet to the monument bearing carved shells, all on a black backing.
Richard Harper, d.1895, long time Sexton and bell-ringer of the Church, plain panel with two supports.
Joseph Woods, d.1897, Sergeant Major of a local regiment, brass panel with inscribed line border, and red initials, and bearing the regimental crest with two Union Jacks to the sides, on a reddish stone backing.
Sidney Dean, d.1901, Church organist, and Henry John Beards, d.1901, Head Master of St Leonard's Day School. Plain panel with two moulded brackets, the text in chunky black capitals with red initials.
Sergeant Lewis, d.1902 in the South African war, plain brass panel with black line border, red initials, on black backing.
Gunner Harold Foster, d.1917, who fell at Ypres, plain panel on black backing.
Revd. Gabriel Estwick Ford, d.1926, Vicar of the Church and Honorary Canon of Birmingham, plain white panel supported on two small brackets. The text in calligraphic font with red initials.
Brasses
Also in the Church:
A panel to remember the Cholera epidemic of 1832, which killed 742 inhabitents of Bilston, which led to the foundation of a school to teach the cholera orphans; this was removed from the Cholera Schools in 1888. Plain panel with script, and a thin black backing.

The font, circular white marble bowl with gadrooning (shell-like wavy design) on the outside, on a shaft of polished granite, and an octagonal base.

The pulpit, with a wooden upper portion, octagonal in shape, with panels showing Stars of David etc, on a stone base. Late 19th Century I would suppose.
I was not able to find the Church website to link to.
The pulpit in Bilston Church.
Also in Bilston
The museum and art gallery has mostly changing exhibitions, but some permanent displays, including a regrettably small selection of Bilston enamels, far too little for what was once an important industry of the town.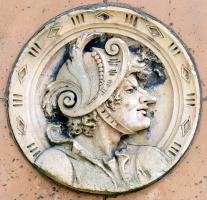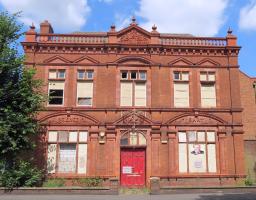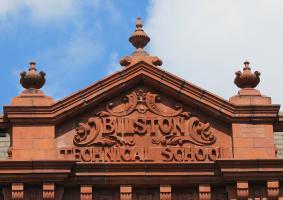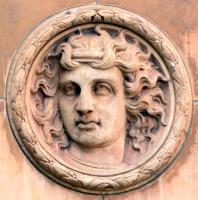 Bilston Technical School of Science and Art, and details.
On the same road on which the Museum stands, there are a few good buildings, including the former Bilston Technical School of Science and Art. This terra cotta and brick building, erected in 1896, incorporates some minor decoration in terra cotta, including a cherub in a pediment above the main entrance, which although the usual corpulent little beast, manages to cover Science and Art in one small space. For Science, the chubby right hand holds some implement, and rests on a chemical retort, over which is draped a pan balance. His other hand holds a book, and behind one leg is a palette, and these do duty for Art. On the sides of the building, rather too small for much visual impact on the large expanse of brick, but of merit in their own right are three terra cotta roundels, each with a portrait bust. Who are they? One, the best, is a youthful man with moustache, no beard, and a Middle-Eastern headdress, rather dashing – perhaps Lawrence of Arabia, so emblematic of discovery (see picture at top of page). The second, rather less three dimensional, is a Classical head, with a corona of wavy hair encircling the face: conceivably Apollo as God of Education. The third, a profile Renaissance head in high relief, has a long nose and chin and wears a fantastical helmet; this would seem to be a copy from a drawing by Michaelangelo, and so represent Art. They were produced by the Lambeth School of Art in London, and were modelled by P. Ball.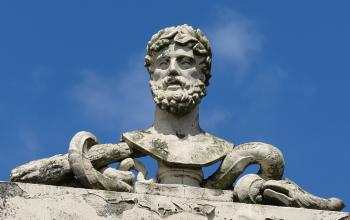 Along the high street we may note a Classical bust on the balustrade of one building: a solid, bearded hero, with a long club and a twisting snake, the latter rather damaged, in much painted stone. Interesting, but whether he is Hercules or some other, and his purpose there, I do not know.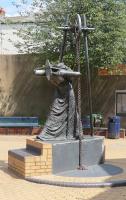 Rose Garrard's statue, Women's Work.
As part of efforts by the local council to make more of a centre to the town, also along the High Street is a modern sculptural work, called Women's Work, by Rose Garrard, 1997. It shows a standing female figure in a modernist tendancy, thus with a long skirt rather well observed, in that the drapery is well delineated, and we have a sense of the forward leg underneath it, and then above, the body is bare, but stops above the breasts, with some solid structure in place of the arms, and what might be an iron or a shoe mould acting as head, this making me recall Epstein's Rock Drill. The bent back supports some heavy burden, and behind is a scaffold, pulley and chain.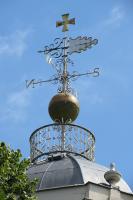 The iron weathervane of St Leonard's Bilston.
St Peter, Wolverhampton // Wednesbury Church
Introduction to church monuments // William Hollins // Peter Hollins
Sculpture in some towns in England
Visits to this page from 1 Mar 2016: 3,865