Monuments in St Luke's Church, Sydney Street, Chelsea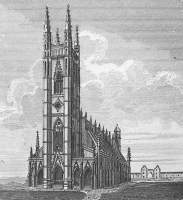 St Luke's Chelsea, shortly after it was put up.
Situated in central Chelsea, in Sydney Street off Fulham Road, St Luke's is an extremely large church in brick surfaced with Bath stone, set in a large graveyard which has been set to lawn with lots of monuments against the edges. The size of the open space helps to show the church's massiveness, 130 ft long, 60 high, and as wide as it is high, with a great tower of just over 140 ft. You could almost fit a small village church in the space under the portico.
The architect was James Savage, and this is his most important work. It was one of the first Commissioners' Churches, and was erected between 1820 and 1824. It was much admired when first put up, yet Eastlake, who wrote an important work on Gothic architecture half a century later, did not approve:
'Its cost, size and construction place it in the foremost rank of contemporary Gothic examples… In examining such a structure as this, which includes in its design every feature necessary and usual for its purpose; which is ample in its dimensions and sound in its workmanship; on which an exceptionally large sum of money was expended, but which is, nevertheless mean and uninteresting in its general effect… [it has a] cold and machine made look.'
He goes on to try and praise it, but cannot quite bring himself to do so:
'…There are, however, some redeeming points about St Luke's Church. The upper part of the tower, though foolishly over-panelled, is good in its general proportions… the groining of the nave is really excellent, for its time,… the reredos, though designed on a principle which would render it unsuitable for the present requirements of church architecture, is, for its date, by no means contemptible; and as for the galleries – fatal though they are to any attempt at internal effect – and redundant… we must remember that many churches of later date and far more pretentious in character, have maintained such features…'
An 1880s guidebook gives a more neutral account, but takes the castigation as gospel:
'The new church of St Luke, situated between King's Road and Fulham Road, was built by James Savage, in imoitation of the style of the fourteenth and fifteenth centuries, and has a pinnacled tower, nearly 150 ft high. It is, however, a poor specimen of modern Gothic. The most remarkable feature of the building is the roof of the nave, which is vaulted with stone, with a clear height of sixty feet from the pavement to the crown of the vault. The porch extends the whole width of the west front, and is divided by piers and arches into five bays, the central one of which forms the lower storey of the tower. The large east window is filled with stained glass, and beneath it is a fine altar-screen of antique design. Immediately over the altar is a painting, "The Entombing of Christ," said to be by Northcote. The church will seat about 2,000 persons, and was erected at a cost of about £40,000 - the first stone being laid by the Duke of Wellington. '
Today, it feels rather emptier than it should be; we can imagine that at the time, the sense was that gradually the huge interior space would fill up with monuments and woodwork and accoutrements, and perhaps side chapels would be added, and so on; and this was not how it developed.
For the interest of these pages, a significant monument, by Chantrey, to Lt-Col Henry Cadogan, d.1813 and moved to the church from the old church, is not on display. While the remaining monuments inside are generally humble, they show an interesting sequence from when the church was built through to the 1860s, with a couple of later examples, and provide an introduction to several of the monumental masons of the time. In date order:
Edward Charles Howell Shepherd, d.1821, while the church was being built, and wife Elizabeth Howell Shepherd, d.1853, and one son. A plain panel with a black border, it is signed by a local mason, Orris of Chelsea.
Elizabeth Smith, d.1828, 'after a short but severe illness', lived at No.1 Manor Terrace, and who left £500 in the three per cent consols to the St Luke churchwardens, and the charity schools, and for bread for the poor. On yellowed marble, as a tomb end with pilasters, shelf, and draped pot on top, with a black backing just at the top in pedimental shape – unusual enough that we may speculate if there was a lower black border too at some earlier date.
George Henry Hopkinson, d.1829, and mother Arabella, d.1863, pale marble panel with slender side attached pillars, and shelf above and below.
Charles Hopkinson, father of George H. Hopkinson, noted above, d.1830, a more ornate pale marble design with Gothic window surround on a rectangular panel with ledge above. Some minor design in spandrels. The tablet is signed by Crake, Chelsea, who was also the carver for others in the church, from which we can deduce he was working in the 1820s and 1830s.
Charles Henry Cadogan, Earl Cadogan, Viscount Chelsea, d.1832, as a rather obscured, simplified tomb end with shelves, shaped apron bearing coat of arms, sigil above on a pediment or small roof, and flaming pot at the top. In a variety of coloured marbles, but still rather restrained for an Earl.
Elizabeth Peters, d.1837, as a tomb end with pediment, ears, shelf, and little brackets, with minor scrolly, frondy and floral decoration. The work of Turner, a very obscure mason based in Whitechapel.
Martha Gammell, d.1840, a simple tomb end with book on top supported on foliage. Signed by H. Hopper. A minor work by a significant sculptor: Humphrey Hopper had a long career from 1800 to the beginning of the 1840s, including many church monuments, including a monument to General Hay (d.1814) in St Paul's, which was rather less successful than some of his more modest efforts.
Stephen Moore, d.1841, of Sloane St, inscription on a marble scroll against a black backing. Signed by E. Gaffin. There were two Gaffins, Edward and Thomas, his son, and this monument is absolutely typical of their work.
Thomas Crookenden, d.1842, of Rushford Lodge, Suffolk, and his eldest son, Arthur, d.1840. White scroll on a black shaped backing, with a cheerful little cherubic head with curly hair and winged, rather different from the usual cherubic heads, which had gone out of fashion by then, but generally have the wings close to the head so that no neck is seen.
William Seguier, d.1843, and wife Ann Magdalen, d.1856. He lived in Sloane Street, and died at Brighton. Panel with top shelf bearing castellation designs, and receding shelf support below, signed by Smith of Glebe Rd, also fairly local, across the river in Richmond.
Caroline Seyliard Hyndman d.1848, a pale marble panel with small pot, and large drape down over right hand side of the monument, a leafy sprig being exposed to the left. All on the usual black backing.
Mary Henrietta Fitz Roy, d.1852 and infant son, as an unrolling scroll, scrolling at the bottom, tied at the top so sides hang down, on black panel backing. A variation on the Stephen Moore memorial, again from the Gaffin workshop, this time by the elder one, Thomas.
Luke Thomas Flood, d.1860, the most interesting monument in sculptural terms. The inscription notes he was Deputy Lieutenant for Middlesex, magistrate, treasurer of the Charity Schools of the parish and benefactor to the poor, and is on a broad plinth to a tall tapering panel with an obelisk shape bearing good figural sculpture in high relief. The subject is shown reclining on an ornate chaise longue with a lion's head side and foot, Italian style. He wears classical robes, and has one hand on the head of his mourning widow, shown much younger, kneeling in front with her cheek and hand resting on his leg. His gaze and other hand are uplifted, and above floats an angel with long drapes, and bearing rather a similarity to his wife. The design is subtle, broken into a series of geometric triangles to give an asymmetrical but balanced composition. A worthy piece of sculpture, by W. Pepper the Younger of Brighton. I have not seen other work by him, but this is very good. A small addition between the brackets to the monument notes the death of a young daughter, Sophia.
Charles Kingsley, d.1860, fomerly of Battramsley House in the New Forest, Hants, and then of St Luke's Rectory. He was the second rector, and father of the famous author. A tomb end with little feet, resting on a shelf, with a black backing.
Henry Charles, 4th Earl Cadogan, d.1873, and Mary Sarah Countess Cadogan, also d.1873, as a double Gothic window in stone, with arms in high relief at the top, and other minor decoration.
Constance Hall, d.1895, a beaten coppery panel with little cut out ships in a row on top, panel on wood. A rather charming work, typical of a genre of arts and craftsy pieces dotted around our churches.
Russell Simmonds Hutchings, d.1900, in the Boer War as one of the City of London Imperial Volunteers. Another metal panel, more ornate with pilasters, a rather free style tiny wreath, shield with miniscule dragons, and other bits of ornament, appropriate for the date.
A WW1 memorial to the Royal Antediluvian Order of Buffaloes, Grand Lodge of England, metal inscribed with very low relief decoration – the inscription as if on a cartouche, between two pilasters each decorated with two oval shields with wreath surrounds, with little scenes of the continents, a larger scheme below, oval pediment above bearing their sigil and some acanthus leaves, and on the pillar tops, two draped females.A little portrait is below the pediment.
What a change then to the monument to Walter Gordon Arrowsmith, d.1964(?), Prependary of St Paul's and chaplain to George VI and Elizabeth II until his death, and Rector. A plain panel of speckled marble, as if for a kitchen worktop. We can understand why the move away from ornament, but still regret it.
Aside from the monuments, we may note the font, a crisply cut marble affair of an octagonal design, with little Gothic windows on the shaft and the pilasters at each edge, and broad shields on each face. Information on the walls notes the association of Charles Dickens with the church, where his marriage was held in 1836 to a Chelsea resident, Miss Catherine Hogarth.
Outside, a wander round the edges of the green space shows a wide range of headstones and a few chest tombs, mostly with their inscriptions lost to the weather; I could not find any memorial for the architect, James Savage, who was buried here outside his foremost church.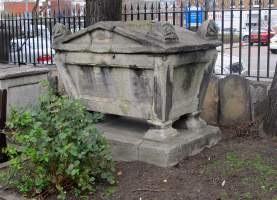 Casket chest tomb and gravestones in a corner of the former graveyard.
Sculpture on Chelsea Embankment // James Savage // Monuments in some London Churches // Churches in the City of London // Introduction to church monuments
Angel statues // Cherub sculpture
Visits to this page from 14 August 2012: 6,464