James Savage (1779-1852)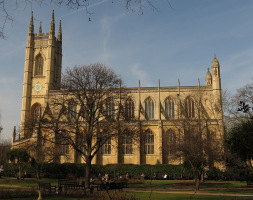 St Luke's Chelsea, by James Savage.
The 19th Century architect James Savage, not hugely familiar today, is most notable for his vast church of St Luke's Chelsea in London.
James Savage was a Londoner, born in Hackney, and achieved early success as a designer of bridges, commencing with Ormond Bridge in Dublin (1805), presenting an essay on bridge building to the Architectural Society in the following year. He won the competition to build St Luke's Chelsea in 1819, one of the first of the 'Commissioners' Churches' and the building was much praised on its completion. He was responsible for several other churches in London and elsewhere in the succeeding years, also, I believe, as Commissioners' Churches. He held the position of architect to the Middle Temple in the 1830s and built the Clock Tower there, which survives, and had some practice in restoration work on older buildings. As well, he had a variety of other interests, and worked on legal arbitration cases.
Time has not been kind to Savage's works, and his London churches are much diminished – though the one he built in Sloane Street in about 1830 was replaced by a very beautiful arts and crafts one by J. D. Sedding. As well as St Luke's, Savage's remaining churches in London are St James Church in Bermondsey, a classical edifice with portico and fine tower, Holy Trinity Church in Tottenham Green (see bottom of this page for picture), a work in an early Gothic style which is without a tower, and in Upper Norwood, south of the River, survives Savage's church of All Saints, though altered by later generations and requiring restoration after damage in WW2.