M.W. Johnson of New Road, Fitzroy Square (active 1820s-1860s)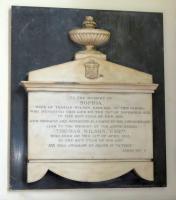 M.W. Johnson, typical funerary panel.
The monumental mason and sculptor Matthew Wharton Johnson was one of the many statuaries who made white-on-black funerary panels in the 19th Century, but his work is above the usual standard, and almost always includes at least some carving. There are a variety of his works in churches in and around London. However, M.W. Johnson's monuments are found across England and Wales, and odd examples have been identified as far afield as Australia, India, and Barbados.
His favoured styles were typical of the early 19th Century: Classical panels cut to shape as a tomb chest end, with little feet, and a lid or pediment above an upper shelf; the similar casket-ends, with outward sloping sides to the panel and often resting on a small shelf, and taller panels with blocky lower shelves and small supports – all generally on a black backing panel, rectangular or cut to shape. His carvings included the usual coats of arms, pots or funerary urns in high relief, and lids or pediments with scrolling and highly stylised flowers. A fine panel to Sarah Holroyd, d.1823, by M.W. Johnson is in Walthamstow Church, with naturalistically carved flowers to each side. While he strongly favoured Classical panels, an example of a Gothic panel by M.J. Johnson, to David Morgan, d.1857, is in All Saints Parish Church, West Ham, along with several Classical works by him.
M.W. Johnson also made garden sculpture – fountains, ornamental vases, Classical figures etc – but I have not seen these. In the 1830s, he took out a patent for the improvement of the construction of coffins, and he is listed then as 'Sculptor and Stone Mason, of Buckingham Place, Middlesex' –Buckingham Place being just to the west of Fitzroy Square, and now called Cleveland Street. His address for most of his long working life was close by in New Road, Fitzroy Square, which is to say, Euston Road. Although the majority of his works date from the 1820s to the 1850s, and peter out in the 1860s, a few are later, for example that to the Packe family in Ruislip Church, West London, listing offspring of the vicar who died until 1871; on this basis, the Henry Moore Institute has suggested there was likely a second generation working at the family firm.

M.W. Johnson, example of carving of crossed torch and sprig of olive.
Visitors to this page since 14 Feb 2017: 2,750