Woodiss of Sheen (firm active 1791-1870)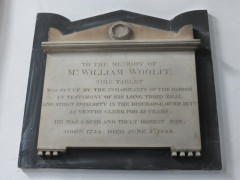 Monument to William Woolfe in Mortlake Church, by Woodiss of Sheen.
The stonemason family of Woodiss of Sheen, in South West London was active from the early 1790s through until at least 1870, and included several members. The earliest I am aware of is a Ralph Woodiss, d.1839, stone mason of Mortlake. He may have been responsible for the several wall monuments in Mortlake Church (St Mary the Virgin), East Sheen. A later member of the family, who described himself as a 'Journeyman Stone Mason', was William Woodiss. He was an apprentice in the late 1850s or early 1860s, was also based in East Sheen, Mortlake, and seems to have had a relatively short career, for he was declared bankrupt in 1865.
Ralph E. Woodiss of East Sheen, Mortlake, perhaps a brother of William Woodiss, was born in about 1840, worked as a stonemason until 1870, and died in 1872; he is buried in Mortlake Cemetery.
This website notes several works by the 'Woodiss of Sheen' in Mortlake Church (St Mary the Virgin), all of which are typical of the times, being white marble monuments on black shaped backings, rather simple, with minimal decoration, or at least minimal decoration that is left, as two of them look to have had wreaths or emblems pulled off.